William Stanley Young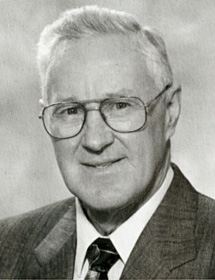 First name: William Stanley
Last Name: Young
Hometown: Glackmeyer Township, Cochrane District, Ontario
Birth Year: 1927
OAC Grad Year(s): BSA 1949
Date of Death: December 30, 2004
Affiliation: Alumni, Faculty
OAC Pillar: Agriculture, Communities
About
Stan Young arrived at OAC by freight train as attendant for two carloads of cattle on their way to Toronto to market. He was president of the OAC Class of '49, which supported campus projects including the restored portico on Johnston Green. Through Alumni-in-Action, an organization of retired alumni volunteers, he participated in organizing and cataloguing the Rural Heritage Collection of the McLaughlin Library.
"Summer jobs as District Weed Inspector in Cochrane exposed me to personal attitudes of all kinds. One result was the realization that if weed control was to be achieved, it would be through education rather than legislation, an idea useful in many aspects of life." – Stan Young
Young thought "outside the lines" and got things done. After earning a PhD at Cornell in 1959, he returned to the Department of Field Husbandry at OAC, where he was director of the associate diploma in agriculture program from 1969 to 1974. As part of his determination to give students a better understanding of working farms, he organized "Stanley Tours for dippers".
His greatest strength was his unwavering enthusiasm, especially for extension work with Ontario field crop producers. He developed the Ontario Field Crop Recommendations program, which expanded to a series of specialized handbooks for forages and horticultural crops. He distributed the information at countless meetings and field trips. He also participated in developing the Ontario Forage Masters Program with the Ontario Soils & Crops Improvement Association. Following retirement, he continued his involvement with the Ontario Forage Council and Ontario Hay Producers' Association, and he was an active fundraiser for the Canadian Cancer Society.
Young's long association with students, academics, farmers, and representatives of supporting agricultural industries inspired him to initiate an endowment with the OAC Alumni Foundation to expand and improve the communication of information about agricultural and food-related issues between OAC, the University and industry. The W.S. (Stan) Young Memorial Communications Grant comes from this endowment and annually supports  a student intern working with the OAC Communications Office to produce a special extension project. This year's effort was the "140 Faces of OAC" project.
References and Further Reading
Quote reference: Stan Young, Year '49 OAC: After 50 Years
Photo credit: Archival and Special Collections, University of Guelph Library
"William Stanley Young, 1927-2004", http://www.oahf.on.ca/pdf/WSYoung.pdf
Posted on September 18, 2014