John Cranfield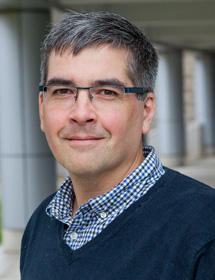 First name: John
Last Name: Cranfield
Hometown: Edmonton, Alberta
Current Residence: Guelph, Ontario
OAC Grad Year(s): B.Sc. (Agr.) 1993, M.Sc. 1995
Affiliation: Alumni, Faculty
OAC Pillar: Agriculture, Food
About
John Cranfield changed his career path from wildlife biology to agricultural economics after realizing where his talents lie. He completed his Bachelor of Science in Agriculture and Master of Science in agricultural economics at the University of Guelph, and went on to Purdue University to complete his PhD.
"The most unique part of OAC is the sense of belonging to a broad community of people working to a common goal of advancing knowledge in a way that helps us understand the world around us." – John Cranfield
During his undergraduate degree, John discovered his love of economics applied to food and agriculture during an American Agricultural Economics Association event, which he attended at the encouragement of a professor, to present a research-based term paper.
John's current research focuses on consumer behaviour. He looks at consumer demand in relationship to production-based attributes, such as functional foods, organic foods, and locally produced foods. He also studies innovation in the agri-food and biotechnology sectors. John's research has earned him the 2013 OAC Distinguished Researcher Award, topping off several other recognitions for his outstanding teaching and research, including an Outstanding Ph.D. Dissertation Award from the American Agricultural Economics Association.
John is known for not being shy in sharing his opinions and in 2011 he shared his expertise in a controversial debate on TVO's The Agenda called "Feeding the World 2050." The conversation discussed food supply, distribution, and availability of agricultural land.
John is devoted to helping his students achieve their goals and ambitions. By developing his students professionally and intellectually, John is confident they will go on to be significant players in agricultural business and make meaningful contributions to the policy debate.
John is deserving of his new role as chair of the Department of Food, Agricultural and Resource Economics. He began his five-year term this fall and is looking forward to the challenge of leading a small but mighty department.
References and Further Reading
Posted on September 18, 2014