Justin Bell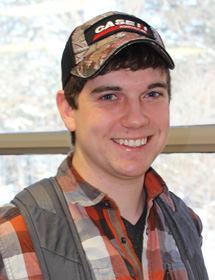 First name: Justin
Last Name: Bell
Hometown: Stirling, Ontario
Current Residence: Ridgetown, Ontario
Birth Year: 1994
OAC Grad Year(s): 2015 (expected)
Affiliation: Student
OAC Pillar: Agriculture, Communities
About
Justin Bell has farming history on both sides of his family, and he spent a lot of time on his grandparents' farm. His grandfather graduated from Ridgetown College of Agricultural Technology in the agricultural diploma program in 1965 and Justin wanted to do the same. In fact he will graduate from Ridgetown Campus exactly 50 years after his grandfather graduated.
"I am proud to be a part of OAC and the agricultural community; I look forward to progressing in an industry with such strong values and hard working people." – Justin Bell
Justin is going into his second year of the Associate Diploma in Agriculture at Ridgetown Campus. He enjoys agricultural business courses and his favourite thus far has been on sales and sales management. This course enabled students to interact with the community by working with local businesses and giving sales pitches on new ideas for products and services. Justin enjoyed the hand-on applied aspect of this course and has since considered pursuing a career in sales and marketing. His interest was sparked when he discovered his hidden talent in sales. He also really enjoyed the Introduction to U.S. Agriculture course because he got to explore the diversity of agriculture in North America through course content and a US Agriculture Study Tour.
Justin is this year's student government class president. He was selected by his peers to fulfill the role for the 2014/2015 academic year. Justin is prepared for his new responsibilities due to his extensive involvement on campus during his first year. He acted as a student ambassador, sat in on student government meetings, got involved in intramurals and worked in the Recreation Centre on campus.
Justin has built strong relationships within the Ridgetown Campus community and hopes to continue networking with and helping other students. In his second year he is looking forward to further developing his leadership, organizational and event planning skills. In fact, he's has already implemented a stronger scheduling system to improve the organization and structure of the student events.
Posted on September 18, 2014