Chicoutimi, Québec
- Français - 
Spend an unforgettable semester in Québec!
Would you like to improve your French and live in one of Québec's most beautiful regions? Would you like to study in a North American francophone university, known for its welcoming environment? You could also explore the enchanting scenery of the Saguenay-Lac-Saint-Jean region where 95% of the population is francophone.
In 2003, the French Studies department established an exchange program with the University du Québec à Chicoutimi. Participants can take advantage of this opportunity to study in Québec for one or two semesters. The University of Guelph hosts students from UQÀC who have declared a specialization in the teaching of English as a second language and we send students who are interested in improving their French or in taking courses in literature and linguistics.
Where is Chicoutimi?
Chicoutimi is the old name for the city of Saguenay, which is three hours north of Québec on the shore of a large interior lake, lac Saint-Jean. Intercar runs regular routes between Québec and Saguenay.
What is the university like?
The Université du Québec à Chicoutimi (UQÀC) is a small university with seven main buildings grouped on a modern campus. In this intimate atmosphere the residences, the registrar's office and the professors have the well-being of the students in mind. They're waiting for you!
Visit the Université du Québec à Chicoutimi's web site.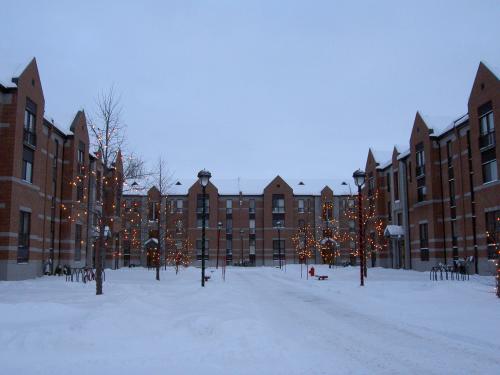 Program 
Curriculum and credits
All courses that our students take at UQÀC are recognized by the University of Guelph on the condition that the student has them approved before beginning.
What courses can I take?
Guelph has a partnership with two UQÀC departments: the department of Linguistics and Modern Languages and the department of Humanities. Below is an example of a selection of courses offered last winter by these two departments:
Syntaxe du français (Syntaxe of French)
Rédaction (Composition)
Français écrit II (Written French II)
Création littéraire (Creative writing)
Phonétique et langue orale (Phonetics and Oral Language)
Analyse textuelle (Textual Analysis)
Sémantique et pragmatique (Semantics and Pragmatics)
Littérature française du XIXe siècle (Nineteenth Century French Literature)
Stylistique (Stylistics)
Littérature québécoise du XXe siècle (Twentieth Century Québec Literature)
Textes étrangers (Foreign Texts)
This list is not exhaustive. Don't hesitate to explore the variety of courses offered by the department of Arts and Humanities.
Duration and accommodations
Participants can take advantage of this opportunity to study in Québec for one or two semesters (fall and winter only). You can live with a host family, in residence or off-campus.
Host family:
Resource people will help you find a family to live with.
Residence:
The residences are a stone's throw from the main building. They are clean, furnished and well equipped with a kitchen, living room, a bathroom and two, three or four bedrooms.
Registration form for residence 
 
Registration
Criteria of eligibility
This program is open to all University of Guelph students who have an average of B (or equivalent) and who will be registered in their 3rd year during the exchange semester (fall or winter).
Students whose major or minor is not French may wish to take courses to improve their knowledge of the language and Québécoise culture from the École de langue française et de culture québécoise. This allows students of other disciplines the opportunity to participate in this exchange as well.
Registration process
 For all information concerning the registration process and the due dates, please contact Professor Stéphanie Nutting (snutting@uoguelph.ca).
Registration form for the exchange program
Financial Information
Fees
Participants register with the University of Guelph and pay the fees associated with this university.
Participants are responsible for all housing and living expenses. The student is also responsible for all costs for moving to Chicoutimi.
Financial assistance
If you qualify for OSAP here you will also qualify when you live in Québec.
A $200 grant is available help cover the costs of moving. The grant is awarded based on academic merit.