An Apple Doesn't Fall Far from the Tree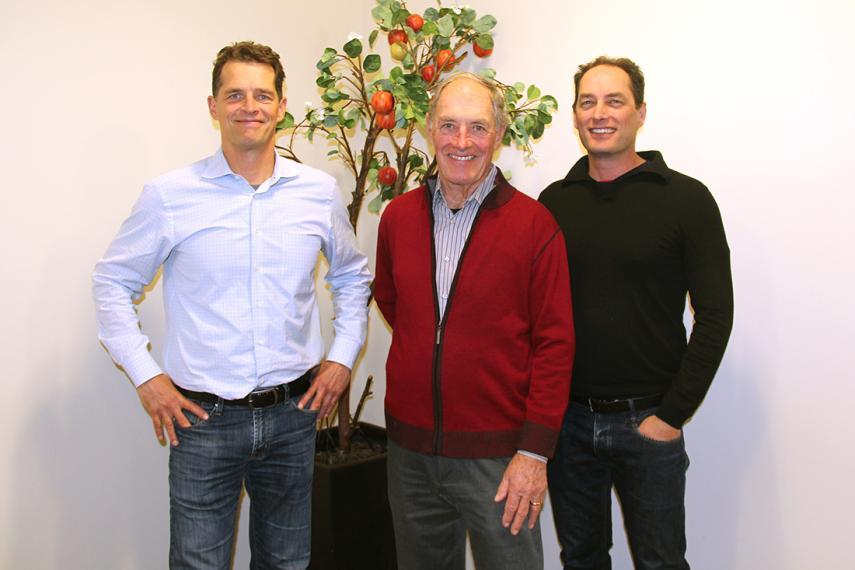 It's an old saying that holds true for the Chudleigh family.
This story of third-generation apple entrepreneurs started in 1939 when Eric and Marion Chudleigh began apple farming in Dixie, ON. Eric imported a new experimental apple rootstock from England and started propagating trees that were size controlled by the rootstock.
On the farm in Milton, ON, purchased in 1955, he started a new compact fruit tree orchard. Sadly, he died before he could finish planting all of the trees he had planned for the farm.
His then 17 year-old son, Tom, decided to finish what his father started and planted trees in his spare time throughout high school and while attending the Ontario Agricultural College. After graduating with his BSc(Agr) in 1963, Tom returned to the farm to work as a commercial apple grower.
But after a couple of years, he decided to try something new.
"We started having people come to the orchard to pick their own apples in 1967, which was really radical at the time," explains Tom. Most farmers couldn't understand the business proposition of having "folks come to climb on your trees".
But Tom and his wife, Carol, saw an opportunity. "From essentially the first few weeks we knew it was a success," explains Tom. "People were coming out to pick apples and we discovered after two years that it wasn't the storage of apples that they were interested in; they were interested in a new activity for a weekend adventure. Apples were the hook."
The farm entertainment business grew steadily and today it welcomes people every day from July to October.
Dean Chudleigh followed in his father's footsteps and graduated with BSc(Agr) in 1986. He then returned home to explore a side business his Mom had developed from a value-added feature to the farm in the seventies.
On the farm, Carol had begun baking pies and selling small slices on a napkin for 25 cents. By the 1980s they sold pies on the farm and in several GTA restaurants.
"I took what Mom and Dad started and said 'Let's see if we can make a run for this'," Dean shares.
Dean's brother, Scott, joined him in 1990, and their hard work paid off in an unexpected way.
"One day, a President's Choice employee visiting the farm mentioned that the company was looking for an apple crisp," Dean says.
This apple crisp product began a long-time relationship with President's Choice, which has brought us well-loved President's Choice products such as the Chocolate Molten Lava Cakes.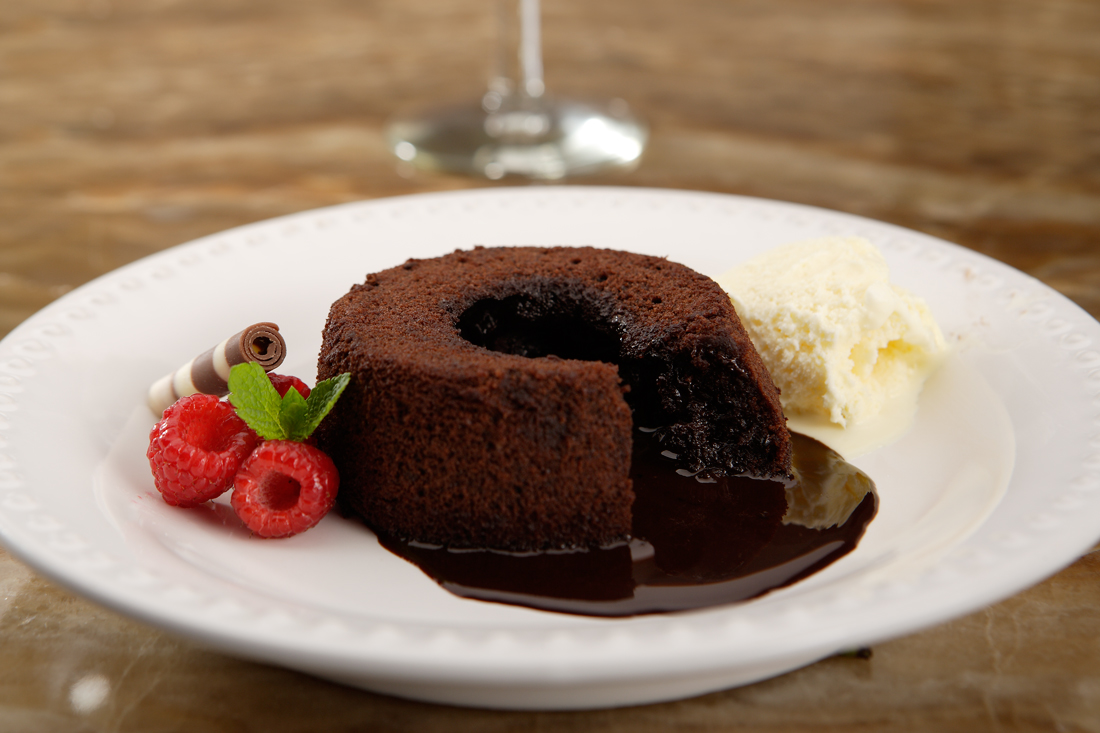 These cakes are a perfect example of Dean's theory that for every 1,000 successes, there were 10,000 failures. Creating an upscale chocolate dessert for their freezer was a giant learning curve for Chudleigh's, whose expertise had been centered around fruit. New ingredients, equipment, mixing and baking techniques for large volumes brought new challenges. Dean, Scott and their team were perfecting the recipe up until the day they needed to go into production to meet the order deadline.
"You go from elated you got the order, to how the heck are you going to make it," Dean laughs. "We have hundreds of stories like that. For every success there are ten failures or things that didn't work out as well as you'd hoped."
Another example of this is their work with Red Lobster. By the early 1990s the Chudleigh's had been pitching ideas to the restaurant chain for years, trying to get their pies on the menu. Finally the restaurant dropped the news that they'd never consider putting pie on the menu because the pies weren't pre-portioned.
Instead of giving up on the opportunity, Dean and Scott decided to find a solution. They tried different ideas to portion their pies, but were unable to create an efficient and cost-effective single serve solution. Instead they developed an "Apple Crostada" as a shared dessert, which Red Lobster put on the menu.
Still puzzled with the demand for a single serve apple pie, Scott and his wife, Mary, came up with a concept called an Apple Blossom®. This single serve dessert was a perfect fit for everyone - families and restaurants - and it began to sell well.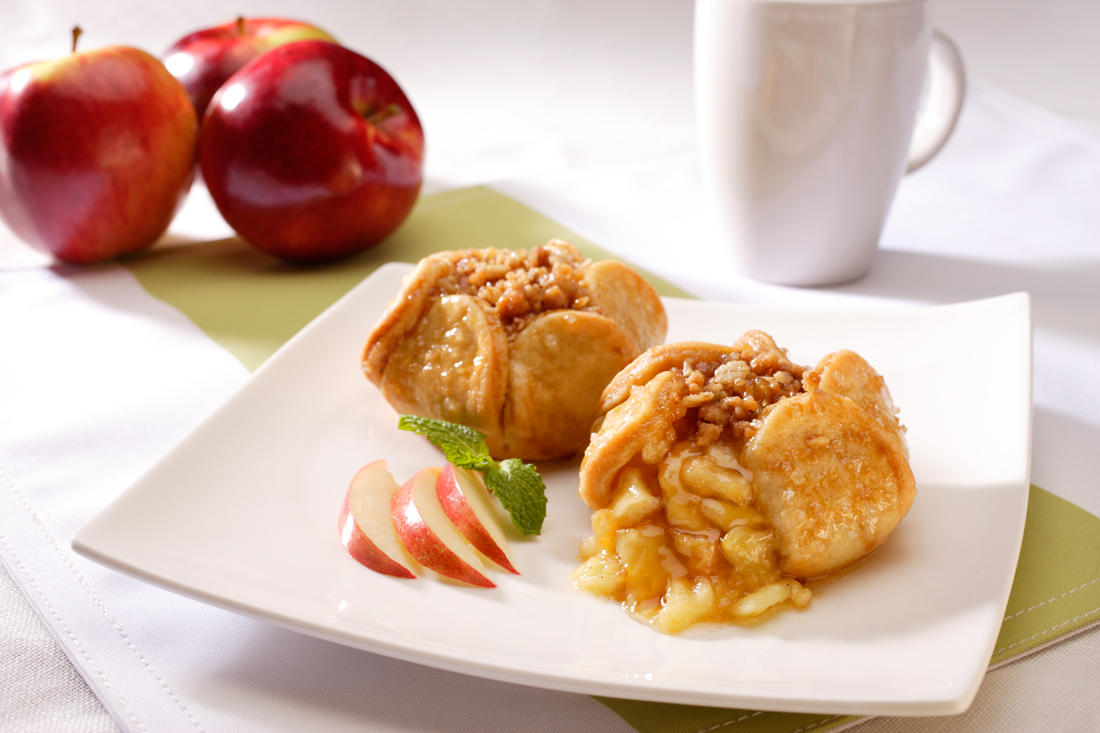 "For the next five years it felt like we didn't eat or sleep," shares Dean. "We needed to make hay while the sun was shining. We were hiring, learning, making mistakes, hiring, learning and making more mistakes."
But these born and bred entrepreneurs knew it was all part of the process. "Our grandfather was always exploring new growing science. Our Dad was an entrepreneur in marketing entertainment farming. Scott and I learned that every day is new opportunity," reflects Dean.
Today Chudleigh's Ltd. makes 120 frozen desserts and serve 15 private label brands, which they ship across Canada, the US, New Zealand, Australia, Norway and soon Dubai. In fact, 70 percent of their products are exported outside of Canada. The bakery employs 250 people and the farm employs 100 people seasonally.
Dean's ever-evolving role is now one that he defines as ambassador and interpreter. "Really I spent very little time as a guy making pies, maybe five years, and then moved on to other roles. My brother has championed the sales and marketing.
"I turned into an engineer to build our facility. I was buying and selling commercial property for our plant. I needed to figure out distribution routes for our product to get from California to Florida to Texas. Now Scott and I have hired people to do those things better than we ever could," he shares.
"We spend our time outside of the business searching for innovative ideas to bring back to the business and interpreting what the rest of the world wants for their next dessert product."
This has influenced their next venture: branding.
"We're going to maintain the world of the private label, but we are going back to our branding attempt from over 30 years ago," says Dean.
"We spent the last year doing really thorough research throughout North America on what the brand means to people. People are looking for a brand that means something and our packaging will tell our story," explains Dean.
The first customer for their refreshed brand is Wal-Mart US, with more products under the Chudleigh's Ltd. brand coming in the next year.
Share this page
News Topics