Experience History through the Library Archives
Get up close to the past with the History Department and Archival & Special Collections.
Experiential learning is a dynamic approach to education that emphasizes the importance of practical training in the development of lasting professional skills. At the University of Guelph, the History Department and Archival & Special Collections have embraced this hands-on method of teaching to collaborate on courses that prioritize student-led learning initiatives. History courses with a focus on experiential learning give students the unique opportunity to work with rare, centuries-old artifacts from the library archives and to step into the roles of professional historians, archivists, and museum curators. 

Students get a behind-the-scenes look at the University's expansive archival collections and learn how to handle, preserve, and catalogue historical artifacts. To build on their growing knowledge of the hands-on side of history, students have the chance to become curators for a semester: classes research, write, and design their own exhibit with historical materials from the University's collections, and their projects come to life as public exhibits, either online or in-person.
Since our students create real exhibits, they encounter real hiccups along the way. Which amazing archival materials will you choose to display? How will you choose an exhibit theme that connects all those items? Are your interpretive labels too wordy for the display pedestals? Not everything will go as planned, and facing these sometimes unexpected challenges promotes the development of creative problem-solving skills. Managing the creation of an exhibit also provides crucial experience in project management; the curation process is dynamic, with many moving parts and stakeholders that require coordination and consultation to bring your vision to life.
Read what our students have to say:
"I have taken two experiential learning classes with the History Department, and both were amazing experiences. I worked with a wide variety of staff and resources at the university and gained hands-on experience with new tools both online and in-person. The smaller classes provided a personalized experience where I worked with professors to pursue historical topics that really interested me. I also found there was an extremely high level of engagement with classmates and the subject matter. I highly recommend taking an experiential learning class if you have the chance! They were some of my favourite classes in my university career so far."

Julia Cole, fourth-year History student
"Having a course working with medieval manuscripts was a really unique experience, as in History courses we do not often get the chance to do hands-on work. It somehow makes history seem more alive, and it increased my appreciation for the treatment of all historical sources, even in my other classes."

Henry Paiane, student of HIST*3480

Build your Employability Skills
Experiential learning in history emphasizes the importance of communication through both dialogue between classmates and student presentations. Students have the opportunity to present their research at a conference themed around their exhibit, which allows them to share their findings with a wider audience while developing their public speaking skills. Students also cultivate their ability to work cohesively in a group as part of an enthusiastic team of budding historians who are passionate about the past. Working collaboratively fosters the development of an inclusive and supportive learning environment in which all students feel their contributions are valued by their peers.
Students in experiential learning enhance their familiarity with the Digital Humanities, a new and exciting area of scholarship that combines digital resources with traditional research methods. Students learn how to create digital images of historical manuscripts using the library's specialized digitization equipment and become familiar with the professional standards for reproducing images of historical items. Creating an online exhibit also lets students develop their digital literacy by providing experience in website design that is centred around using technology to teach.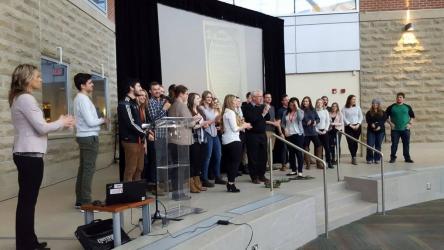 Finally, it isn't just students who benefit from experiential learning! The sheer number of items in the archives means that our archivists and historians haven't been able to thoroughly research every piece of history. When students engage with these historical items, they contribute valuable new information to our existing knowledge of the materials in Archival & Special Collections. This also aids in the research process for future students, history enthusiasts, and researchers, who will be able to access a more complete understanding of history thanks to the hard work of our experiential learning students.
To learn more about our exciting experiential learning opportunities in the Department of History, please get in touch: Kate Hoad-Reddick, Experiential Learning Partnership Developer in the College of Arts: hoadredk@uoguelph.ca