Helen Hoy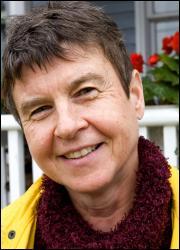 School of English and Theatre Studies
Description
Helen Hoy has published Modern English-Canadian Prose (Gale, 1983), co-edited with Thomas King and Cheryl Calver The Native in Literature (ECW, 1987), and published articles on Canadian fiction, Hugh MacLennan, Gabrielle Roy, Robertson Davies, Henry James, Alice Munro, Suzette Mayr, and Lucy Maud Montgomery. She has taught at the Universities of Toronto, Manitoba, Lethbridge, Minnesota, and Guelph. She has been Chair of the Department of English at the University of Lethbridge, Associate Editor on the editorial board of Signs: Journal of Women in Culture & Society, Graduate Secretary for the Centre for Advanced Feminist Studies at the University of Minnesota, and Coordinator of Women's Studies at the University of Guelph. Helen Hoy's latest book, How Should I Read These? Native Women Writers in Canada (University of Toronto Press, 2001), examines the problematics of reading and teaching First Nations writing from the perspective of a cultural outsider. It raises and addresses questions around "difference" in relation to texts by contemporary Native women prose writers in Canada and includes chapters on Maria Campbell, Jeannette Armstrong, Ruby Slipperjack, Beatrice Culleton Mosionier, Beverly Hungry Wolf, Lee Maracle, and Eden Robinson. How Should I Read These? combines theoretical and textual analysis with personal and pedagogical narratives to address basic issues of reader location, cultural difference, and cultural appropriation. It concludes that these authors have refused to be confined by identity categories such as "woman" or "Native" and have themselves, provided a critical voice guiding how their texts might be read and taught. She received an American Council of Learned Societies Fellowship for this research.
Helen Hoy's teaching and research focuses on 20th and 21st-century Canadian literature, particularly fiction, on marginalized writers and issues, including race, ethnicity, gender, sexual orientation, and disability. She is interested in critical race theory, feminist theory, gay-lesbian and queer theory, postcolonial and First Nations theory, and disability theory. Recent courses have included "Transgressive Sexualities", "Fetal-Alcohol Narratives", "Literary Borderlands", and "Native Literatures and Critical Cross-Readings".
Her focus more recently is twofold. One direction involves an interdisciplinary approach to fetal-alcohol narratives, particularly in a First-Nations perspective. She is examining the light that a clinical knowledge of Fetal Alcohol Spectrum Disorder (FASD) can shed on familiar novels. At the same time, she is also using contemporary fiction and non-fiction texts and the resources of Disability Studies to place FASD in a larger, often colonial perspective and to challenge approaches to impairment that overlook society's construction of disability. (She also provides educational workshops and advocacy around FASD in the community.) The other direction involves queer theory and literature, with special attention to English-Canadian lesbian fiction, criticism, and theorizing. She is continuing to keep in play her attention to race, ethnicity, nation, to difference and identity here, while bringing investigations of the representation of sexuality and desire to the foreground. The politics of representation and self-representation, of oppositional writing and transgression, of reception, and of pedagogy are all part of this undertaking. She is looking at various strategies for writing difference and writing across difference, with emphasis on how race inflects sexuality and sexuality inflects race. She is using selected examples to explore the theoretical problematics raised by the conjunction of postmodern/queer destabilizing of identity on the one hand and postcolonial/feminist/lesbian-gay political engagement on the other (a false binary that the texts themselves contribute to undoing).
Education
       Ph. D. in English
                University of Toronto     December 1977
                 "The Portrayal of Women in Recent English-Canadian Literature"
         M. A. in English
                  University of Toronto         June 1972
         B. A., English Language and Literature
                   University of Toronto         June 1971
Publications
     Books
How Should I Read These? Native Women Writers in Canada
. Toronto: U of 
Toronto P, 2001. 264 pp. A Wordcraft Circle Writer of the Year nominee, 2
002.
Hugh MacLennan
. Toronto: ECW, 1990. 64 pp. Also as "Hugh MacLennan." 
Canadian Writers and Their Works, Volume 5. Ed. Robert Lecker & Jack 
David. Toronto: ECW, 1990. 147-212. Excerpt rpt. ECW's Biographical Guide 
t
o Canadian Novelists
. Toronto: ECW, 1993. 127-29.
The Native in Literature: Canadian and Comparative Perspectives. Co‑edited w
ith Thomas H. King and Cheryl D. Calver. Toronto: ECW, 1987. 232 pp.
 Modern English‑Canadian Prose: A Guide to Information Sources. American 
Literature, English Literature, and World Literatures in English. Volume 38.
 Detroit: Gale Research, 1983. 605 pp.
Articles
"The Truth about Thomas." Thomas King: Works and Impact. European Series in North American Literature and Culture. Ed. Eva Gruber. Rochester, NY: Camden House, 2011. Forthcoming.
"'Too Heedless and Impulsive': Rereading Anne of Green Gables through a Clinical Approach." Anne's World: A New Century of Anne of Green Gables.    Ed. Irene Gammel and Benjamin Lefebvre. Toronto: U of Toronto P, 2010. 65- 81.    
"Fetal Alcohol Spectrum Disorder: Mothering the Child Who 'Can't.'" Mothering Canada: Interdisciplinary Voices/ La maternité au Canada: Voix interdisciplinaires. Ed. Shawna Geissler et al. Toronto: ARM/Demeter, 2010. 165-78.
"'No Woman Is Natural': The (Re)production of Race, Gender, and Sexuality in Suzette Mayr's Moon Honey." Wild Words: Stories from Alberta. Ed. Donna Coates and George Melnyk. Athabasca UP, 2009. 93-124.
      "'Ouça o silêncio': Honre o sol, por Ruby Slipperjack ['Listen to the Silence':
     Ruby Slipperjack's Honour the Sun]." Trans. into Portuguese by Eloina Prati       dos Santos. A voz da crítica canadense no feminino [The Canadian Critical    Voice in the Feminine]. Ed. Nubia Jacques Hanciau, Eliane T.A. Campello, and          Eloina Prati dos Santos. Rio Grande: Editora da FURG, 2001. 181-212.
     "'Because You Aren't Indian': The Politics of Location in Lee Maracle."
     Resources for Feminist Research 25.3/4 (Winter 1997): 53-59. 
"'And Use the Words that Were Hers': Constructions of Subjectivity in Beverly Hungry Wolf's Ways of My Grandmothers." Reading Canadian Autobiography special issue of Essays on Canadian Writing 60 (Winter 1996): 32-58.
"'Nothing but the Truth': Discursive Transparency in Beatrice Culleton." Critical Visions: Contemporary North American Native Writing issue. Ariel
      25.1 (January 1994): 155-84. Rpt., abridged in In Search of April Raintree:
Critical Edition
. Ed. Cheryl Suzack. Winnipeg: Peguis, 1999. 273-93.
"'When You Admit You're a Thief, Then You Can Be Honourable':
      Native/Non-Native Collaboration in The Book of Jessica." Canadian Literature 136 (Spring 1993): 24-39.
     Rpt., abridged in Contemporary Literary      Criticism. Vol. 85. Ed. Christopher Giroux, Brigham Navins, and others. New         York: Gale, 1995. 25-28.
     Also in DISCovering Authors: Canadian Series. Ed.  Jeff Chapman and Aarti Stephens. Detroit: Gale, 1996.
     Rpt. in Contemporary Literary Criticism Select. Ed. Dan Jones and Tim Akers. Detroit: Gale, 1998.                        
     Rpt. in Anthology on Maria Campbell. Ed. Jolene Armstrong. Toronto: Guernica, 2011 forthcoming.
     "Homotextual Duplicity in Henry James' 'The Pupil.'" Henry James Review,14.1(1993): 34-42.
     "Reading from the Inside Out: Jeannette Armstrong's Slash." With Barbara Hodne. World Literature Written in English 32.1 (Spring 1992): 66-88.
Translation, with Thomas King, of "Le Voyage en Europe de l'oncle Timmy" by Louis Jolicoeur. Voix Paralleles/Parallel Voices. Ed. Andre Carpentier and Matt Cohen. Kingston and Montreal:   xyz/Quarry, 1993. 188-92.
     "Alice Munro: 'Unforgettable, Indigestible Messages.'" Journal of Canadian 
Studies
26.1 (Spring 1991): 5-21.
     "'Rose and Janet': Alice Munro's Metafiction." Canadian Literature 121 (Summer 1989): 59‑83.
Rpt. Twentieth Century Literary Criticism. Vol. 126. Ed. Linda Pavlovski. Detroit: Gale, 2002.
Rpt. Contemporary Literary Criticism, Vol. 222. Ed. Jeff Hunter. Detroit: Gale, 2006.
     "Gabrielle Roy." Master entry with bibliography for Canadian Writers,
1920‑1959, First Series
. Ed. W. H. New. Dictionary of Literary Biography, Vol. 68. Columbia, S.C.: B. C. Research & Gale, 1988. Pp. 299‑317.
     Contributions on Canadian material for "Victorian Periodicals."
Victorian
 Periodicals Review
12 (Winter 1979): 152‑59; 13 (Winter 1980): 143‑47; 14 (Winter 1981): 166‑70; 15 (Winter 1982): 158‑63; 16 (Fall‑Winter 1983):
     134‑38; 17 (Winter 1984): 164‑68; 18 (Winter 1985): 164‑68; 19 (Winter     1986): 160‑64; 20 (Winter 1987): 154‑63; 21 (Winter 1988): 167‑78; 22       (Winter 1989): 167-83; 23 (Winter 1990), 189-207; 24 (Winter 1991), 202-23;      25 (Winter 1992): 183-205; 27 (Spring 1994): 90-131.
     Contributions on Le Roman de la Rose for Chaucer: A Bibliographical        
     Introduction
by J. Leyerle and A. Quick. Toronto: University of Toronto Press,
      "Letters in Canada: Fiction," University of Toronto Quarterly 50 (Summer
      1981): 1‑9; 51 (Summer 1982): 318‑34; 52 (Summer 1983): 315‑22; 53
      "'Dull, Simple, Amazing, and Unfathomable': Paradox and Double Vision in
      Alice Munro's Fiction." Studies in Canadian Literature 5 (Spring 1980):
      100‑15. Rpt. Contemporary Literary Criticism. Vol. 95. Ed. Brigham Narins and Deborah A. Stanley. Detroit: Gale, 1997. 283-89.
      Guide to Essay Writing. Ed. Helen Hoy. Toronto: University of Toronto Press for University College Essay Workshop, 1980.
      "'The Gates Closed on Us Then': The Paradise‑Lost Motif in the Fiction of
      Hugh MacLennan." Journal of Canadian Studies 14 (Winter 1979‑1980):    29‑53.
      "Poetry in the Dunghill: The Romance of the Ordinary in Robertson Davies'
      Fiction." Ariel 10 (July 1979): 69‑98.
Review Articles and Book
Reviews
       Rev. of Travelling Knowledges: Positioning the Im/migrant Reader of         Aboriginal Literatures in Canada by Renate Eigenbrod. Canadian Review of    Comparative Literature. Forthcoming 2010.
      Rev. of Talking on the Page: Editing Aboriginal Oral Texts. Ed. Laura Murray and Keren Rice. Papers of the Bibliographical Society of Canada 38.2 (Fall  
      2000): 103-06.
"First Nations' Writing."
Rev. of Iroquois Fires by Dawendine (Bernice Loft Winslow);
T
oronto at Dreamer's Rock; Education Is Our Right: Two One-Act  
Plays
by Drew Hayden Taylor;
The Colour of Resistance, ed. Connie Fife. Canadian Literature 154 (Fall 1997): 128-30.
Rev. of The Crown of Columbus by Michael Dorris and Louise Erdrich, Studies in American Indian Literatures 3.4 (Winter 1991): 50-55.
Rev. of Fear and Temptation: The Image of the Indigene in Canadian, 
Australian, and New Zealand Literatures
by Terry Goldie. Ariel 21. 2 (April 1990): 98-100.
Rev. of A Comprehensive Bibliography of English‑Canadian Short Stories, 
1950‑1983
, comp. Allan Weiss. Papers of the Bibliographical Society of
Canada
28 (1989): 100-02.
Rev. of Ethel Wilson: Stories, Essays, Letters, ed. David Stouck. BC Studies 82 (Summer 1989): 78-80.
Rev. of Canadian Writers Since 1960, First Series and Canadian Writers Since
1960, Second Series
, ed. W. H. New. Dictionary of Literary Biography, Vols. 53 and 60. University of Toronto Quarterly 58 (Fall 1988): 157‑59.
      Rev. of A Mazing Space: Writing Canadian/Women Writing, ed. Shirley 
      Neuman and Smaro Kamboureli. Resources for Feminist Research 17 (March 
      Rev. of The Alice Munro Papers: First Accession, The Robert Kroetsch       Papers: First Accession, The Joanna M. Glass Papers, ed. J. Moore, J. Tener,     and others; and Literary Manuscripts at the National Library of Canada, ed.
      Linda Hoad. Canadian Literature 116 (Spring 1988): 203‑05.
      Rev. of "For Better or Worse": Attitudes towards Marriage in Literature, ed.
      Evelyn Hinz. University of Toronto Quarterly 57. 1 (Fall 1987): 138‑40.
      "Ruts and Riddles." Canadian Literature 99 (Winter 1983): 107‑09. Rev. of
      Hugh MacLennan: 1982, ed. Elspeth Cameron, and Configuration by E. D.
      Rev. of Fragile Lights of Earth by Gabrielle Roy. Lethbridge Herald 24 April
      "Rich and Dangerous." Canadian Literature 90 (Autumn 1981): 153‑56. Rev.
      of collections of poetry by Tom Marshall, Rosalind MacPhee, and Allan
      Rev. of The Enthusiasms of Robertson Davies, ed. Judith Skelton Grant.
      University of Toronto Quarterly 50 (Summer 1981): 166‑68.
      Rev. of Voices in Time by Hugh MacLennan. Lethbridge Herald 14 November
      1980: E 7. Reprinted as "Hugh MacLennan: Civilizations in Collapse." Sphinx
      14 [vol. 4, no. 2] (1982): 144‑46.
      Rev. of Before the Flood: Hugh Hood's Work in Progress, ed. J. R. Struthers.          University of Toronto Quarterly 49 (Summer 1980): 463‑65.
      "Fated or Fatalistic." Canadian Forum 56 (June‑July 1976), 51‑52. Rev. of
      Morley Callaghan's Broken Journey.