Stephen Powell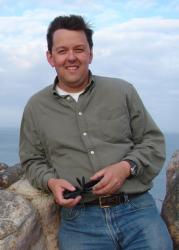 School of English and Theatre Studies
Description
My research focuses on 14th and 15th-century literature and culture, principally Chaucer and romance.  I am also interested in the history of the English language and readings of "the Middle Ages" in the post-medieval world, and I have published in several areas of textual criticism, including bibliography, manuscript studies, history of the book, and editorial theory.  These interests come together in the two large projects I am working on, a study of the manuscript transmission of Middle English didactic romances and an examination of the history of the editing of Chaucer's Canterbury Tales.  Sections of both of these large projects have been published, and I am completing the balance of them.
In my writing, I have also ventured outside my home base in the late Middle English period.  I have published on an Old English poem, Guthlac B, as well as on Jonathan Swift's Journal to Stella and Charles Dickens's David Copperfield; and I am the co-editor of a collection of essays on receptions of the classical tale of the fall of Troy in medieval and early modern Europe. 
The diversity of my research interests is reflected in the variety of courses I have taught, both at the University of Guelph and, earlier, at TCU and the University of Kentucky.  I teach all of the School's medieval literature courses, including Old English.  I often ask to teach our first-semester course for majors, English 1080 Reading the Past, because I thoroughly enjoy helping first-year students make the intellectual transition from high school to university.  I have also taught both of our program's first-year courses for non-majors, English 1410 Major Writers, and, a little surprisingly, English 1200 Reading the Contemporary World.  In addition to literature courses, I regularly teach History of the English Language.  I have extensive experience teaching writing, and I have even taught a course in technical writing and document design.
Perhaps because of the breadth of my teaching and research experiences, I feel comfortable working in a supervisory or committee role in a wide range of fields outside of medieval literature (though naturally I'm always happy to work with students who have an interest in Old or Middle English).  Beyond working with students on medieval research topics, I am also comfortable supervising students' projects in early modern literature and 18th, 19th, and 20th-century fiction.
I seldom lecture; I want students to create their own knowledge.  When necessary, I am happy to provide background knowledge, to play devil's advocate, to coach.  But mainly I want my students to do the thinking—and the talking—in class.  They may not cram in all the facts I wish they knew (because of course facts are useful), but I believe they will have learned analytic skills that are far more valuable than facts.  In supervising research projects at the undergraduate and graduate levels, I have a similar philosophy—my job is to stand to the side and to allow the student to be the principal investigator, calling on me only for encouragement, methodological and theoretical suggestions, and (sometimes relentless) questioning.