2022 Faculty Awards Presented
The annual OAC Faculty Awards were presented at the OAC Welcome Back BBQ held on September 20, 2022. Each year, the OAC Alumni Foundation presents the G.P. McRostie Faculty Award to a faculty member who plays a significant role in education and the OAC Alumni Association chooses three faculty members who have made outstanding contributions in teaching, research or extension. Congratulations to all recipients!
OAC Alumni Foundation G.P. McRostie Faculty Award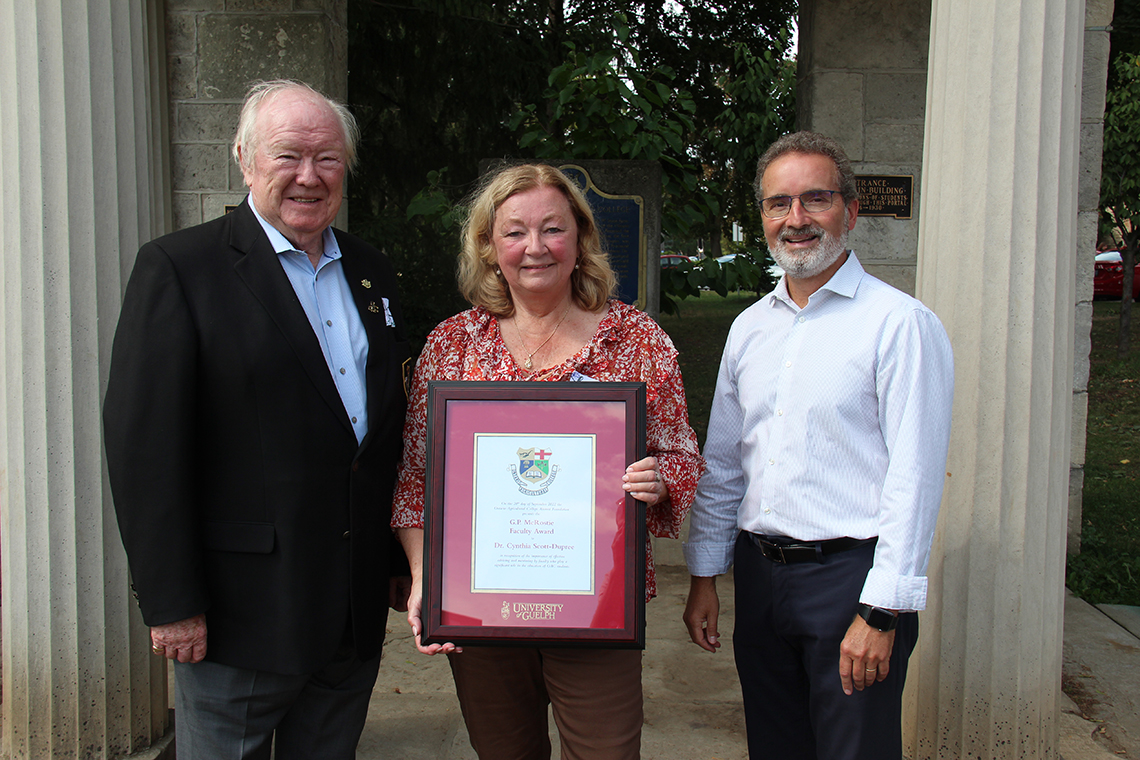 The G.P. McRostie Faculty Award recognizes the importance of effective advising and mentoring by faculty who play a significant role in the education of OAC students. The 2022 recipient:
Dr. Cynthia Scott-Dupree, School of Environmental Sciences
Cynthia has established an internationally renowned research program in insect pest management and has provided considerable and invaluable information to various industry partners. In her career, Cynthia has advised eight PhD students, 45 MSc students, seven MES students and worked with four postdoctoral students as a direct supervisor. As an instructer, she is highly regarded for her enthusiasm, engaging teaching style, and approachability.
OAC Alumni Association Distinguished Researcher Award
The Distinguished Researcher Award recognizes outstanding research accomplishments by an OAC faculty member. The 2022 recipient:
Dr. Jay Subramanian, Department of Plant Agriculture
Jay has made significant and sustained contributions to Ontario and Canadian agriculture, in the area of stone fruit breeding research. He has developed 14 new varieties, which is a tremendous achievement for perennial crops. Jay has an impressive publication record, his 100+ articles appear in leading scientific journals with high impact factors. He has written 12 book chapters, co-edited 3 books, trained 17 graduate students and several post-docs who have attained leadership and faculty positions.
OAC Alumni Association Distinguished Teaching Award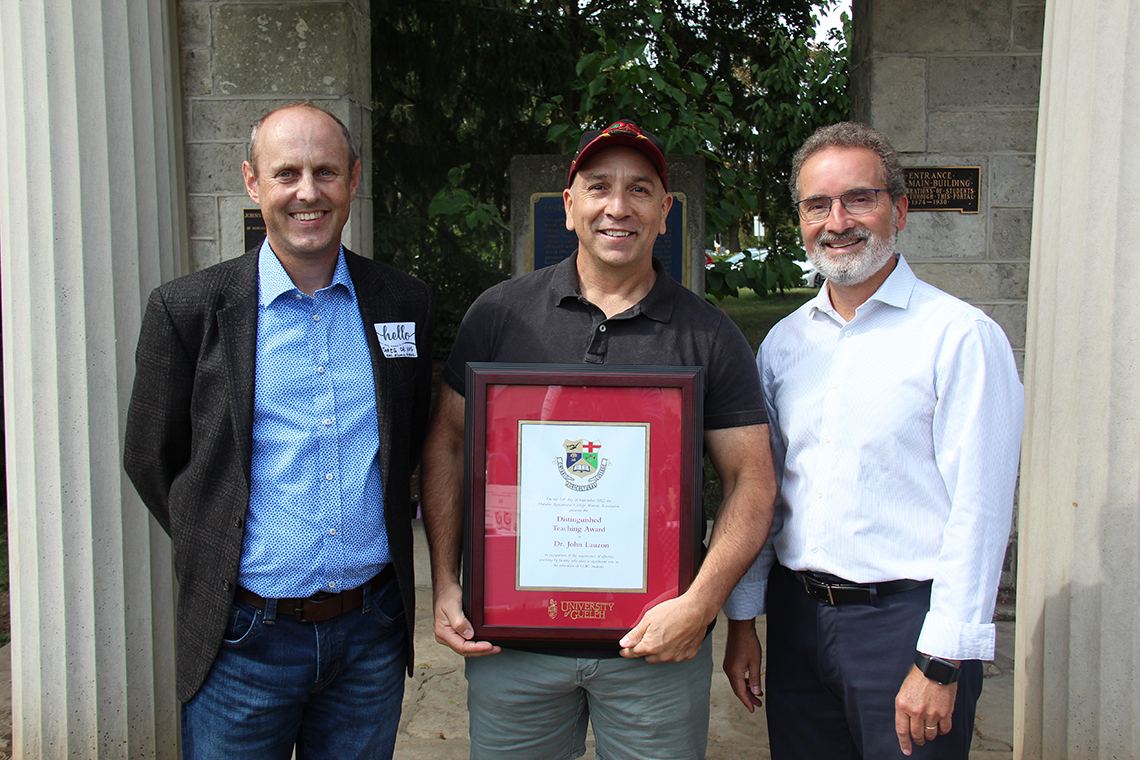 The Distinguished Teaching Award recognizes the importance of effective teaching by faculty who play a significant role in the education of OAC students. The 2022 recipient:
Dr. John Lauzon, School of Environmental Sciences
When starting in the school 21 years ago, John's passion and enthusiasm for teaching was abundantly evident. One of his nominators said he has developed into one of the best teachers in SES and indeed the entire university. John's dedication to soil and to U of G are well established, and his commitment to teaching has inspired thousands of students over the years. One of John's former students said, "John strives to generate an inclusive environment where all ideas are valued. As a teacher, he was dedicated to our personal growth as lifelong learners!"
OAC Alumni Association Distinguished Extension Award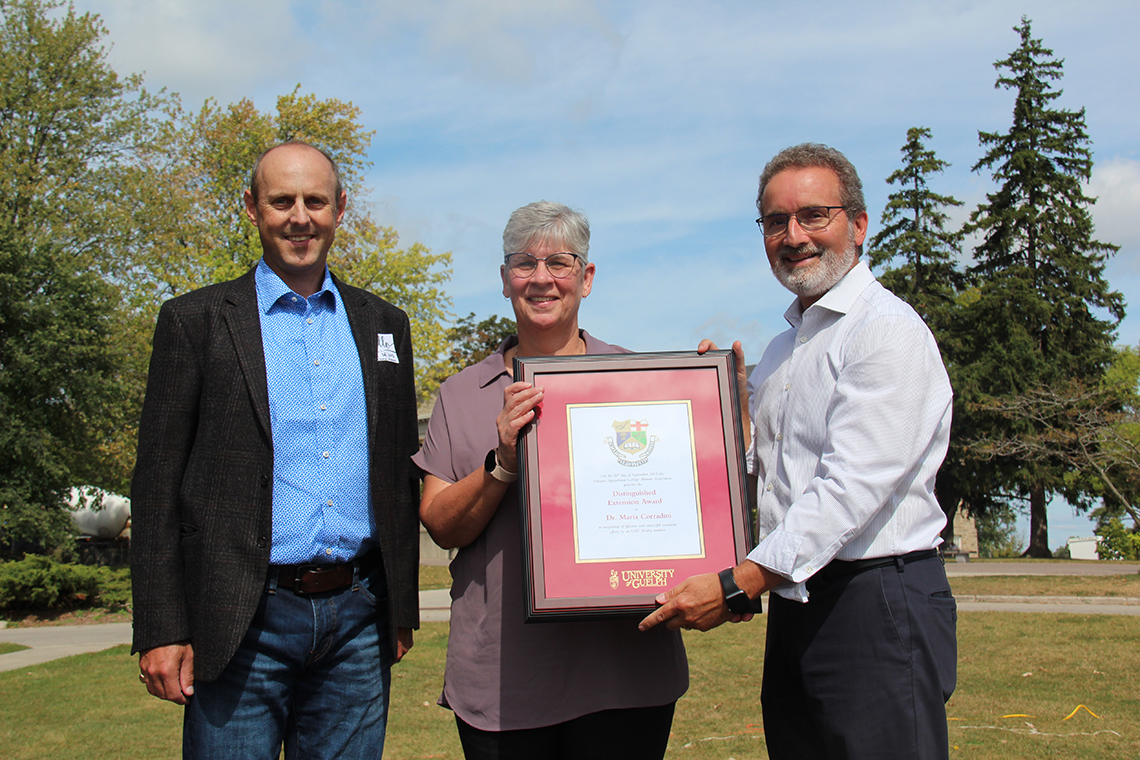 The Distinguished Extension Award recognizes effective extension efforts used successfully in extension outside the University classroom by an OAC faculty member. The 2022 recipient:
Dr. Maria Corradini, Department of Food Science
Maria is known as a true leader in science promotion. Her impact is far reaching, extending beyond Canada into a number of countries worldwide. One of her colleagues had this to say, "Not only do her extension efforts promote career curiosity for next generation scientists, but her efforts elevate the scientific literacy of future non-scientists. By making all kids feel that science can be approachable (and even fun!), Maria is influencing the upcoming generation to be more likely to make science-based decisions that will impact our environment, economy, policy, and agricultural systems."
Share this page
News Topics