Agriculture Izz Everywhere: Kids Career Book for Food and Agriculture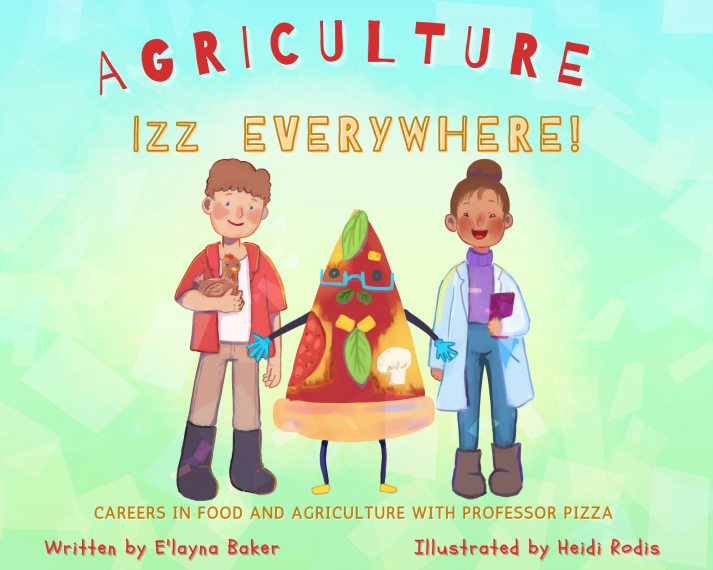 Growing up, my primary school would have a special day every year where students got to dress up as their future career choice. My peers would always show up to Career Day in polished outfits, with jovial expressions, ready and eager to answer the question, "What are you dressed as?" or "What do you want to be when you're older?" In first through third grade, I remember not being too pressed to dress as anything serious because I had no idea what I wanted to do in the future. I was just enjoying the fun of it! (I remember dressing as a nurse in the third grade, knowing I had zero intent of becoming one when I got older.)
But there came a point where I started to think more critically about my future. Soon, the days leading up to Career Day I found myself to be pretty anxious about what to dress up as. What do I enjoy? What are my talents? What does the world need? I was asking myself these questions around the time of Career Day as I got closer to exiting primary school.
I wasn't introduced to the field of food and agriculture as a potential career path until age 13 when my aunt signed me up for a government-run summer camp. It was organized by the Bahamas Ministry of Agriculture and Marine Resources and took place on a high school campus for about 12 weeks out of that summer. I still remember the awe and excitement I felt each new day when we dived into a different topic and explored what food and agriculture really means, especially for a small island developing state like the Bahamas. This was a shock to my mom because in the past I always hated the idea of summer school and would often find ways to skip and stay with my grandmother for the day.
At this summer camp we explored food trade, growing practices, livestock farming, soil science and more. Literally everyday we talked about something new and interesting. But the day we talked about careers in food and agriculture, everything changed for me. Our discussions that week made me realize that growing food would be pointless without all the people that help food reach its intended destination. We talked about agri-food marketers, food scientists, animal nutritionists, supply chain managers and so much more. It was amazing to take all that in. It influenced me so much that I decided to pursue agri-food studies at the University of Guelph. 
With that being said, during my time as the communications intern for the Ontario Agricultural College, I worked on a short "jingle book" for kids which showcases careers both directly and indirectly related to food and agriculture: Agriculture Izz Everywhere.
The nameless main character of the story is feeling anxious about his future. In the first part of the story he is thinking tirelessly about all the things he could explore and he wonders where exactly he fits in. This is very similar to how I felt leading up to Career Days when I was in primary school. He goes on to think about his relationship with food, and just before eating a yummy slice of pizza he starts to daydream. That's when he was guided through an animated adventure by a walking, talking slice of pizza. Professor Pizza talked all about the food value chain and all the people involved in getting the pizza to his home. You can also find a separate PDF resource, which has the job title and descriptions of some of the careers alluded to in the story.
I relate to the main character in this story on so many levels. To an extent, I am still not entirely sure where I fit into the industry, but it's something I'm exploring every day through job experience, networking, personal research and more. As I continue learn more about myself, my skills, my interests, and my talents as new grad, I know that the industry is welcoming to everyone ready and willing to make a positive contribution. All it took was a prompt to help me notice that. The adventure with Prof. Pizza is what inspired the child in this story, and the summer camp is what inspired me. At age 13, I was inspired, simply from being told what was out there as it relates to careers in agriculture – and that's the goal of this fun project which I've worked on over the summer. 
It is a simple, yet fun take on explaining the depth and breadth of what agriculture means. I believe agriculture is such an underrepresented field when communicating potential career choices to young, inquiring minds. After all, it's human nature to gravitate toward what is familiar to us, and there is certainly no exception when it comes to choosing your future job and impact on the world. Like the name of the book states, I truly believe agriculture is everywhere – and it's certainly not going anywhere. I also believe that now is the time for training new generations of agri-food professionals, researchers, producers, and enthusiasts to tackle feeding a growing population while being mindful of planetary boundaries and working to promote truly sustainable outcomes.
In addition to teaching about food and agriculture, the Ontario Agricultural College also seeks to develop leaders and innovative thinkers to help sustain the environment, as well as build happy, safe communities. My intention for Agriculture Izz Everywhere is to highlight that growing the food we need to sustain our life affects and is affected by many factors. Nowadays there is so much pressure to have career goals and objectives from very young ages, and I believe it is okay to not have that figured out completely as a primary school student. However, learning about the options in food and agriculture is truly worth it for every young person.
If you know a child that would enjoy reading about food and agriculture, and exploring careers in the industry, introduce them to this engaging short story. It is my hope that children enjoy reading it as much as I enjoyed writing it. And of course, every story has a moral, so here's the moral of this one: the food and agricultural industry is more far-reaching than it seems, and it certainly has room for you. Oh, and, the fact that agriculture is literally everywhere. 
Download Agriculture Izz Everywhere
Please note, accessible versions of these resources are in development. Please contact Jordan Terpstra at jterpstr@uoguelph.ca for alternative formats in the meantime.
---
Funding for this project was provided by the W.S. (Stan) Young Memorial Grant through the OAC Alumni Foundation.
Share this page
News Topics