Apple research ripe for growing cider market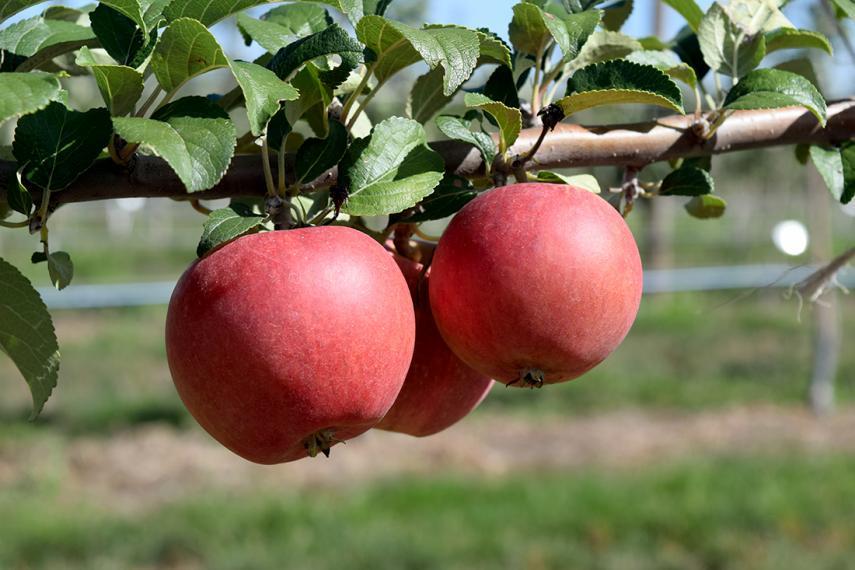 There's a refreshing research project taking root across Ontario that's set to help grow Ontario's craft cider industry. University of Guelph researcher John Cline is beginning the third phase of his three-part project that will help build sustainable, value-add opportunities for Ontario's agri-food sector.
Fermenting fresh apples into hard cider isn't new in Ontario, but the popularity of the beverage is taking off in a way that craft breweries did a decade or more ago. And that's created a unique opportunity for researchers and cider makers to collaborate to create a better cider product.
Cline is an associate professor in the Department of Plant Agriculture stationed at the Simcoe Research Station, and he's leading a multi-year project to provide apple growers and cider makers with the optimum varieties to help elevate the opportunities and tastes of Ontario's craft cider industry.
Cline's work involves three projects, reflecting the steps needed to build a new value-added industry in Ontario. The research elements are all working towards supporting a stronger cider industry in Ontario. The first two parts of Cline's work were funded through the Growing Forward 2 Program, and the third phase – that began last spring – is funded through the Ontario Ministry of Agriculture, Food and Rural Affairs(OMAFRA)-University of Guelph Partnership.
The search for better cider
A distinct Ontario hard cider would bring with it new potential for Ontario's agri-food sector, and the path to a better cider apple involves several key steps. It starts with finding apple varieties suited for cider and then producing trees in a nursery, learning how to grow them commercially and measuring the qualities that will ferment them into refreshing cider.
"There aren't many cider varieties that are commercially available in Canada, so we had to begin our research by scouting for material from European and American sources," explains Cline. "In the last 100 years, the Canadian apple industry has focused on fresh market and eating apples, and these varieties aren't ideally suited to cider."
Culinary (fresh) apple cultivars have been used by Ontario cider makers but are not ideal for optimizing cider flavour. Cider varieties contain higher levels of tannins, sugar and other flavour components that transform them into a better hard cider product.
Establishing cider apple orchards
After sourcing cider apple budwood (tree "seeds") and producing trees on dwarfing rootstock, the second phase of Cline's research was to establish them in orchard-growing conditions. That's when he began working with the Ontario Craft Cider Association (OCCA) – a group of approximately 25 craft cider makers across the province serving the growing, local thirst for hard cider. "We met with the OCCA to see how we could complement their efforts to grow the cider industry, based on what we know about the fresh apples. They were very interested in what cider varieties were available," says Cline.
Working from the trees developed in the first part of his research, Cline, research technician Amanda Gunter, and four cider grower-cooperators planted 29 different cider apple varieties at five different locations across Ontario including the University of Guelph research orchards in Simcoe in 2015. The cultivars are grown on dwarfing rootstock that produces trees about 50 percent smaller than standard trees. These smaller trees grow a more modern, efficient orchard that will bear fruit for 10 to 15 years and be adaptable to mechanical harvesting.
According to Cline, the entire apple industry is moving to wire trellis, dwarfed trees that can be planted closer together with higher fruit quality and production per hectare. This system creates a smaller tree canopy that lets more sunlight get to the tree.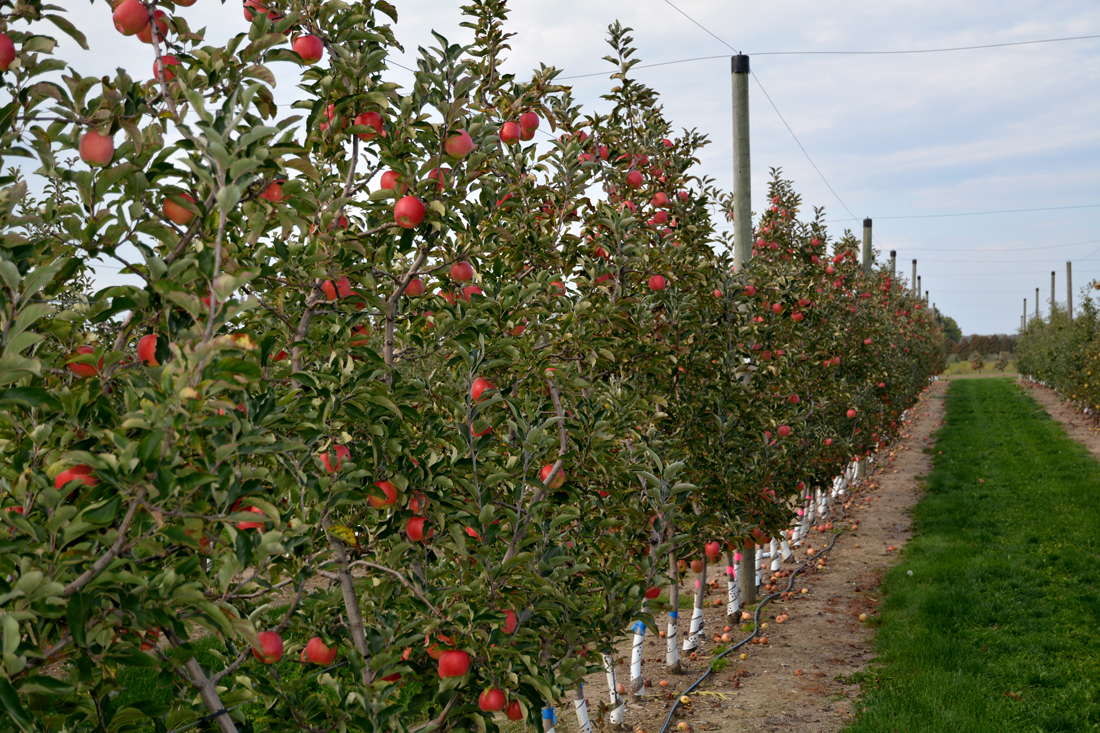 Watching the apples grow
The cider apple orchard plots will begin bearing fruit in 2017, and starts the third phase of Cline's research – supported through the OMAFRA-University of Guelph Partnership. It's a three-year project that runs through 2019 and will help Cline and his graduate student, Derek Plotkowski, look at the horticultural aspects of the cider varieties, cider quality and characteristics of the juice.
The cider apples grown in the research plots will be monitored for horticultural attributes – how the trees grow, bloom dates, harvest dates and yield. "These are varieties we know little about in Ontario so we have to collect basic horticultural information on how they grow, what diseases and insects they are susceptible to, and how they bear fruit. This kind of basic agronomic information will ultimately help apple growers successfully grow these new varieties," says Cline.
Knowing how to grow the cider apples is important. But turning that juice into a tasty, saleable hard cider is an entirely different process. Looking at the science of cider making is also included the research project objectives.
Cline and Plotkwoski, collaborating with University of Guelph microbiologist George van der Merwe, will press juice from the cider apples that will be fermented to define some of the flavour components and how cultural practices in the orchard can influence cider flavour. "We want growers to be able to optimize these components (sugar, acidity, tannins, phenolic compounds) using the horticultural information we have gained by growing these varieties," says Cline.
Testing the grown-in-Ontario cider apples will provide vital insights and information for the Ontario industry. "The predominate supply the craft cidery market currently has is fresh/culinary apples," says Cline. "Cider makers do a lot of blending, starting with a base juice from something like a McIntosh or Idared, to create a unique and distinct flavour. But the new cider apples will open up a whole new world of flavour possibilities."[Office1]
Relevant research moves the industry forward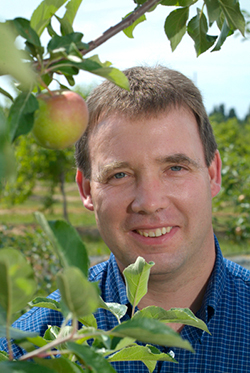 "When I first met with the cider association a few years ago, they said they wanted relevant research that would help move their industry forward," says Cline.
There is a huge untapped demand for juice from better quality fruit that is specifically grown and suited for cider. Cline's research to quantify the attributes of cider varieties has the potential to provide significant economic opportunities for the Ontario apple industry, serving a booming market for locally-grown hard cider. "This is going to change the dynamics of the juice," says Cline.
Cline expects the model for the apple market in Ontario will include new diversification options. Growers will follow the economics and he expects cider apples will be grown with fewer chemical inputs to lower the cost of production.
"Misshapen, poorly coloured, slightly blemished or small fruit doesn't matter as much when pressing cider apples into juice. And we also are seeing that some cider varieties are resistant to diseases like apple scab which could reduce the need for pesticide sprays," he explains.
The cider apple market also opens the possibility of mechanical harvesting to further lower the cost of production. "Smaller trellis orchards may make it possible to harvest without manual labour required for culinary apples. It's something the cider makers are interested in pursuing," says Cline.
Ontario has tremendous opportunities in the apple cider market. There is a core group of cider makers who have been successfully using fresh apple varieties to create award-winning cider for years. Cline hopes to offer unique new varieties that produce a very distinct hard cider, and with that, new potential for Ontario's agri-food sector.
Share this page
News Topics