Four Alumni Inducted into Ontario Agricultural Hall of Fame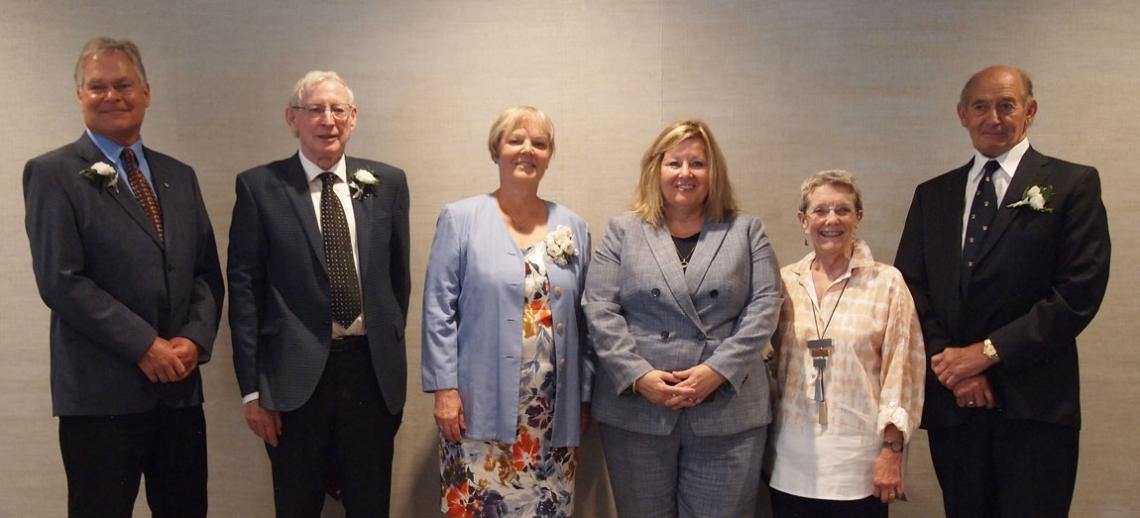 Four of this year's five inductees into the Ontario Agricultural Hall of Fame are OAC alumni. Congratulations to all inductees. A photo album of the event is available here. 
Paul Kelly (B.Sc. (Agr.) '83)
Paul Kelly has managed the Honey Bee Research Centre (HBRC) at the University of Guelph since 1987. This includes managing over 300 bee colonies. He also sells his personal bee stock to new and experienced beekeepers across Ontario. Paul has developed methods and innovations to counteract some complex stresses, diseases and pests, and is an internationally acclaimed bee expert known for his abilities as a gifted speaker, teacher and extensionist. Paul is effectively educating the world as a global thought leader in pollinator education and research through a unique serries of beekeeping videos on Youtube. He currently serves on the Pollination and Apiculture Advisory Committee of Ontario and on the Ontario Animal Health Network Apiculture Committee along with involvement and membership in several additional bee and honey related organizations.
Patrick Lynch (BSA '70, MSc '73)
Pat Lynch began his career as an agronomy professional in 1973, working as a soils and crops specialist with the Ontario Ministry of Agriculture and Food. There, he introduced new crop production techniques, initiating soybean production in new regions, promoting direct cut solid seeded white beans, colaunching a pesticide course (the current Grower Pesticide Safety Course), and starting county newsletters. In 2008, he became an independent consultant directly consulting with growers. He coauthors a weekly agronomy newsletter and has been writing a regular column in other magazines and newspapers for 40 years. Pat helped to introduce the Certified Crop Advisor Program to Ontario through development of performance objectives and the CCA examination. This certification program now includes over 650 professional crop advisors.
Patricia Mighton (BSA '64, MSc '93)
Pat Mighton's leadership began as class secretary for OAC '64, a role she has maintained for nearly six decades. Pat was the University of Guelph's first female president of the OAC Alumni Association, chair of the OAC Alumni Foundation, served on the U of G Senate, and a member of the International and Awards Committees. In 1984, Pat joined the Ontario Ministry of Agriculture as education specialist. She was responsible for coordinating the Agriculture in the Classroom program in its early days. Her efforts were invaluable in creating what is now known as AgScape Ontario. Pat was the executive director of the Advanced Agricultural Leadership Program (1987-97) where she led this unique leadership opportunity for people working in agriculture and rural Ontario.
James Rickard (B.Sc. (Agr.) '66)
James Rickard is a successful businessman, operating a 1300-acre diversified farm operation in Bowmanville, with his brother. Jim is also a trained facilitator and arbitrator, providing professional consultation for dispute resolution for individuals and grower associations. He is known for his integrity and fairness and his ability to foster unity among diverse interests. Jim has been involved in Ontario Apple Growers Marketing Board; Ontario Fruit and Vegetable Growers' Association; Farm Products Appeal Tribunal; and Ontario Broiler Hatching Egg and Chick Commission. With his efforts, Ontario has set the standard of service of adjudication, ensuring that Ontario agriculture operates on principles of justice and fairness. He helped to resolve many conflicting points of view to enable the agricultural industry in Ontario move forward efficiently and profitably.
Share this page
News Topics