How Are You Handling Things? Q&A with Alumnus Steven Larmer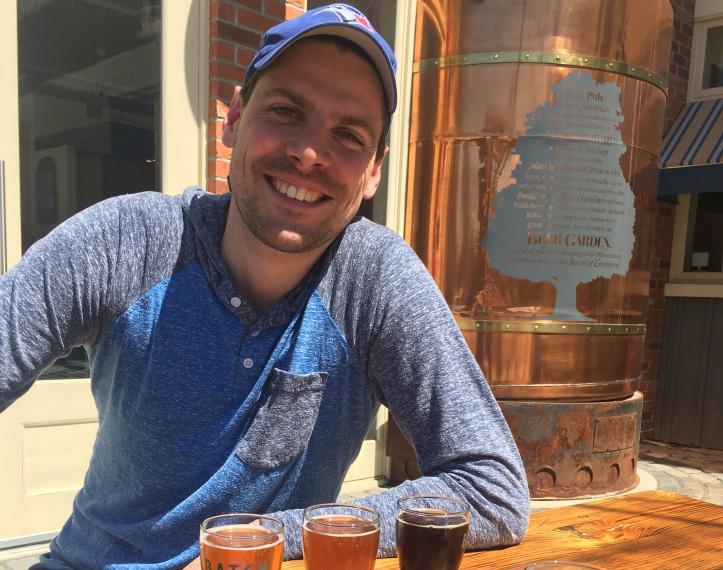 *** Over the next few weeks, we will be sharing a series of Q&As featuring OAC community members to showcase how people are coping with our uncertain - but collective - state. We're hoping these will help connect and support our community (in a small way) during these isolating and challenging times. Look after yourself and those around you. ***
Steven Larmer received all three of his degrees from the Department of Animal Bioscience (previously Animal and Poultry Science) and spent most of 2007-2016 on campus and in ANNU. Today he's using his PhD in genetics as the Senior Manager, Genomics Program for Semex, which is an international animal genetics company based out of Guelph. He recently chatted with us about how life has changed over the last few weeks.
---
What's your current situation?
Working from home, adjusting slowly to a new normal. I live in Arthur, so I am in rural Ontario and dealing with rural internet. My day to day routine has been a learning experience. Finding a routine is important for most, and I think I've maybe underestimated that. Little things like not having a podcast on my commute in the morning to get my brain engaged has changed how quickly I'm able to get into a task once I sit down in the morning. On the plus side, being able to get outside for 20 minutes with our puppy through the day has been a welcome mental break when things get stressful.
How are you spending your days?
A lot of grainy videoconferences. A little cramped in a home office that was once our kitchen with my fiancée working within arm's reach (so far so good). But fortunately, being in a computer-based, data analysis type role, my day-to-day can remain relatively normal from a task standpoint (with the exception of internet issues). I've been fortunate compared to many through this period from a work standpoint. I'm now trying to find routines, but I'm historically pretty terrible at sticking to them. Meal prep has become a much bigger part of the day, as food has always been a great source of joy, and this has allowed me the time to try some new things, and spend more effort on food prep. For example, I've found myself baking bread every third day or so, mainly as a mental health exercise. Evenings have been spent playing with the pup, but also certainly more time in front of the TV than normal because I don't my normal evening activities of sports and social gatherings.
How has your workflow changed?
It's been a learning experience. As a relatively new manager I felt like I was hitting my stride with my team and found effective ways to communicate and work on a daily basis. This obviously changed, and it's been a challenge to find that same groove from a distance, although a combination of routine videoconferences and an open stream of messages has worked relatively well. As for data analysis and -my day-to-day work, rural internet has provided a big challenge. Working with big data is significantly more challenging in Arthur than it is in Guelph. Thankfully I have team members with far better connectivity who have been able to support some of our most important activities.
How are you finding physical distancing?
It's been tough. I'm generally extroverted, so the limit of social interaction through the week has taken a toll on my mental health. Luckily some of the ways I cope best are still available. A lot of walks with the dog and my fiancée have been a big help. I've also struggled not being able to grocery shop nearly as often. I'm used to a quick stop at the grocery store on the way home almost every day, and now having to meal plan and shop as infrequently as possible has been an interesting change. The other thing that has really helped get me through lately was a serendipitous decision to start a new hobby, which I made right before social distancing began. This period of free time has let me really dive into homebrewing.
In general, there have been a lot more ups and downs than I'm used to, with some days feeling like I'm hitting my stride, only to be hit with a wave of reality the next. Social media has probably played a bigger role lately, and I've found it more important than usual to put down the phone when I can and stop reading bad news. I'm used to using Twitter as my primary information source for the outside world, but it can be really draining in a time like this. On that note, my sleep per night has skyrocketed.
What are some ways you are staying in touch with friends and family?
Grainy videoconferences have not just become a work staple, but a really important way to keep in touch. I've also seen a pretty drastic spike in email chains, Twitter messages, group texts and Instagram messages through the last couple weeks, as we all try to find the connections that we are missing. I think in some ways it's reminded me of how important those connections to friends and family are and has led to reconnecting with some friends I hadn't talked to in a while. That's been a big positive. Physical distancing hasn't meant "social" distancing at all.
What's brought you the most joy over the last few days?
We figured out how to play games remotely with friends, so we've set up a routine Sunday night "Jackbox" game, where a group of friends connect by videoconference and play a game. This is something I think we will stick with beyond this period, and something I look forward to all week.
Do you have any advice for your fellow alumni during these uncertain times?
Take care of yourself. I found myself trying to power through for the first week or so, and "being brave" about it only led to it hitting me harder once it did. Taking the time for proper self-care each day has made a huge difference for me.
Share this page
News Topics