Meet Anna, equine management student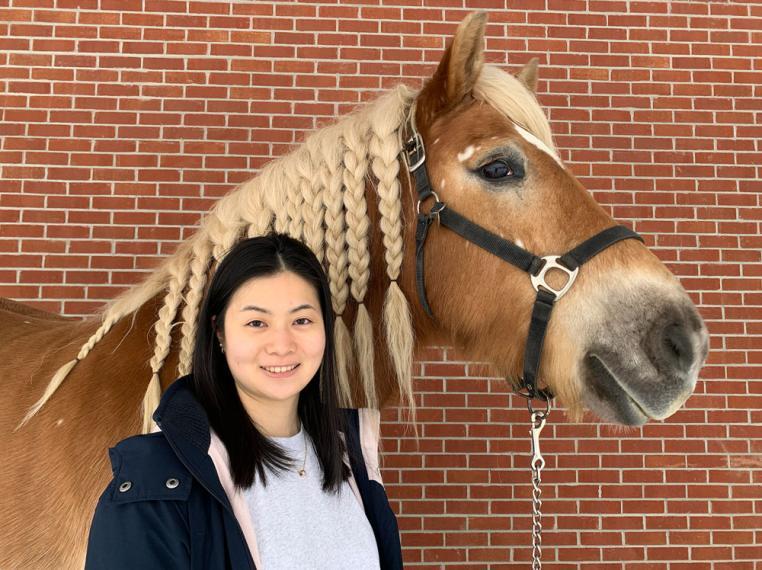 Anna found the perfect program to match her interests, and pursued it despite it being in new country and taught in essentially a new language! Four years later she's wrapping up her studies in equine management and is considering the next steps in her equine career.  
Name: Anna Nakano
Program: Bachelor of Bio-Resource Management – Equine Management
Year: Fourth Year
Hometown: Tokyo, Japan
---
Why did you decide to study at U of G?
I've always been crazy about horses and passionate about learning about horses. When I was a high school student, I was searching for universities in Japan, but there is no Japanese university that has a program specializing in horses. Fortunately, I have a Canadian friend and she told me about University of Guelph and its equine management program. I immediately made up my mind because this program is exactly the one I was looking for.
What do you like best about your program?
The point I like about my program is that it includes both science and business aspects. Some courses are focused on equine science and the equine industry, while some courses are not related to horses, but they are useful for working as an equine professional in the future. I'm confident that all information that I learned will be helpful for my life after graduation.
In what ways were/are you involved on campus?  
During first year, I took western riding lessons through the university's equestrian club.
Do you have a favourite class or professor?
Every equine course is my favourite! I particularly enjoyed the Introduction to Equine Management course that I took in my first semester. It covered basic information of horses and their management skills. This course was a dream come true for me. Both lectures in the classroom and labs using actual horses were very fascinating. I also liked the assessments in this course, like making a presentation on horse breeds or a test on estimating the age of the horse by its teeth.
Where is your favourite spot to hang out on campus? 
I spend most of my time at the Library on campus because it keeps me motivated and productive.
What is an unforgettable university experience?
My unforgettable experience was a dissection of equine lower leg during a lab. I was so impressed with the different parts supporting the horses. Also, it was surprising how accurate the textbook was, and I realized that learning with my own eyes is important.
What's an activity that makes you happy?
I love playing the fingerstyle acoustic guitar.
What are your plans or goals after graduation?
I'm still not sure but I'm thinking of either graduate school in Japan or job related to horses in Japan or in another country.
What piece of advice would you give to your high school self?
I would say that it's important to just try even if it looks scary at first. There are many opportunities that help you grow, so don't hesitate at a challenge.
What's one fun fact about yourself?
Although I took English grammar courses in high school, I started learning English (reading, listening, writing, and speaking skills) by myself after deciding to go to University of Guelph. 
Share this page
News Topics