Meet Katie Giles, Turfgrass Management Student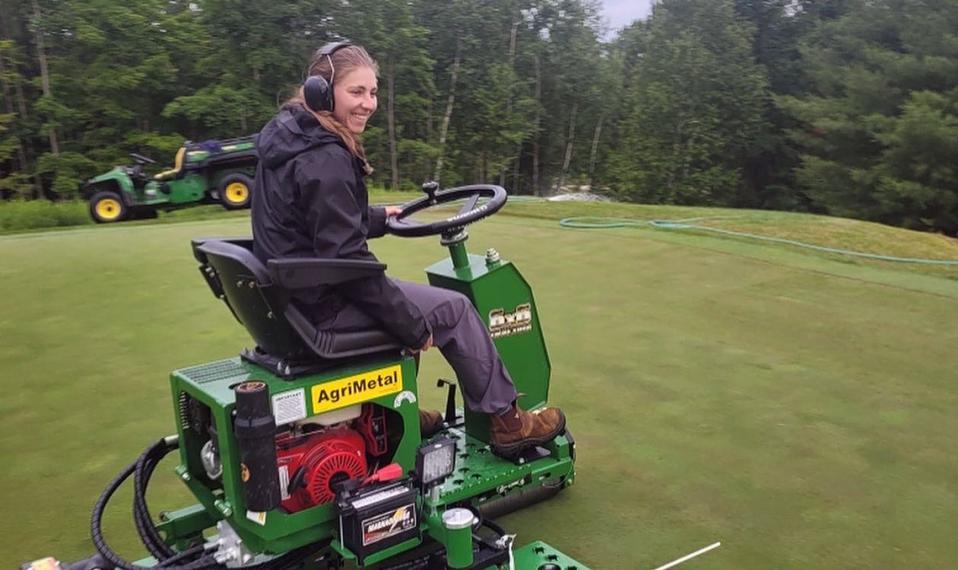 About Katie
Originally, Katie didn't realize she could study turfgrass management. Fast forward two years later, she's finishing up her diploma at the University of Guelph. She even has a fulltime job waiting for her post-graduation at the same course where she completed her summer co-op placement.
Program: Associate Diploma in Turfgrass Management (DTM)
Hometown: Orangeville, Ontario
Year of Study: 2nd year
---
Why did you decide to study at the University of Guelph / turfgrass management?
I decided to study at the University of Guelph and more specifically turfgrass management because I always worked on a course as a summer job. I just never knew that there was a program for turfgrass until I became more interested and started asking questions about the industry. That led me to enrolling at the University of Guelph due its amazing reputation on the program.
What do you like best about your program?
I enjoy being taught by professors that worked in the industry prior to teaching. They bring a lot of knowledge and experience to the program. I find it's a very hands-on, discussion-based and inclusive program.   
In what ways were/are you involved on campus?
I participate in our Turf Club meetings that we have on campus.   
Do you have a favourite class or professor?
Turfgrass industry was one of my favourite classes so far. It's great hearing about others' co-op placements and what different experience we all had but, in a way, still feeling like we're all sharing a very similar experience.  
Where is your favourite spot to hang out on campus?
The Bovey Greenhouse Café
What is an unforgettable university experience you've had?
Sodding the cannon during my first year and pub nights.
What is a hobby that makes you happy, or relieves stress?
Hiking with my dog Ripley, or hitting a bucket of balls at the range.
What are your plans or goals after graduation?
After graduation I have a position at Bigwin Island Golf Course where I did my co-op. I will be assistant in training and continuing to work toward becoming an assistant superintendent. I'd also like to buy a boat this summer for my daily commute to work.   
Knowing what you know now, what piece of advice would you give to your high school self?
It's ok that it happened later on and it's ok to feel that you're not totally there.
Share this page
News Topics