Meet Priscilla, horticulture student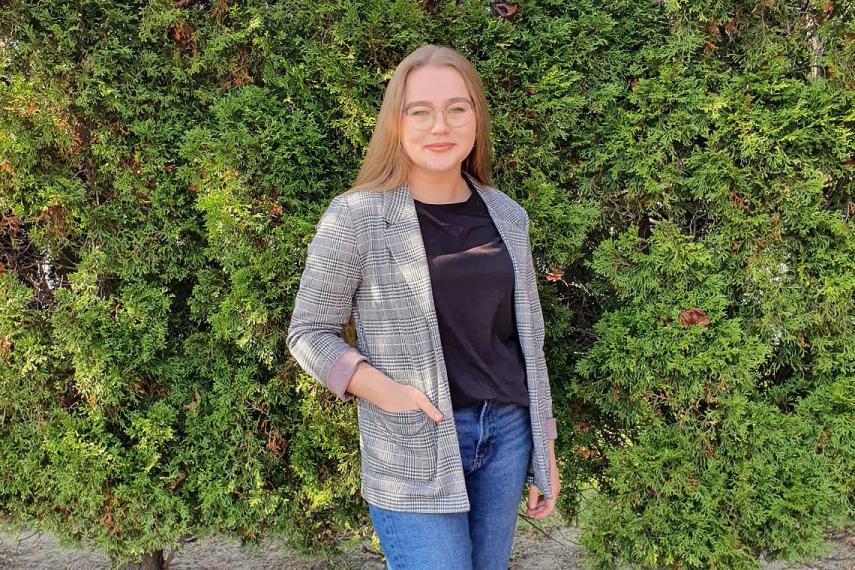 Priscilla didn't initially choose to study horticulture but decided to transfer after first year. She loves the applied aspects of her major and how broad the options are in horticulture (both study and career-wise).  
Name: Priscilla Dyck
Program: Bachelor of Science in Agriculture - Horticulture
Year of Study: 3rd Year
Hometown: Cottam, ON
---
Why did you decide to study at U of G?
When I visited on my tour, I fell in love with the comfortable, friendly environment. I chose to study horticulture because it is a super interesting topic, that has many different opportunities for growth such as fruits, vegetables, ornamental plants, and medicinal plants.
What do you like best about your program?
I really like that the horticultural program includes a lot of real-life applications of things we learn in class. I don't just learn theoretical knowledge in class, but I have labs where I can practice plant propagation and management under the supervision of an expert. I also really enjoy the field trips that I get to go on where I can see different facets of horticulture. The program provides a well-rounded overview of everything I need to succeed in the horticultural industry.
How are you involved on campus?  
On campus I've been involved as a member of the OAC Leadership Conference committee, a class representative for the Women in Agriculture Club, an ambassador for the University of Guelph and I've held various work-study positions. I was also selected as a President's Scholar when entering university and I now help to select future President's Scholars.
Do you have a favourite class or professor?
Dr. John Lauzon is a great professor that is very engaging and can explain concepts very clearly so that everyone can understand. His soil science class was a course that I wasn't particularly looking forward to but it ended up being one of my favourite classes ever! Dr. Barry Micallef is another amazing professor who is very passionate and prioritizes learning and comprehending concepts as opposed to just memorizing material. His vegetable production course was another one of my favourite classes and the field trips that he planned were really interesting.
You transferred into horticulture from another program. Tell us about the transfer experience.
I transferred from biomedical sciences to horticulture after my first semester and the process was much easier than I thought it was going to be. Since both are science programs, the first-year course requirements were similar and I didn't find it difficult to catch up. Talking with my program counsellor to plan out my courses was really helpful and made transferring majors a smooth experience.
Where is your favourite spot to hang out on campus? In Guelph?
My favourite spot on campus to study and get some work done is the Airport lounge on the second floor of the UC and the 5th floor of the Library. Another one of my favourite spots on campus is the Arboretum, I love taking walks there when I have time in between my classes. I also love going to the Red Brick Café downtown for some amazing coffee and food.
What is an unforgettable university experience you've had?
Meeting lifelong friends that have the same interests as me.
What is a hobby/activity that makes you happy, or relieves stress?
I enjoy calligraphy, playing piano, and cooking. I find that taking a break and doing some of these activities helps relieve my stress and calm me down. Even during the busiest times of the semester, I try and make time for these hobbies to avoid burn-out and exhaustion.
What are your plans or goals after graduation?
After graduation I'd like to enter the greenhouse industry but I'm not quite sure what area or role, so I'd like to keep my options open.
Knowing what you know now, what piece of advice would you give to your high school self?
You don't need to have your entire future planned out. Interests and goals can change, and there are many more careers and opportunities that you haven't been exposed to yet.
What's one fun fact about yourself?
Low German is my first language and I only learned English when I started going to school.
Share this page
News Topics