The mystery of the missing cannon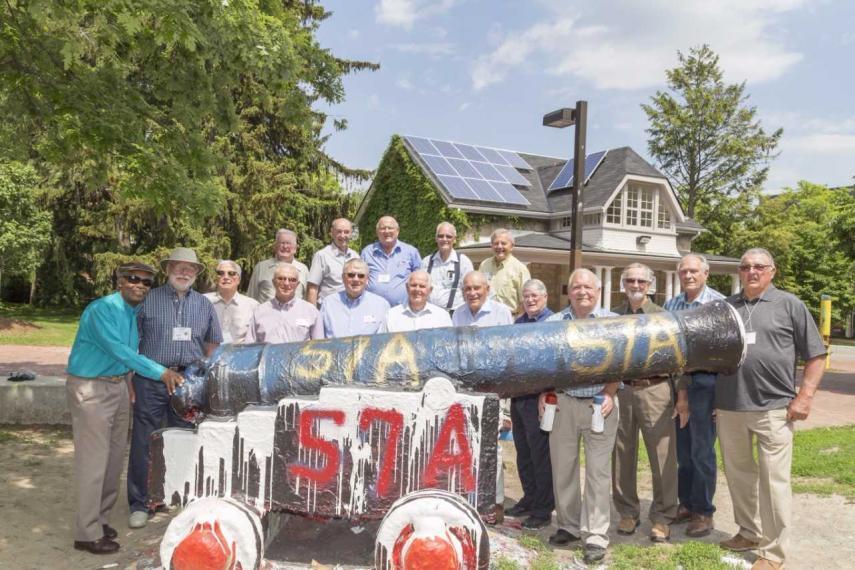 The University of Guelph's George III cannon named "Old Jeremiah" has been a fixture on campus since the 1880s when it was acquired by the Ontario Agricultural College and placed in front of Johnston Hall. It has moved around campus many times, but for a couple of years in the mid- 1950s it disappeared.
"When we arrived on campus in the fall of 1955, the cannon was not there," says Alex Ansell, OAC '57A.
Somehow the cannon had made its way behind the Ag Mechanics building. Ansell's classmate Jack Crozier, found the cannon while working on a project.
"He discovered the cannon outside of the building covered with weeds. The base was nearby, had been partially burned and was also covered with weeds. How long they had been there, we do not know," explains Ansell.
The class decided to return the cannon to its home beside Massey Hall on Halloween night, October 31, 1956. Classmates Bill Dimson and Larry Kain towed the cannon back in place using a two-toned Olds and truck. They even had help from the head of campus security, "Pete the Cop," with directing traffic.
Their next act may have inspired a tradition that is still carried on today. Once in place, the class "christened" the cannon by painting it with their class year.
"We painted it to make sure that everyone was aware of who moved it and we wanted it placed on view," says Ansell. Following the cannon's restoration, students moved the cannon around campus until it was eventually cemented in place in Branion Plaza after engineering students moved it there.
The OAC Class of 1957A recently returned to campus for Alumni Weekend to celebrate their 60th anniversary and reclaim their piece of history.
"We wanted to set the record straight. We brought the cannon back in 1956. The engineers only moved it in 1973 to its current resting place," he says.
Thanks to the hard work of OAC '57A, generations of students continue to enjoy the traditions of guarding and painting "Old Jeremiah."
Share this page
News Topics