OAC Names Research Chair in Sustainable Biomaterials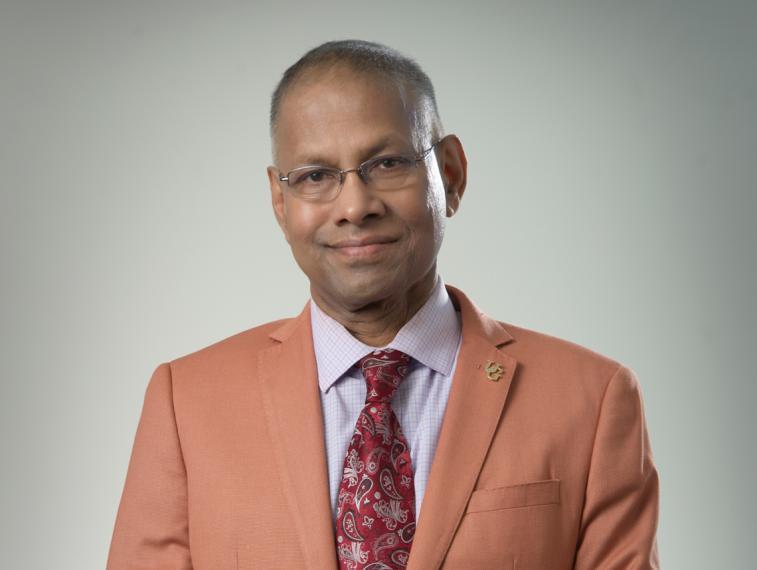 Prof. Amar Mohanty, an internationally renowned researcher, has been appointed as the Ontario Agricultural College (OAC) Distinguished Research Chair in Sustainable Biomaterials effective February 1, 2020.
Mohanty, director of the Bio-Products Discovery and Development Centre (BDDC), focuses on engineering new sustainable materials and innovations in bioproducts to reduce society's use of fossil fuels for mitigating climate change.
"It is important to recognize Amar's tremendous leadership in our college and University, but more importantly the immense value he's bringing our world through his research and the training of highly qualified personnel," says Rene Van Acker, dean of OAC.  
Mohanty is a professor in the Department of Plant Agriculture and is cross-appointed to the School of Engineering. Much of his work turns "waste into wealth."
"We look at how do we minimize plastic and agricultural waste and maintain circularity," explains Mohanty. "I cannot completely eradicate plastic waste, but one way to help is to develop eco-friendly bioplastic, biocomposites and biodegradable materials that will reduce plastic waste and make products more sustainable and cost competitive."
Mohanty and the BDDC team work with automotive, packaging and consumer product companies to apply their research findings into everyday products. In the 14,000 square foot facility, researchers use a range of equipment to develop bioplastics, light-weight composites and test their potential uses in sustainable manufacturing.
"We want to train a lot of researchers in this area and take this research to make real world applications," Mohanty adds. "Circular BioEconomy is the way of the future and we certainly need trained researchers to drive society toward a much needed change."
His contributions to science – he's published over 380 peer-reviewed papers and his public citations exceed 32,000 – are the outcome of his visionary approach to solving one of society's most prevalent addictions: petroleum and single-use plastic.
"Amar is changing the way we, as a society, think about waste and consume sustainable products," adds Van Acker. "The ongoing potential of the BDDC to answer some of society's most pressing issues is thrilling, and there's no better person than Amar to lead this vision."
Mohanty joined the Department of Plant Agriculture at the University of Guelph in 2008 and held the Ontario Premier's Research Chair in Biomaterials and Transportation from 2008-2020. He has been named with three fellows by the American Institute of Chemical Engineers, the Royal Society of Chemistry and the Society of Plastic Engineers. He is also a leadership team member of the Centre for Sustainable Nanomaterials Innovation.
Among his many honours, Mohanty received a 2018 Synergy Award for Innovation from the Natural Sciences and Engineering Research Council of Canada and a Lifetime Achievement Award from the BioEnvironmental Polymer Society in 2015. He is also editor-in-chief of Sustainable Composites, Composites Part C -Open Access; an ELSEVIER journal.
Share this page
News Topics