Q&A with a companion animal nutritionist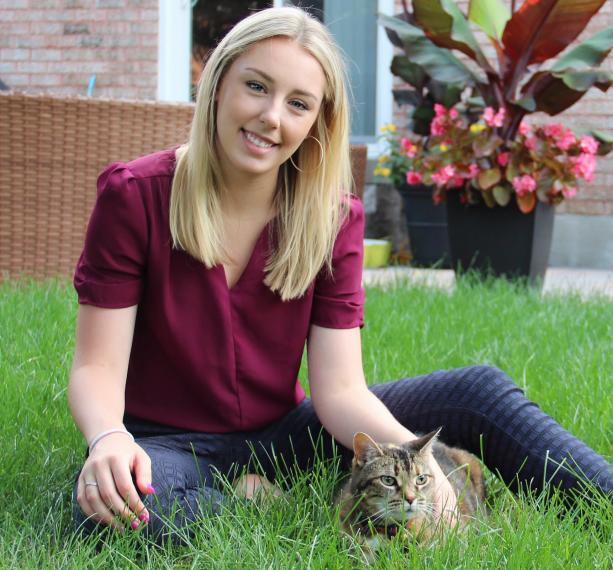 Natalie Asaro is a companion animal nutritionist with Petcurean, a Canadian pet food brand. She graduated from the Department of Animal Biosciences with her master's and quickly jumped into industry with ease. She recently sat down with us to talk about her role and trends in pet food and share some thoughtful advice.
---
How did you end up in pet nutrition?
During my undergraduate degree, I took a few human nutrition courses and found out I really liked nutrition.  In my later undergraduate years where I had the opportunity to take more electives, I decided to take a few animal nutrition courses; fish nutrition, wildlife nutrition and pet nutrition. I've always loved animals but didn't want to go the vet route, and when I took those courses it was a lightbulb moment for me. In my fourth year, I took the pet nutrition course with Anna Kate Shoveller and I absolutely loved it. I went up to her after my first week in the course to introduce myself and express my excitement. She asked me to go for a coffee and we talked about the different opportunities she had in her lab the next year. She took me on as her student and it was awesome. I was the first graduate out of her lab here at Guelph. 
Why was completing your master's a good fit for you?
Graduate studies are very different than your undergrad. It is very self-driven. The main thing I learned is how to be independent, how to fail – everyone has hiccups in their master's and has to figure it out – and how to learn from those mistakes.  Completing my master's also gave me the chance to develop the soft skills that I use every day in my role.  I really recommend people do a master's because I think it prepares you for an industry role. 
Tell us about your job.
I am a companion animal nutritionist at Petcurean. I report to our nutrition manager Dr. Jennifer Adolphe who has her PhD in companion animal nutrition. My role at Petcurean essentially has two different streams. Half is working in research and development, so working in pet food formulation, trials with plants, or working with our innovation team to formulate new products; and the other half of my role is focused on providing nutrition support and education. At Petcurean, we have some team members who don't have a nutrition background. But we see ourselves as a nutrition first company, so part of my role is educating our teams about nutrition so they can build on their technical knowledge needed to have those nutrition focused conversations with our consumers and retailers. I really love teaching the members of our team! 
How do you do this training? 
With the current situation around COVID-19, a lot of our training has been provided virtually.  However, many of our team members are remote based, so we are very used to remote communications and it has been easy to adapt. I've always had an interest in training others. I definitely consider myself an extrovert, so working closely with my other team members is one of my favourite parts of my role. 
What does a typical day look like for you?
I work multiple days a week from my home office and am in our Nutrition office in Waterloo other days. Most of my work is accomplished at my desk because lots of the work I do, such as formulation, training, and virtual meetings with our team members in different cities, can be accomplished on the computer. However, our Waterloo office is located a short distance from our kibble manufacturing plant, so we also go there regularly. For example, if there is a new product being run, we will be there to check things out and make sure it is going as planned. Before COVID-19, I would also travel periodically to trade shows, scientific conferences, and to our head office in British Columbia. However, my travel, of course, has been put on hold for the time being.
Tell us about Petcurean. 
Petcurean is a Canadian company based in Chilliwack British Columbia; this past year we celebrated our 20-year anniversary. We have three main brands; "GO! SOLUTIONS", which is a solutions-based option for consumers who are looking to help support a certain health issue. For example, we have "GO! SKIN + COAT CARE" recipes to support skin and coat health and overall wellness, "GO! SENSITIVITIES" recipes for pets with allergies or sensitivities, and our "GO! CARNIVORE" line for those more active pets that may need a higher protein option. Our "NOW Fresh" brand is designed to offer pet parents a chance to feed their pet similar ingredients that they are interested in feeding themselves. For example, "NOW Fresh" only uses use fresh meat, no meat meals or by-products, and a variety of fruit and vegetables. Lastly, our "Gather" brand is our sustainability focused brand. Those recipes feature sustainably sourced and organic ingredients and we also have a vegan recipe for dogs in that line. 
What sets Petcurean apart? 
The pet food market is extremely saturated, and it can be daunting to figure out "what do I want?" So, at Petcurean, we are very focused in creating a wide variety of options so that pet parents can find an option that works for the unique needs of their pets. We are also very focused on teaching and talking about nutrition. We view ourselves as a nutrition company first, and I think that's our biggest differentiator. We have a nutrition team that is dedicated to developing our products and educating our consumers. The feedback we get from retailers is that they really appreciate the effort we take to teach them about nutrition and help them make recommendations to their customers. 
What industry trends are you keeping an eye on?
The pet food industry very closely follows the human food industry. Some trends that have become more popular recently are consumers looking for functional ingredients. Foods with functional health benefits like prebiotics and probiotics, or omega-3's. Pets are a huge part of peoples' family, and it is becoming a lot more steered toward, "what can I feed my pet to make them the healthiest possible?" 
What's a piece of advice you'd like to share with pet owners?
Every pet is different. What works for one pet might not necessarily work for another pet, just like people. Don't be discouraged if something doesn't work. Finding what your pet might take a bit of time so don't be afraid to ask questions!
What's a piece of advice you'd like to share with current students?
I have always told this to students; if you are interested in pursuing a career it is a great idea to go talk to professors and TA's. The best way is to find opportunities is to build your network, and it's totally doable to start this while in school. Build your network, and opportunities might fall in your lap a little bit quicker. I think getting your name out there and building your network is a great way to start your career. 
To finish, we have few quick questions:
Dogs or cats? I can't choose! 
Name of your first pet? Zelda, a tortoise shell cat. 
Favourite Petcurean product? Our GO! Solutions recipes. 
Favourite course at U of G? ANSC*4560 - Pet nutrition of course!
Favourite source of info on companion animal nutrition? The scientific literature. I use Google Scholar a bunch to keep up with the latest research.
Do you have a pet now? Gus is my Miniature Dachshund; he just turned one. 
Share this page
News Topics