Q&A with a research and soil health program coordinator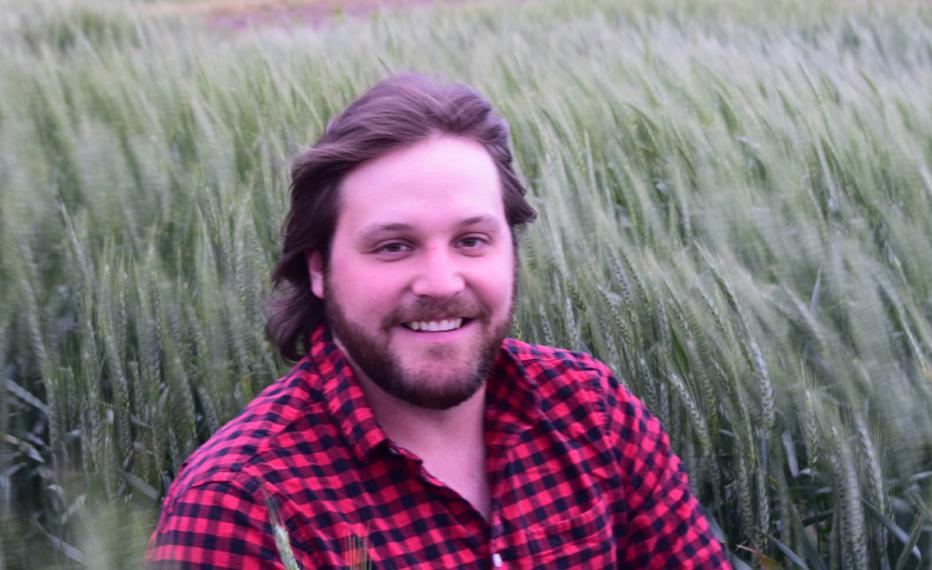 Dillon Muldoon
Research and Soil Health Program Coordinator 
Master of Science in Environmental Sciences (M.Sc.), 2020
Dillon is an advocate for research and passionate about making a difference in agriculture and food systems. He works as the Research and Soil Health Program Coordinator at the Ecological Farmers Association of Ontario (EFAO), a non-profit organization based in Guelph, ON. We recently chatted with him about his role and the importance of farmer-led research.
---
Tell us about the Ecological Farmers Association of Ontario (EFAO).
Established in 1979 by farmers for farmers, the EFAO is a non-profit membership organization that supports farmers to build resilient ecological farms and help grow a strong knowledge-sharing community. Focused on farmer-led education, research, and community building, the EFAO brings farmers together so that they can learn from each other and improve the health of their soils, crops, livestock, and the environment, while running profitable farm businesses.
The EFAO envisions an Ontario where thriving ecological farms are the foundation of our food system, and where agriculture protects our resources, increases biodiversity, mitigates climate change, and cultivates resilient, diverse, equitable communities.  
What is "ecological farming"?
Ecological farming is the use of regenerative, organic, and other holistic practices to improve soil health, address climate change, protect vital resources such as water and biodiversity, reduce reliance on synthetic inputs, and prioritize renewable energy sources. It is a practice that strives to be socially engaged ensuring that farming communities are diverse, vibrant, and resilient, while making healthy agricultural products accessible for all. Ecological farming encourages forward-looking practices that are knowledge-intensive and regionally specific, which embrace the potential benefits that innovations and technologies provide. 
Tell us about your role.
At the EFAO, I am the Research and Soil Health Program Coordinator. In this role, I support the Farmer-Led Research Program in the development of research protocols, data handling and analysis, report generation, and program administration. I also support the EFAO's Soil Health Program with the ongoing development of its soil health advisory and benchmark services, and soil health education and outreach. 
What does a typical day look like for you?
I work mostly from my home office multiple days a week. Most of my work is accomplished from my desk either online or over the phone and includes connecting with farmer-researchers on their trials updates or troubleshooting, working with EFAO staff on farmer-led research and soil health programming, outreach, and education, data entry and analysis, report writing, and administrative tasks. However, some days throughout the season I attend field days, soil benchmarking, and farmers-research project site visits where I'm able to meet with farmers to see how trials are progressing or to learn more about their operation.     
What is your favourite thing about your job?
The favourite thing about my job is working with farmer-researchers. Seeing their excitement, knowledge, and place-based innovative ideas and solutions to problems that they are facing on their farms is inspiring. Working with them using the scientific method to answer questions that are directly relevant to them, their farm, and can be applied to make changes to improve their production system feels relevant (helping to make a difference).
What industry trends are you keeping an eye on?
The development of resilient climate-smart agroecosystems, cover cropping for soil health, and local and regional scale circular food economies. 
Why did you decide to study at the University of Guelph?
I chose the University of Guelph because it's known for being one of the country's most research-intensive universities, in particular the Ontario Agriculture College which is recognized around the world for its research expertise in the areas of food, agriculture, the environment, and rural communities. These research areas fit hand in hand with my research interest and my passion for sustainable agriculture and food systems.
How has your master's degree influenced your career?
My master's degree influenced my career by helping me gain not only specialized knowledge in my field but the transferable hard and soft skills like; research, analytical, communication, collaboration, and leadership which can be used throughout the agricultural sector whether it be with a non-profit, academia, government, or industry.   
Why was completing your master's a good fit for you?
Completing my master's degree was a good fit for me because I always enjoy learning and I am passionate about sustainable agriculture and food systems. My master's degree allowed me to dive deep into a topic which I was eager to understand and allowed me to gain a more in-depth knowledge of how to; conduct field and laboratory research; gather and analyze data; and present my findings to both the scientific and public audiences. I encourage those who are interested in pursuing a master's to talk to faculty and apply to volunteer or work in a lab that researches topics you're interested in.      
What's a piece of advice you'd like to share with current students?
One piece of advice I'd offer students is get involved with your school community and start to build your networks. Go to departmental coffee breaks or meet ups, learn about your program or college student groups to find opportunities to network and build relationships. These networks and communities can be useful when looking for future opportunities and in job searches. Another piece of advice I'd offer students is to form a positive working relationship with advisors, mentors, and academics that you work with, these relationships can become glowing references for jobs and can seal the deal for you getting hired into a position.    
Share this page
News Topics