Rebuilding Home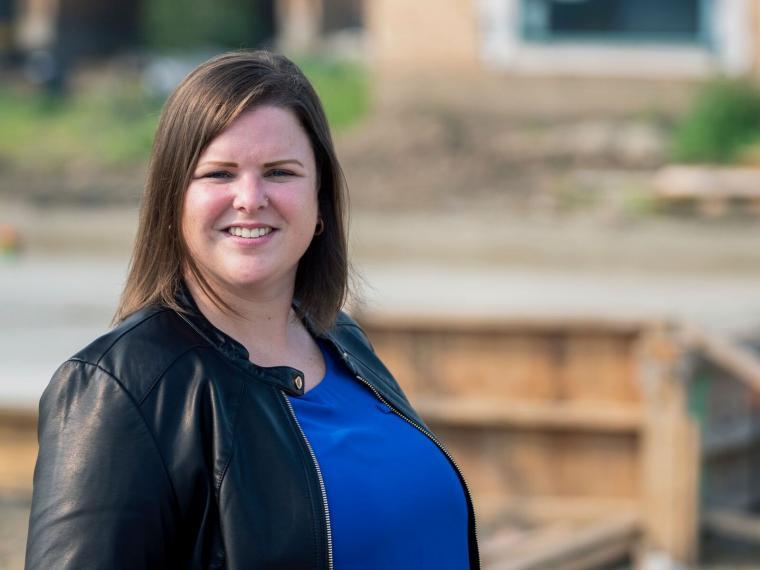 Erin O'Neill was working for the Municipality of Wood Buffalo as a planner, looking after the municipality's real estate interests, when her world changed.
On May 3, 2016, Fort McMurray, Alberta, was devastated by wildfires that forced more than 80,000 people from their homes. At $3.7 billion in damage, it was Canada's costliest disaster, according to the Insurance Bureau of Canada.
Erin, with the rest of her community, was evacuated and unable to return home. But on May 15, she returned to Fort McMurray at a city manager's request.
On that day, she walked into the emergency operations centre and was told she'd be taking over from the chief of planning.
"They said, 'You are in charge of re-entry, so figure out how to get everyone home. Do whatever you need to do to get everyone home. Go,'" she says.
"You're thinking, 'What the hell! How do you get 90,000 people home?' There were no businesses, no street lights, nowhere to eat. There was nothing. It looked like a zombie town."
As the newly appointed operations manager of the recovery task force, she started the slow process of rebuilding the community literally from the ground up.
The priority was to get people back into their homes, but a lot of work needed to be done before that could happen. Basic services needed to be restored, including lights, access to food and water service. The priority list was long and at times strange. For example, her team was responsible for figuring out how to clean out the city's grocery stores.
"The town was evacuated. There were no staff to do these jobs, so we had to bring up busloads of people, 600 people per grocery store, to clean them out. We had to have all of that up and running before we could let people back home," she says.
She and her team needed to pivot quickly and change direction daily and even hourly. She says it often felt like they were moving one step forward and eight steps back. "We always had a backup plan for the backup plan."
The community has made impressive progress over the last two and a half years, with continuous steps forward and only the occasional step back. Today 80 per cent of the damaged structures have permits issued, and 1,500 foundations are complete.
The community is now in what Erin calls the "infrastructure phase," figuring out how to repair sidewalks and curbs, rebuild parks and recreate green space.
She attributes much of her professional success to the critical thinking skills she gained through her studies at the University of Guelph.
"I think I have been, for the lack of a better word, successful in this situation because of my planning background, because you learn about land, and people and stakeholder engagement and the long-term impacts of decisions.
"Other professions don't always think about that whole picture and I think I was able to be better at my job because of my background, so I really have to thank the University of Guelph for that. I always say that the best planners see the grey in things. The same rules don't always apply. Nothing is the same in any situation. If you can see the grey, you can see the difference."
She says that has enabled her to work more effectively with developers, constituents and homeowners.
Erin grew up outside Ottawa in Kinburn, Ont. She originally wanted to be a teacher, but by third year of university, she changed plans. Following a summer job with the City of Ottawa and an urban planning course, she decided to complete her undergraduate degree and then pursue her master's in planning at the University of Guelph.
After defending her thesis, which she worked on with Prof. Wayne Caldwell, she began a full-time job with the City of Ottawa in the planning department. But the interesting and abundant planning opportunities in Alberta were calling her.
"I remember my dad saying to me, 'Do you want to do infill development, or do you want to go and build a city?' So I moved to Fort McMurray."
In 2007, she packed up her SUV.
"It's the best decision I've ever made. Alberta is home now."
Then came the Fort McMurray fire and the aftermath.
Rebuilding your home, especially under the scrutiny of your neighbours, friends, community members and local business owners, is a task steeped in pressure and emotion.
To keep communication lines open, Erin and her team, which grew to 50 in the first year of recovery, held engagement sessions and telephone town halls, and participated in council meetings and committee meetings. They were busy nearly every night of the week. They also started a public engagement program called "Here for You" for community members to ask questions face-to-face with city officials. 
Being the face of the recovery process wasn't easy. She was also seen as the face of bad news, as people dealt with grief, trauma and uncertainty. At one point, she had to tell 600 families that they couldn't return to their homes, even though their houses had survived the fire.
During the fire, the city bulldozed 150 hectares of trees for firebreaks to protect homes. When it came to replanting, the city determined that it needed to keep a 30-metre buffer between houses and the new trees.
That upset some residents who once had green spaces and tree lines next to their properties.
"I understand, because it's not where they chose to live. They have lost what they were used to," she says. 
"But this plan will stop or decrease the damage caused by any wildfires in the future. It will keep the fire-fighters and our community members safe, but it has been emotional and stressful."
Erin stood by her principles and trudged on.
"Every time I came back out, one less person cried and one less person yelled," she says.
Her determination to rebuild Fort McMurray has helped her through the tough times.
"You are doing something for the community. You can see the progress. I can drive through and see construction. The amount of reward you get from seeing it all is enough."
Her leadership, innovation and calm approach under pressure have not gone unnoticed. 
She recently moved to the Government of Alberta Emergency Management Agency, where she's the director of provincial recovery coordination.
She will work with communities and ministries, including supporting planners who may face the next natural disaster. 
Much of her role focuses on planning and mitigation rather than response.
"It's not about if, but about when we will have a natural disaster," she says. "I really hope that with what I've done in Fort McMurray, I can help other communities. I hope I can lend support and help them get through what is a challenging but rewarding time.
"The recovery work in Fort McMurray was fast and furious, and I would do it all again tomorrow. I was doing something for my community, to get them back home."
This article was originally published in the LIBRANNI 2019 / Vol. 1
Learn more about OAC research:

 

Read more:
Share this page
News Topics