Saddling Up for Success: Equine Management student Oswin Lam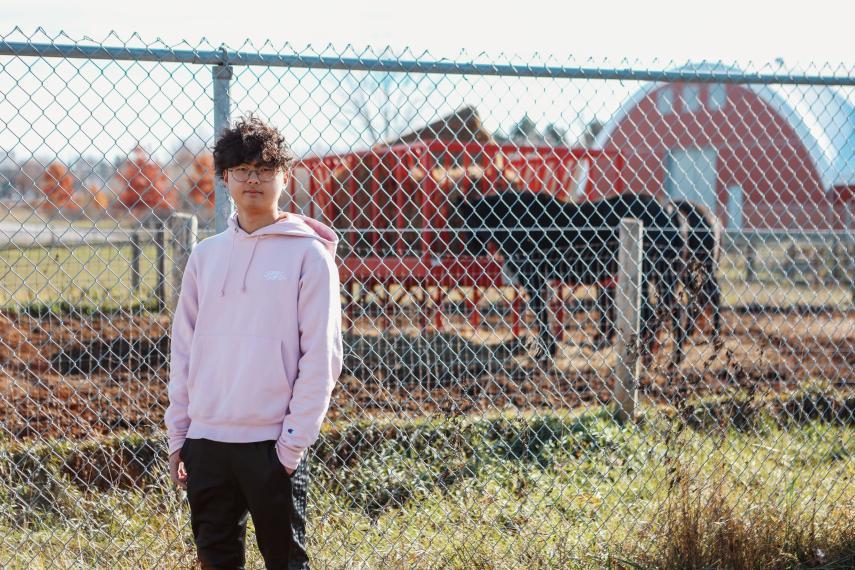 Travelling during your undergraduate studies can be an incredibly valuable and life changing experience. Originally from Hong Kong, Oswin will soon venture to Ireland as part of an exchange program, immersing himself in the global landscape of equine management practices. In this Q&A article, Oswin shares his unique perspective on the Equine Management program at the University of Guelph, shedding light on how his cross-cultural exploration will shape his future endeavours in the realm of horse welfare and management.
---
Name: Oswin Lam
Bachelor of Bio-Resource Management, majoring in Equine Management
Home Country: Hong Kong 
Passionate about: Horses, football, Archery and drumming.
Why did you choose to study Equine Management at U of G?  
"The University's Equine Management program is the only one of its kind in Canada. In fact, before searching for undergraduate programs in Canada, I wasn't even aware that I had the option of studying equine management for my degree! After finding the program on the University's website, I knew the program was perfect for me. 
I started riding when I was only 8 years old, and I fell in love with it immediately. Since then, I have always had the passion to help improve horse's welfare. I love the fact that I can combine my studies with my passion for horses. If you are interested in studying horses or animals, the University of Guelph is the perfect place to go. "
How is your program preparing you for your future?  
"The Equine Management program has at least 1 equine-related course per semester and lots of hands-on learning at the on-campus horse barn. This is important to me as I typically learn better when using my hands. We are learning how equines reproduce and how to manage equine facilities. 
Also, the chance to travel abroad through an exchange will broaden my perspective on the industry and the world. Next year, I'll be travelling to Ireland to learn more about equine management practices on a global scale. I'm really looking forward to seeing how different the approach in the Europe equine industry compares to Canada. 
I've also been able to add a few certifications to my degree, including my first-aid certificate, and Ride Safe Silver Award (The British Horse Society), Stage 1 ride (The British Horse Society). " 
What do you hope to do after your program?  
"My ultimate career goal is to improve horse's welfare. This includes improving the environment they live in, their training program and their feeding program. There are lots of unique opportunities to work in the equine industry, including Equine event/facility manager and equine rehabilitation specialist. All of which appeal to me and I'll be well suited to pursue these types of careers after graduation. "
What is the most memorable experience you've had at the University of Guelph?
"The most memorable experience I had at U of Guelph was getting to know a bunch of friends in different programs during O-week. I started my studies during the pandemic, so much of my first year was spent learning remotely. Now that we're in person, we are all still really close friends and hang out a lot. It's great to have friends and connections from outside of your immediate program. "
Share this page
News Topics