Students improving life: Hayley Tompkins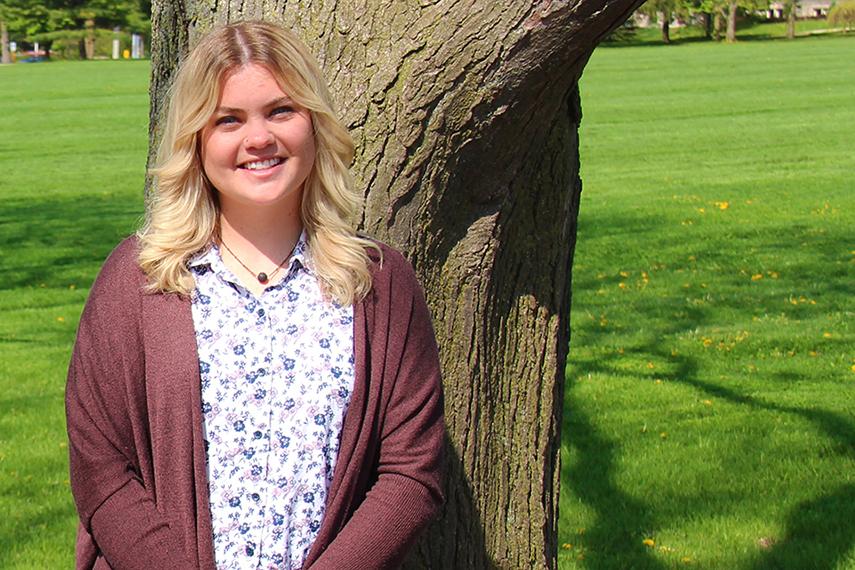 Hayley Tompkins, environmental sciences student, is improving life through conservation efforts that support pollination and food production.
As the recent winner of the NSERC Science, Action video competition, Tompkins is a student to keep an eye on. She is a vital member of Prof. Nigel Raine's lab who is currently pursuing an M.Sc. with research focused on bumble bee conservation.
Tompkins is an avid photographer and couldn't pass up the chance to show off her research through the NSERC Science, Action video competition. Raine, who is the Rebanks Family Chair in Pollinator Conservation, told Tompkins about the competition and she was enticed by the challenge of trying to visually communicate her research at such an early stage. She only began her master's in January.
She worked with Aaron Fairweather, a PhD student in the same lab, on the one-minute video, entitled "The buzz about bees". Tompkins' entry made it to the top 75 (public voting round) and with the support of her lab, friends, family and the University of Guelph (U of G) community, it made it to the top 25.
It was while surveying in the field that Tompkins received the news of her win.
"It was exciting," shares Tompkins. "I produced the video in a way that people can understand. The win was an affirmation that my work is not only cool but something people are really engaged in."

Tompkins is using artificial nest boxes to better understand nesting ecology and colony development of wild bumble bee species. Although early into her program, Tompkins has already placed over 400 nest boxes at sites across south-central Ontario.
Weekly monitoring helps Tompkins better understand bumble bee occupation. Discovering which species are nesting where and why will be critical to future conservation efforts.
Tompkins is an advocate of education and outreach and feels passionate about ensuring the public has a better understanding of the importance of these essential native pollinators.
When in high school Tompkins had her eyes set on becoming a teacher and looked to a variety of Ontario institutions to study for her undergraduate degree.
U of G was Tompkins' final destination for a campus tour, where she instantly fell in love with the gorgeous green campus and the familiar feeling of home.
Tompkins nurtured her leadership skills and networking abilities in her undergraduate degree, during which she served as president of the Geography Society and participated in a conservation trip to Costa Rica. The goal of the trip was to help with at risk sea turtles. This was Tompkins' first taste of conservation work. She was astounded by the vast amount of opportunity in animal conservation; she had found her calling.
After graduating, Tompkins went to Seneca College for their Environmental Technician - Sampling and Monitoring diploma program, where she received plenty of hands-on training with aquatic and terrestrial systems.
It wasn't until she secured a job with Wildlife Preservation Canada that Tompkins began working on pollinator conservation projects. Her work with the organization focused on their bumble bee recovery program and her "calling" became even clearer.
Tompkins always knew she would return to U of G to pursue a master's and now she knew her work would be with bumble bee conservation. After meeting Raine and doing some background research, she knew joining Raine's lab was a perfect fit.
Tompkins' charm, passion and dedicated work ethic has secured some amazing partnerships for her thesis project. For example, she continues to work alongside Wildlife Preservation Canada, who have provided materials required to build many of her nest boxes and fieldwork support from their summer student program.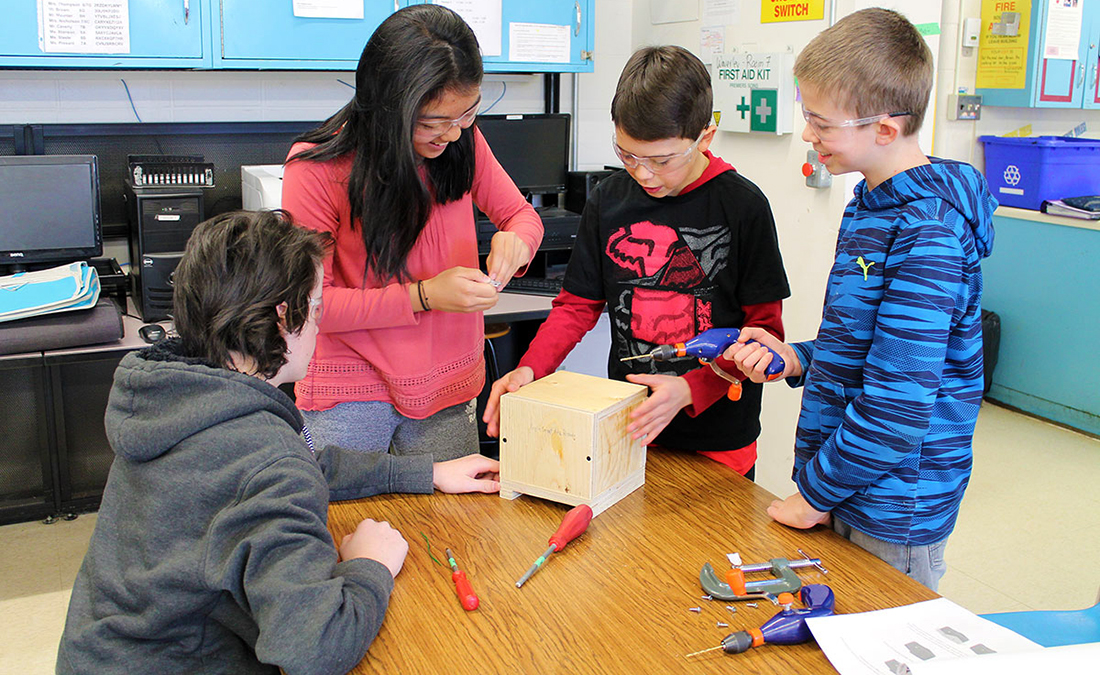 Tompkins continues to value education and outreach, working closely with a number of local schools in Guelph, Elora and Hamilton to engage elementary students. Tompkins provides students with kits to construct the nest boxes and learn more about the importance of bumble bees. For her, it's extremely rewarding to engage students with nature and provide them with an opportunity to work directly in conservation efforts.
When she isn't winning awards like the Loyalty One Young Conservation Leader Award or working hard in the field, Tompkins keeps herself busy by teaching courses at Seneca College.
In the future, Tompkins hopes to continue to collaborate with Wildlife Preservation Canada, and her post-graduation goal is to work in the field of biology or ecology, focusing on pollination research and conservation.
You can watch Hayley Tompkins' winning video, entitled "The buzz about bees" here.
Share this page
News Topics