Students improving life: Using research to examine carbon and improve soil science knowledge in rural communities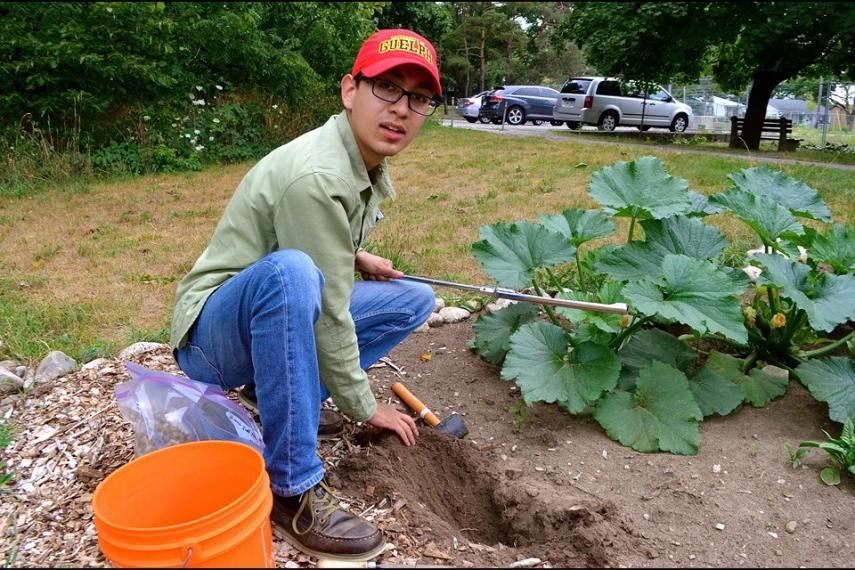 Fernando Montaño Lopez is an international graduate student in the School of Environmental Science (SES). He is currently using digital soil mapping to research the effect of land conversion on soil carbon and nutrient dynamics in the Great Clay Belt of Northern Ontario.
Fernando's family roots emerge from a Zapotec indigenous community, in a south rural area of Oaxaca in Mexico. His grandparents were dedicated to agriculture and Fernando developed his fascination with soil science at a young age. 
While completing his undergraduate at the Chapingo Autonomous University in Mexico, Fernando had the opportunity to spend several weeks volunteering in rural areas of Mexico, including remote villages in the desert and jungle. 
These experiences expanded his outlook on the needs of these rural communities and his interest to pursue further research.
"It really helped me and still motivates me to keep exploring soil science and how to research in a way that will directly contribute to communities, to people who need it, and to the farmers," says Fernando. "It helped me understand all the necessities that people in remote places lack access to and really need."
Fernando's specific research interests include examining the depletion of soil fertility, soil contamination issues, and other socio-economic issues that communities face.
With his keen interest in the field, Fernando applied to the Mitacs Globalink, a national, not-for-profit organization that designs and delivers research and training programs in Canada. 
In the summer of 2018, he accepted a 3-month research internship with Dr. Asim Biswas, a professor in SES.
"During this period, I participated in Dr. Biswas's project about monitoring heavy metals in soils of community gardens across Guelph. We wanted to investigate the levels of contaminants in these urban agricultural settings and if there were implications for human health."
The research internship was Fernando's first time in Canada, and it led him to pursue further education at U of G.
"My experience was very rewarding, as I learned new methods in my area of study, I got involved in other projects and I made the connection with Dr. Biswas," he shares. "Overall, it gave me the opportunity to come back to Canada and pursue my masters."
In 2019, Fernando was the recipient of a Highly Qualified Personnel (HQP) scholarship, an award given to outstanding graduates that demonstrate excellent skills and forward-thinking in the agri-food and agri-business sector. The HQP program, jointly funded by Food from Thought and the Ontario Agri-Food Innovation Alliance, supports the development of highly skilled graduates to become future researchers, policy-makers, business leaders and innovators who can meet the changing demands of the agri-food industry.
His current research is in Northern Ontario, a boreal forest region in Kapuskasing. 
"We are looking at how soil organic carbon changes with land-use change and how soil will behave if this land use happens. The research will potentially lead to creating more agricultural fields to increase production in Kapuskasing, while taking care of the environment. In the field and lab, we are using some modeling tools, such as digital soil mapping to see how carbon behaves in specific areas with land-use changes."
Fernando will be completing his master's in the near future. He intends to move to the U.S. to begin his PhD at Dartmouth College in the Biogeochemistry Lab.
"I want to investigate and develop more understanding towards organic carbon," he shares. "I want to investigate more about carbon, such as how carbon in soil behaves, the different fractions and parts, how it is built and how it is deconstructed in different environments and the underlying processes." 
Fernando hopes that his research will generate science and action to help solve real-world issues that people are facing. 
"Through new tools, technologies and better understanding these processes, we can integrate science with people and policy making so we can improve the way people live by considering their needs."
Share this page
News Topics