Students Place Second at North American Agri-Marketing Competition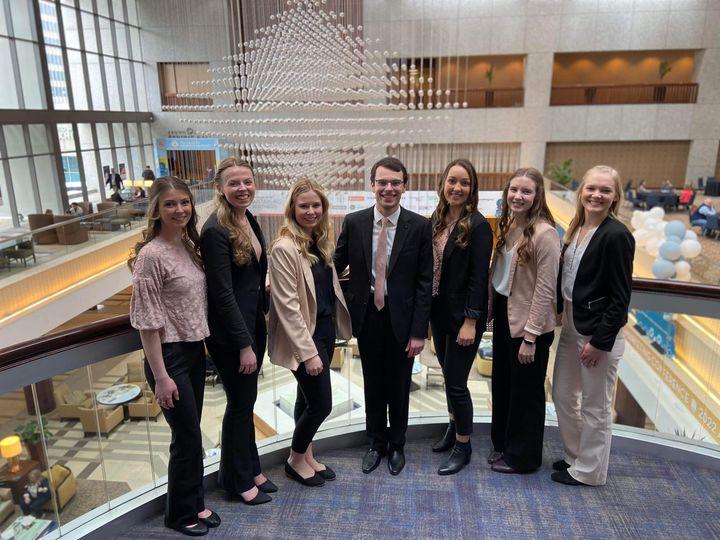 The University of Guelph's Canadian Agri-Marketing Association (CAMA) student chapter placed second at the 2022 National Agri-Marketing Association (NAMA) Student Marketing Competition held April 5-7 in Kansas City, Missouri.
The annual competition challenges students to develop a comprehensive marketing plan and presentation for a new agricultural product or service to improve producer income or productivity. 
This year, U of G's CAMA team presented Frosée, a single-serve frozen rosé wine beverage. 
The team consisted of Ontario Agricultural College students Corine Bateman, Vera Hoogendoorn, Patrick MacCarthy, Taylor Vander Meulen and Carmen White, and Gordon S. Lang School of Business and Economics students Joleen Otten and Katie Voskamp. Held in person, for the first time in two years, U of G was the only Canadian team to compete against 20 other schools from the United States.
"The team was really excited and proud of the work we did," says Patrick MacCarthy, team president. "The other teams were tough competition, so I think it shows the strength and caliber of OAC and U of G students and our ability to compete with some of the best agricultural universities in North America."
From personal experience and market research, the students identified a gap in product options for frozen rosé. Since September, they worked with faculty advisor Dr. Mike von Massow, professor in the Department of Food, Agricultural and Resource Economics, to develop their plan and presentation.
"I am so proud of this group and the work they have done," says von Massow. "There is a tradition of excellence that has developed the past few years and as defending champions I am sure they felt the weight of expectations. This team was outstanding, and I was pleased to see the progress through the two semesters they worked on this experiential learning opportunity."
The U of G CAMA team has placed top four at the NAMA competition for the past five years. MacCarthy says the incoming team is already preparing and excited for 2023.
"It was a really great team to work with," says MacCarthy. "Everyone was so dedicated, passionate, and excited. We all worked really hard and had each other's backs throughout the whole experience."
Share this page
News Topics