University of Guelph Equine Industry Symposium
November 19, 2016
On November 19th, the University of Guelph is hosting a one-day event that will highlight commonalities within all equine sectors and opportunities to advance and improve the industry as a whole. This symposium will bring together local and national equine professionals and feature open panel discussions, plenary speakers and workshops.
If you are interested in participating, please contact Joe Varamo at jvaramo@uoguelph.ca
The symposium moderator will be Akaash Maharaj, Chief Executive Officer of the Global Organization of Parliamentarians Against Corruption and former Chief Executive Officer of Equine Canada. Panel guests include:
Dwayne Job, President of System Fencing, Stalks & Equipment
James Martin, Executive Vice President, Racing at Woodbine Entertainment Group
Michael King, Equine Insurance Specialist, Intercity Insurance Services Inc.
Wayne Burwash, President of Canadian Quarter Horse Association
Sarah Mayo, Educational Development Specialist
An interesting note about the symposium is that students in our Bachelor of Bio-resource Management - Equine Management program are significantly involved in running the event as part of their program.
A Special Evening with Ian Millar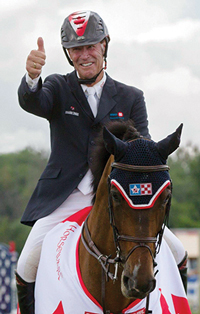 At the end of the symposium, will also be hosting a special evening session with Ian Millar, ten-time Canadian National Champion and Olympian, presented by Purina. This event will be hosted in Rozanski Hall and will be open to the public. Full details here.
5:30 p.m. - Registration opens
7:00 p.m. - "The Engagement of Professionals in Horse Industry Sectors – Roles, Requirements & Opportunities" by Ian Millar
7:50 p.m. - Question period with Ian Millar
8:05 p.m. - Networking
Admission
$5 for students
$10 for everyone else (general admission)
Ian Millar photo credit: Cealy Tetley