Interview With SETS Professor Judith Thompson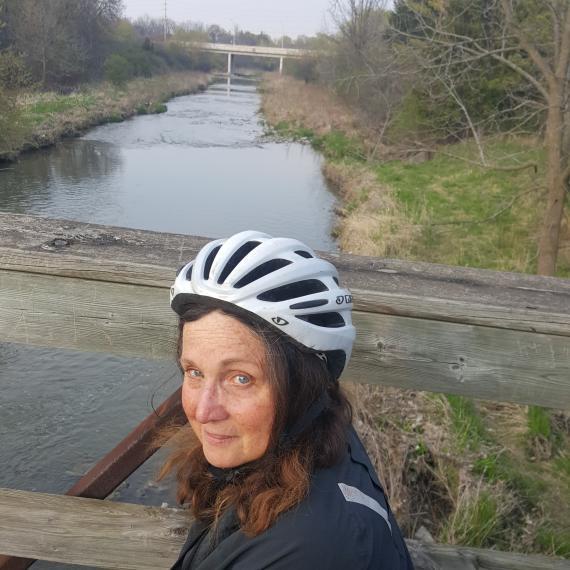 "Theatre Is Now, Theatre Is Live"
 An Interview With SETS Professor Judith Thompson
The School of English & Theatre Studies recently interviewed SETS professor & Canadian playwright, Judith Thompson. The interview itself was conducted over email by English PhD candidate, Joseph Shea-Carter.
Do you think you could tell us a little bit about yourself & your teaching experiences at Guelph? 
I am a playwright, actor, director, artistic director and fiction writer. I have been teaching theatre practice at the University of Guelph for 31 years.
What is unique about theatre studies at Guelph? How does The School of English & Theatre Studies in particular engender new or unique learning opportunities related to the theatre arts? 
U of G theatre is unique in that each faculty member is globally respected in their field, ranging from radical design to innovative, site-specific theatre, to mind blowing theatre theory, to classic playwrighting and traditional, text based acting practice. Production classes are taught by faculty who has worked in professional theatres across the country, and these are required, which means every student learns and practices every aspect of the art and the craft before they graduate.
What does an ideal (or close to ideal) classroom look like? In what ways does the classroom space share parallels with a performance space? Are the two synonymous? Or separate? Or, alternatively, do they share similarities and distinguishing differences? 
The ideal classroom space for theatre practice are the classrooms in Massey Hall, a beautiful, heritage building that is home to theatre studies. They are large, with enormous windows that actually open, and soaring high ceilings. The acoustics are excellent. Lower Massey is the most ideal performing space, as it has a stage, with entrances and exits, a balcony, and a large raked audience space. 
How have theatre studies changed or evolved in the last 5-10 years? How has the emergent, seemingly ubiquitous digital landscape impacted the seemingly tactile realm of the stage? Or is the stage more ethereal/gauzy? Less a physical place than a symbolic realm? The aphorism of the whole world being a stage comes to mind...
While I appreciated the rise of digital theatre during the worst of the pandemic, and still value streamed theatre as a way to make theatre accessible to more people, for me theatre is live, by its very definition.  Theatre is now, theatre is live.
We breathe the same air as the actors, we are in the same space. This is why I have always preferred small theatres, with no more than 200 seats. The audience is not passive in that situation, they are, in a way, active participants. They cannot look at their phones, or eat lunch, or chat with friends, they must give their full, undivided attention to the actors moving through the play. Theatre is a ceremony; the words and the performances are sacred. But all that being said, we have faculty who are doing some very exciting work with technology, video games, and more. And that is the beauty of our theatre department - we have it all.
Your University of Guelph profile lists you as the founding artistic director of R.A.R.E Theatre, a "theatre dedicated to bringing the voices of marginalized and invisible communities to the stage." In your eyes, how does the theatre engender voices & provided visibility? In what ways has it (& perhaps continues to?) inhibit both? What are the simultaneous political possibilities of the stage along with its limitations? 
As artistic director of RARE theatre, we have responded to requests from marginalized/unheard, unseen communities to collaborate on theatre projects which will feature individuals from those communities expressing themselves in their own words
My job is to cast, to hold workshops in which folks speak their truths, curate, edit and provide a sort of theatrical stitching so that we have a show. Communities we have worked with and learned from include artists with Down syndrome, artists with spinal cord injuries, visual impairment, deafness, and brain damage. We also produced a piece consisting of the work from nine emerging playwrights; they were a diverse group, including one new playwright who was 89 at the time. We began this theatre as a response to a system that we saw as racist, sexist, homophobic and transphobic, and profoundly ableist. The theatres (and film/t.v) in Toronto are making some strides as far as race and gender go, but representation of disability is still far behind.
As far as the political possibilities of theatre, they are many: troupes going into factories to help the workers understand their rights, pussy hats, the extraordinary theatrical imagery happening right now on the streets of Iran. All theatre is political in a way, because its aim is to make the invisible visible and the unheard heard. And young people have the courage to do that.
What theatre work emerging from UofG are you most excited by at the moment? 
The theatre work emerging from U of G that I am most excited about: every one of my 17 students in Writing for Performance is doing exceptional work on their plays. The 11 students in my Scene Study class are knocking me out with their interpretations of Jean Genet, Hannah Moscovitch, Kevin Loring as well as Shakespeare. They are bringing their intellects and their souls to their performances. 
Professor Kimberley McLeod is also directing a rendition of Pascal Brullemans' Amaryllis - the production is set to run November 17th-19th. 
What are some books, some plays, & some films you would like to recommend to students? 
Books: Half of a Yellow Sun, by Chimamanda Ngozi Adichie & Running Towards Danger, by Sarah Polley.
Plays: Where the Blood Mixes, by Kevin Loring, The Other Side of the Game, by Amanda Parris.
Films: The Wizard of Oz (It has everything!) & Carry It On (a documentary on Buffy St. Marie).