Alan Filewod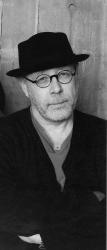 School of English and Theatre Studies
Description
In my two decades at Guelph, my research has shifted focus from an emphasis on Canadian theatre history and the canons of Canadian drama, to an exploration of a wider field of theatrical practices. In my current SSHRCC-funded research, I look into the history of political intervention theatre in Canada, to understand how theatricality was deployed as an expression of dissent and emergent political power in a culture that has held little regard or interest for  "the theatre" as an art form or entertainment commodity. Labour parades, fraternal society rituals, suffragist mock parliaments, street agitprop, insurgent walking tours: all demonstrate that in Canada, political intervention theatre has traditionally entailed a refusal of theatre as a disciplinary regime and artistic practice. The book out of that research published in Fall 2011, is titled  Committing Theatre:  Theatre Radicalism and Political Intervention in Canada, from Between the Lines Press. The principle that what we understand and teach as "theatre" must be understood as only one cultural organization of the theatrical enables me to look at military reenactment and warplay as a form of distributed theatrical performance that can be brought into the same frame as leftwing agitprop. In addition to my history of political theatre project, I am preparing a critical edition of the 1933 agitprop play Eight Men Speak for the Editing Modernism in Canada series from University of Ottawa Press, scheduled for fall 2012..
In my research I have focused in the main on domains of theatre work that sit outside of the professionalized regime of the theatre economy. I have sought ways to incorporate this work in my teaching. This has led to increasing reference to Performance Studies, in which theatre practice migrates into and through other fields of cultural production. I am finding that as digital technology becomes more accessible, students are refusing the boundaries that have historically separated theatre from film, video, fine art and music.
In my graduate and senior undergraduate courses I have been encouraging students to consider forms of performative research. Performative scholarship is increasingly important in Theatre Studies. There is no fixed definition or model to follow: performative research may involve an actual performance; it may problematize the optics of reception; it may reconstitute the relations of power in discourse. In any case it must be capable of articulating or demonstrating theorization.  My major stipulation in regards to performative research is that for the purposes of academic assessment, there must be some artifact or document that survives the moment of performativity. I make it clear to the students that this does not offer an easy out from essay writing. It requires serious consideration of methodology.
Teaching remains a core commitment for me, and one that I cherish. I take pride in my teaching, and I hold it as a meaningful encounter. Teaching needs to be alive and fully committed to its moment. Like theatre, it requires prepared spontaneity, and I am keenly aware that just about every good idea I have ever had as a scholar came out of a conversation in a classroom. For me the classroom is still a space of discovery. I believe deeply that the classroom is a place of free inquiry, and that we can only teach if we too are learning.