Michael Craig-Martin - 2007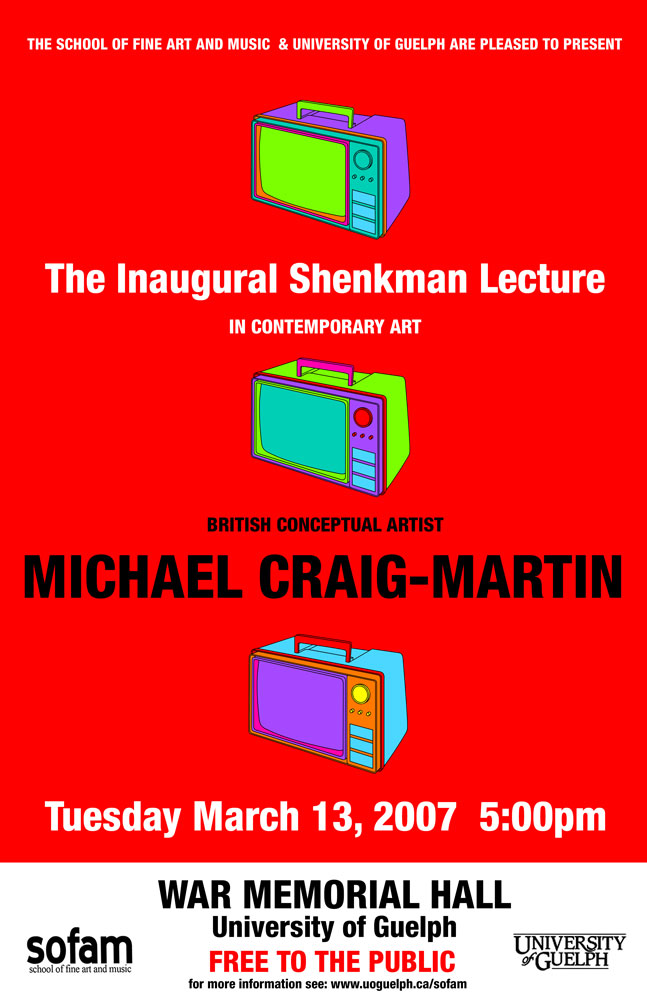 Michael Craig-Martin is one of the pivotal figures in the "Cool Britannia" art movement in the UK during the late 80s and early 90s. Prof. John Kissick, director of the School of Fine Art and Music, says Craig-Martin represents the complete package as a contemporary artist. "His practice is rigorous and internationally renowned, but he's also been intimately involved in the development of young artists and new ideas in the United Kingdom."
Before coming to Guelph, Craig- Martin was in Japan creating a new installation at Tokyo's National Art Centre as part of the "Living in the Material World: 'Things' in Art of the 20th Century and Beyond" exhibit, which opened in January and runs until mid-March. His first one-man show was at the Rowan Gallery in London in 1969. Since then, he has exhibited in solo and group shows worldwide, including the definitive exhibition of British conceptual art, "The New Art," at the Hayward Gallery in 1972. A major retrospective of his work was held in London at the Whitechapel Art Gallery in 1989. In 1994, he made site-specific installations at the Centre Georges Pompidou in Paris and at the Museum Sztuki in Lodz, Poland. He also created large-scale site-specific installations at Düsseldorf Kunstverein (1997), Hannover Kunstverein (1998) and Stuttgart Kunstverein (1999). Craig-Martin represented Great Britain at the 1998 Sno Paulo Bienal and created a major wall painting installation at the Museum of Modern Art in New York in 1999.
Lecture - "Putting Things in Context: A Survivor's Guide," will focus on issues around contemporary art, culture and education related to artists. As he describes it, the talk will "mix reminiscence, personal philosophy, anecdote, self-justification and advice to provide background and put into context the ideas, experiences and personalities that have shaped my work and life as an artist and influenced my approach to art education." He'll describe how he came to be an artist, his education at Yale and what brought him to Goldsmiths College at the University of London, where he taught from 1974 to 1988 and was a Millard Professor of Fine Art from 1994 to 2000. No lecture transcript or video available.
Shenkman Lecture by Michael Craig-Martin