Dave Hickey - 2013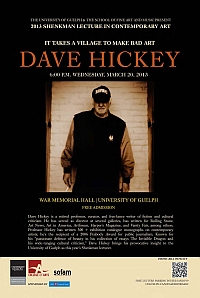 LINK TO SHENKMAN LECTURES ON YOUTUBE
Dave Hickey is a free-lance writer of fiction and cultural criticism. He has recently retired as Professor of Practice at the University of New Mexico. He has served as owner-director of A Clean Well-Lighted Place in Austin, Texas, as director of the Reese Palley Gallery in New York City, as executive director of Art in America Magazine in New York City, and as contributing editor to the Texas Observer, The Village Voice, Art Issues, and Context. He has written for most major cultural publications in the United States and abroad. These include The Rolling Stone, Art News, Art in America, Artforum, Interview, Harpers Magazine, Vanity Fair, Playboy, Nest, The New York Times, and The Los Angeles Times. Hickey also wrote Revisions, a monthly column for Art in America Magazine. He writes for the Art Newspaper, The London Review of Books and Frieze International in the UK, Situation in Paris and Parkett in Zurich.
He has published a volume of short fiction, Prior Convictions, SMU Press, 1982, The Invisible Dragon: Four Essays on Beauty, Art Issue Press, 1993, The Invisible Dragon: Revised and Expanded, University of Chicago Press, 2008, Air Guitar: Essays on Art and Democracy, Art Issues Press, 1998, selected as one of the most important books of the century in 2009 by Newsweek Magazine, Stardumb, Artspace Press, 1999, about artist John DeFazio, Hot Stuff: Essays on the Art of Women Artists, University of Chicago Press, 2012. Future works include: Connoisseur of Waves: More Essays on Art and Democracy, a sequel to Air Guitar in preparation by the University of Chicago Press to be released in 2013; Pagan America, forthcoming from Free Press in 2013; Pirates and Farmers: Essays on Culture and the Marketplace, Karsten Schubert, London, to follow publication of Pagan America; Feint of Heart: Essays of Individual Artists in two volumes in preparation at Chicago Press.
Hickey has also written 300+ exhibition catalogue monographs on contemporary artists including Nancy Rubins, Kenneth Price (2), Bridget Riley (2), John Chamberlain (2), Anthony Caro, Ellsworth Kelly, Ann Hamilton, Lari Pittman, Richard Serra (2), Robert Gober, Edward Ruscha (6), Terry Allen (5), Andy Warhol (5), Gerhard Richter, Sigmar Polke, Tom Wesselmann, Joan Mitchell, Vija Celmins, James Turrell, Vernon Fisher, Luis Jimenez, Barbara Bloom, Sol Lewitt, Sharon Ellis, and Michaelangelo Pisteletto, among others.
He has lectured extensively at universities and institutions in America and abroad. These include Harvard, Yale, Cornell, Penn, Brown, Stanford, Duke, the Smithsonian Institution, the Rhode Island School of Design, Hunter College, the School of Visual Arts, Bard College, the University of Texas at Austin, Art Center of Pasadena, Otis Institute in Los Angeles, the Hirshorn Museum and the National Gallery in Washington, the Museum of Modern Art, the Whitney Museum, the Los Angeles Museum of Contemporary Art, the Dia Center for the Arts, the Walker Art Center, the Dallas Museum of Fine Art, the Kimbell Museum in Fort Worth and Miami-Basel in the United States. He has lectured often in the United Kingdom at the Tate Modern, the Frieze Art Fair, the Royal College of Art and the Insitute of Contemporary Art.
He has received associated unsolicited grants and fellowships. He was awarded the MacArthur Foundation Fellowship for 2002-2007. In May 2003, he received an honorary degree from The Rhode Island School of Design. More recently, he received the 2006 Peabody Award for public journalism in recognition of his work as Project Advisor and Associate Producer for Ric Burns' four-hour biographical documentary of Andy Warhol for the American Masters series on PBS in November 2006.
Hickey has organized many exhibitions including Site Santa Fe in Sante Fe, New Mexico, July 2001-January 2002, which won the 2001-2002 Best Show in a Kunsthalle Award from the Association of International Critics of Art. He is presently engaged in preparation for Ed Ruscha: Too Marvelous for Words for venues in Asia. He is also working as Project Advisor and Associate Producer on a PBS American Masters film on the artist Michael Heizer.
Lecture - It Takes A Village To Make Bad Art
Dave Hickey will talk about hte downside of economies of scale in art practice, art education, and art education in the age of Global Art and the digital Global Village.  He will explain why bigger isn't necessarily better.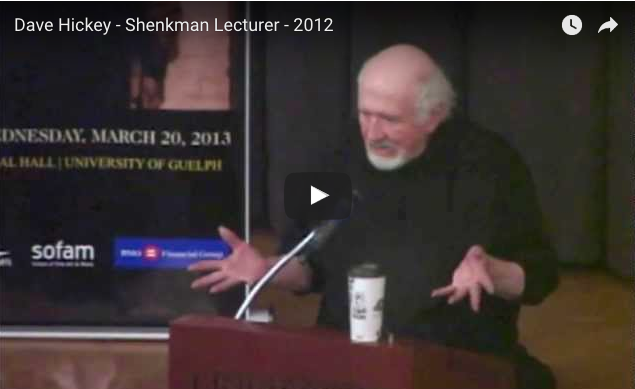 The opinions expressed by the speaker are not necessarily those of the institution.
MFA Grad Seminar not available at this time.