Dasha Shenkman Lecture In Contemporary Art Series
University of Guelph, College of Arts and the School of Fine Art & Music present the
15th annual Dasha Shenkman Lecture in Contemporary Art
Featuring contemporary art gallery founder and director
Maureen Paley
Wednesday, March 29

th

, 2023 | 6:00 p.m.
War Memorial Hall
University of Guelph
Guelph, Ontario
Admission Free - Everyone Welcome!  
Complimentary parking will be available in P23 and P19 for our guests from 2 pm onward on March 29th.
We are delighted to announce that the 2023 Dasha Shenkman Lecture is scheduled for Wednesday, March 29th, 2023 and features contemporary art gallery founder and director, Maureen Paley! 
Please mark your calendars and plan to come to Guelph to listen to the exceptional Maureen Paley. Paley, the founder and director of the Maureen Paley gallery, was born in New York and studied at Sarah Lawrence College, graduated from Brown University, and completed her Masters at The Royal College of Art in the UK.
Paley was one of the first to present contemporary art in London's East End, and has been a pioneer of the current art scene, promoting and showing a diverse range of artists such as Wolfgang Tillmans and Gillian Wearing who she is credited with discovering in the early 1990's. Founded in 1984 in a Victorian terraced house, the gallery has expanded beyond its indie roots to three galleries in both London and Hove and has developed a leading and influential contemporary program that now represents 48 international artists.
MFA students in our Studio Art program will host Open Studios, giving the community a chance to tour studios and become acquainted with this dynamic, unique program and its award-winning students. This year's students include: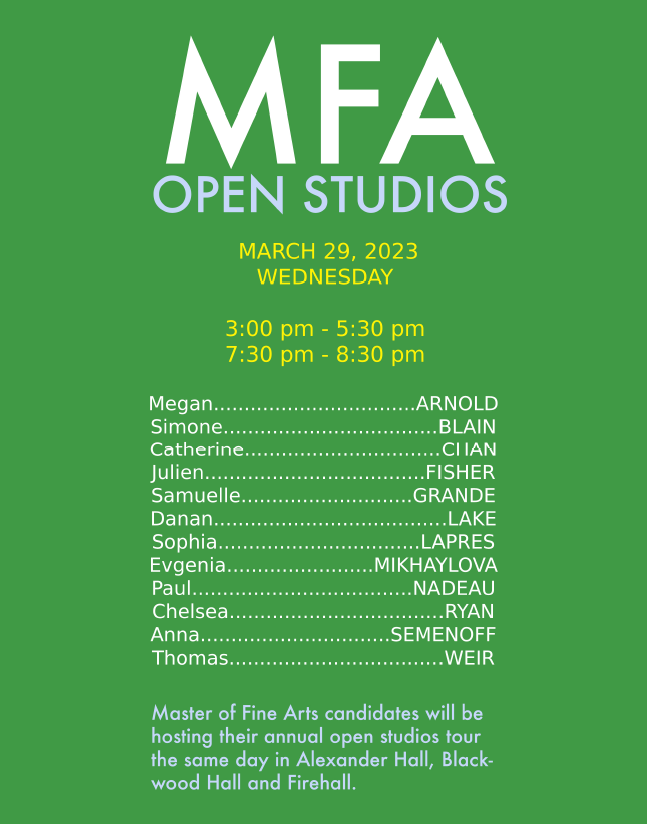 Megan Arnold
Simone Blaine
Catherine Chan
Julien Fisher
Samuelle Grande
Danan Lake
Sophia Lapres
Evgenia Mikhaylova
Paul Nadeau
Chelsea Ryan
Anna Semenoff
Thomas Wier  
Please plan to join us for the MFA Open Studios before and after the lecture: 3:00-5:30 p.m. and 7:30-8:30 p.m.