Roni Horn - 2009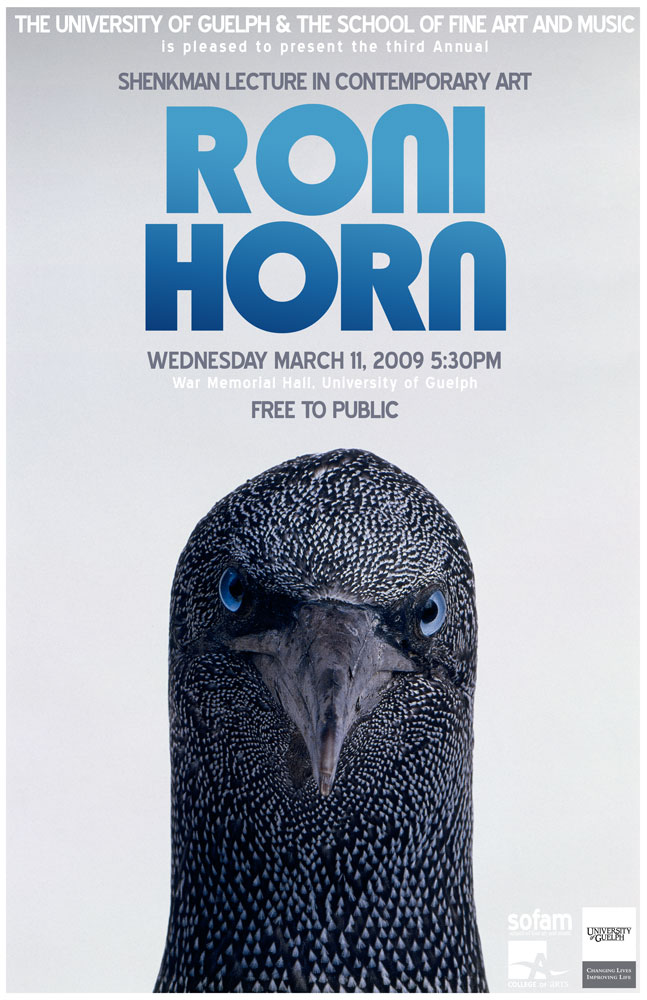 Best known for work that mixes the personal and the abstract in unique ways, Horn's artistic practice has included sculpture, drawing, lithography, installation and bookworks.
Horn is regarded as a minimalist, a method of art-making that concentrated on the material of the thing being made. But she has found ways to take the reductions of minimalist practice and turn them inside out. She has made sculptures out of steel, copper, aluminum, glass, and gold, but they have such a presence that they transport the viewer beyond the limitations of the medium into a kind of material poetics. She obliges us to look so intensely at the "thingness" of the objects she creates - whether solid copper forms, steel spheres, or delicate sheets of annealed gold foil - that they become fields for imaginative speculation.
Operating inside a world in which there are no hierarchies, Horn contends that no single form of artistic expression is more important than any other. She has completed major photographic projects, like Index Cixous, a portrait of 79 photographs of the famous feminist theorist taken in Paris in 2003 and published by Steidl in 2005; You are the weather, an exhibition (and book) of 100 almost identical portraits of a young woman bathing in Iceland; and Earth Grows Thick, a meditation on the poetry of Emily Dickinson that takes the form of sculpture and text. In 1990 she began an ongoing series of artist's books called To Place.
Roni Horn has worked all over the world - especially in Iceland, a country she first traveled to in 1975 and which she has visited and worked in for over 30 years. She recently edited a collection of observations by Icelanders about the effect of weather on their culture which was published under the title Weather Reports You in 2007.
Roni Horn has had a number significant of one-person shows since she began exhibiting in the 1980s, including Making Being Here Enough at the Kunstshalle Basel (1995); and exhibitions at the Musee d'art Moderne de la Ville de Paris (1999); the Dia Center for the Arts (2001); the Art Institute of Chicago and the Centre Georges Pompidou (2004) and the Chinati Foundation, in Marfa Texas.
Lecture - Roni Horn lectured at the University of Guelph following the opening of Roni Horn aka Roni Horn, a major retrospective of her work in London at the Tate Modern (February 25 - May 25), which then traveled to the Whitney Museum of American Art in New York. Currently not available.
MFA Grad Seminar is not available.