Chris Kraus - 2022
University of Guelph, College of Arts and the School of Fine Art & Music present the
14th annual Dasha Shenkman Lecture in Contemporary Art

Featuring artist, writer & film maker
Chris Kraus
Wednesday, March 23rd, 2022 | 6:00 p.m.
War Memorial Hall
University of Guelph
Guelph, Ontario
Admission Free - Everyone Welcome!  
Free parking is available after 4:00 p.m. in all parking lots. Suggested parking lots are P23 and P19.
We are delighted to announce that the 2022 Dasha Shenkman Lecture is scheduled for Wednesday, March 23rd, 2022 and features artist, writer, film maker, Chris Kraus!
Please mark your calendars and plan to come to Guelph to listen to the remarkable art critic, writer, and film maker, Chris Kraus. Kraus has been described as "one of our smartest and original writers on contemporary art and culture" by Holland Cotter of the New York Times, and her work as "an uncannily coherent landscape, a kind of hyperintellectual, hypersexual, digital-era Yoknapatawpha that moves back and forth across the Atlantic, across the Mexican border, across the Soviet bloc" by Leslie Jamison in the New Yorker. In 2008, she received the Frank Jewett Mather Award for art journalism from the College Art Association, the jury of which stated: "Regardless of genre or medium, Kraus's works exemplify honesty, wit, and plot. She transforms art writing's possibilities by rescuing theories of privilege, gossip, and feminism from their occasional tumbles into the lackluster. Never one to hold her tongue, Kraus helps other women speak with equal force."
MFA students in our Studio Art program will host Open Studios, giving the community a chance to tour studios and become acquainted with this dynamic, unique program and its award-winning students. This year's students include: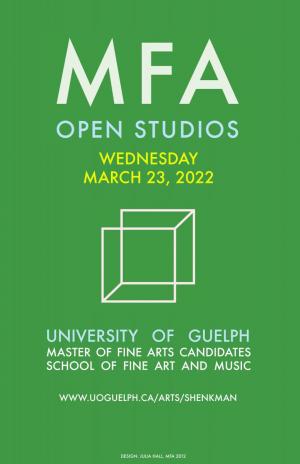 Megan Arnold
Alicia Barbieri 
sophia bartholomew 
Yan Wen Chang 
Rihab Essayh 
Julien Fisher 
Samuelle Grande
Meg Ross 
Michael Thompson 
Kelly Uyeda 
Thomas Weir 
Please plan to join us for the MFA Open Studios before and after the lecture: 3:00-5:30 p.m. and 7:30-8:30 p.m.