Outreach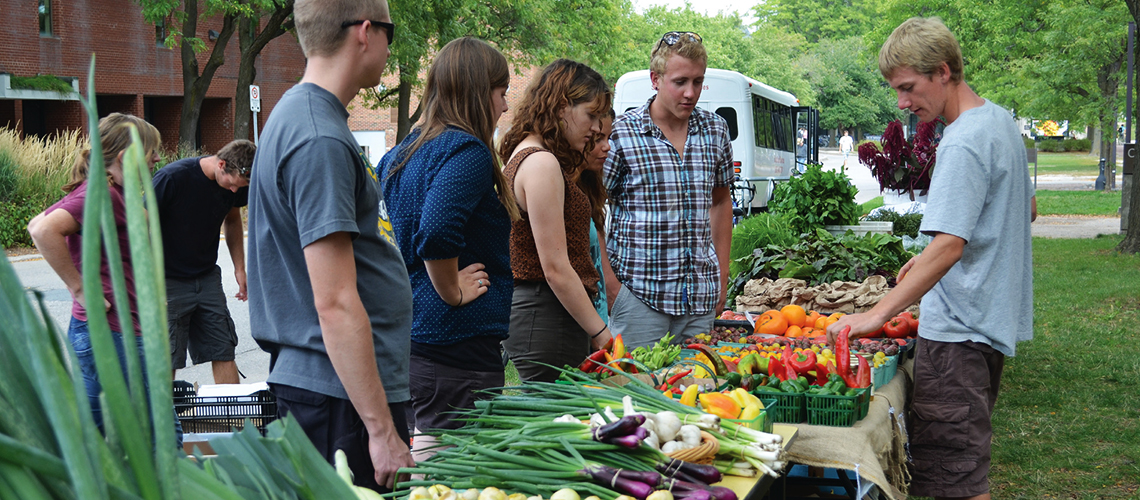 Students at the Guelph Centre for Urban Organic Farming (GCUOF):
Organize tastings, dinners, lectures and field trips for local groups

Work with dining services to source more local and sustainable food

Interconnect to build the Youth Network nationwide

Investigate what it means to run a farm of any size through hands-on labour

Provide learning opportunities for school children and the community

Produce and share Heritage Seeds with the community

Student run community family and friends day on the farm
Child Care and Learning Center Partnership
The Child Care and Learning Center (CCLC) have been involved with the GCUOF since the project began. Children between the ages of one and a half and five years visit the GCUOF regularly during the growing season. Many CCLC children have grown to think of the GCUOF as "their garden!". Children investigate some of our compost, check up on recently sown vegetables and are introduced to Harry, the greenhouse's resident toad. Thanks to the efforts of our dedicated volunteers the GCUOF is the recipient of funding from last fall's Youth for Sustainability contest which will support the outreach and education program that serves the CCLC.
Garden2Table
The farm is a much-loved place of learning for four-year-olds, grade fours and the community through outreach programs organized by the School of Hospitality and Tourism Management students. The farm welcomes grade school children to learn about biodiversity, sustainability and food chain in a program called Garden2Table. Children are encouraged to pitch in, sample and investigate during their visit to the Guelph Farm. Faculty and students from the Hospitality and Tourism program of the College of Management and Economics also develops programs and events through the farm.
Student Teresa Viscomi's Story of Garden2Table:
While standing at the edge of the vast Garden, I see the students look at it in awe. I'm reminded of the first time I did the same, when I volunteered in the Garden over the summer. The greenhouse, the birdbaths, the clearing in the centre of the garden, all of it lends to the rustic and beautiful feel of the space. Here, looking at the land they soon will be working on, the students learn about the history of the Garden. They also learn that it's an organic garden, which means nothing inorganic, such as pesticides, have been used here since it opened in 2008. The students are then divided into groups, with a volunteer heading each group. These volunteers are mostly University of Guelph students, with some alumni jumping in to lend a hand. And of course, the Garden2Table core team is there, leading groups of students, working tirelessly to ensure the visit is a success. Continue to read Teresa's full story here.
Watch the video for the BComm Experience: Garden2Table