"Quacking" the door open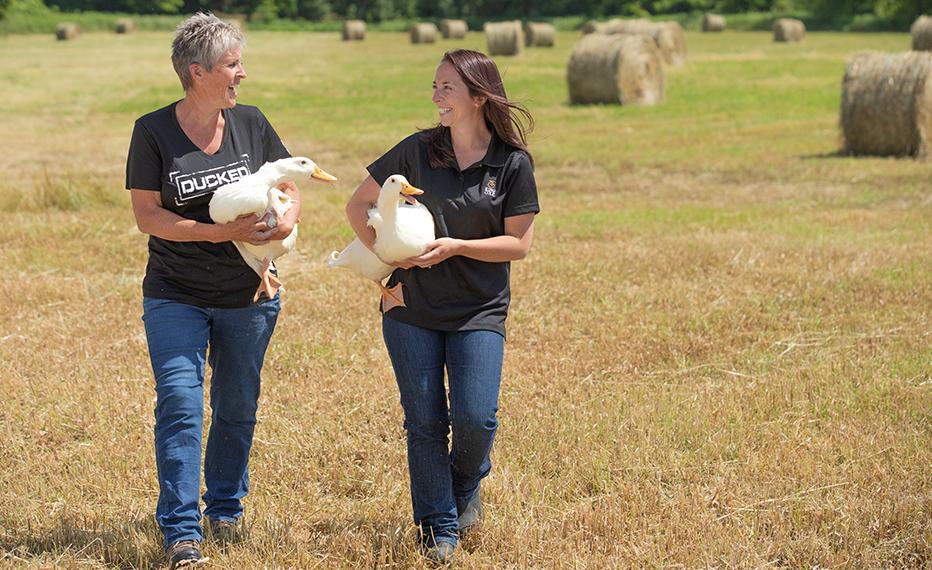 Featuring Jackie Fisher, ADA 1982
"You've got to try the duck!" That's the tagline for King Cole Ducks, printed on every product they make.
As one of Canada's largest producers of ducks in North America, King Cole Ducks offers a wide range of products including smoked duck breast, wings, eggs and confit. The company started after Jim Murby, OAC '32 and '35, and his son, Bob, purchased a farm on the outskirts of Aurora, Ont., in 1951.
After experimenting with poultry husbandry, they decided to focus solely on raising ducks and custom processing. They saw it as a great opportunity, since no one else was selling ducks locally. The family sold products directly from the farm and at farmers markets in Toronto.
Today King Cole's headquarters is nestled alongside the York Regional Forest. The business is operated by Jim Murby's four granddaughters, including Jackie Fisher, OAC '82.
"We have been in business for 70 years and the business just progressively grew," says Jackie. "In 2010, when my sisters and I took over the farm, our focus was to build a business to have finished products and offer something different."
As manager of farm excellence, Jackie brings a keen eye and attention to detail to ensure that operations run smoothly.
"I've spent time in all aspects of the farm, managing grower flocks, working in the barns, moving to breeding stock, helping in hatchery," says Jackie. "An important focus is training all staff on humane handling and biosecurity, so that they understand how to treat our flocks."
 
The business runs as a vertically integrated farm-to-fork operation comprising 16 farms in the Durham, King and York regions. The sisters have expanded the business exponentially, with each focusing on her area of expertise from breeding and hatching, to growing and processing, to finishing and cooking.
"It's such a unique business," says Jackie. "It's a challenge, since we do everything in house, but we feel we can do much better this way. And it ensures we have really great products."
Only 28 per cent of Canadian farms are run by women, according to the 2016 federal agriculture census. King Cole's principals and many other women farmers are increasing representation and diversity in the sector. 
"We continue to empower, support and inspire other women in agriculture around the world," says Jackie. "We've done a great job, my sisters and I, and I'm proud of it."
The team continues to look for ways to enhance the King Cole operation.
In 2015, they built a new office complex and store on the main farm property. The store is open seven days a week and has allowed them to grow the business and offer unique experiences.
"It's a beautiful facility. It offered us the option to hold events, open a farm store and host our duck school," says Jackie. "We are fortunate to have the store. It's opened more opportunities for us and a different way to connect with people and to be able to get our product and other locally made products out there."
Referring to automation, she says, "We put in place a complete traceability program, and now it's available at a push of a button. We can monitor what's happening in every aspect of our operation and it's made things much more efficient."
As the operation continues to grow, the sisters are welcoming the fourth generation into the farm and, well, getting their ducks in a row so they can enjoy retirement soon.
"It's very exciting to have the fourth generation bring their experiences and new ideas," says Jackie. Referring to 12 grandchildren in the family, she says. "They are always willing to help out, take a vested interest in the business and share a love for the farm. It's great to have them back."
This article was originally published in the LIBRANNI 2022 / Vol. 4
---
Visit kingcoleducks.com to learn more and to find out where you can try the duck!
---
Share this page
News Topics