2016 OAC Faculty Awards Presented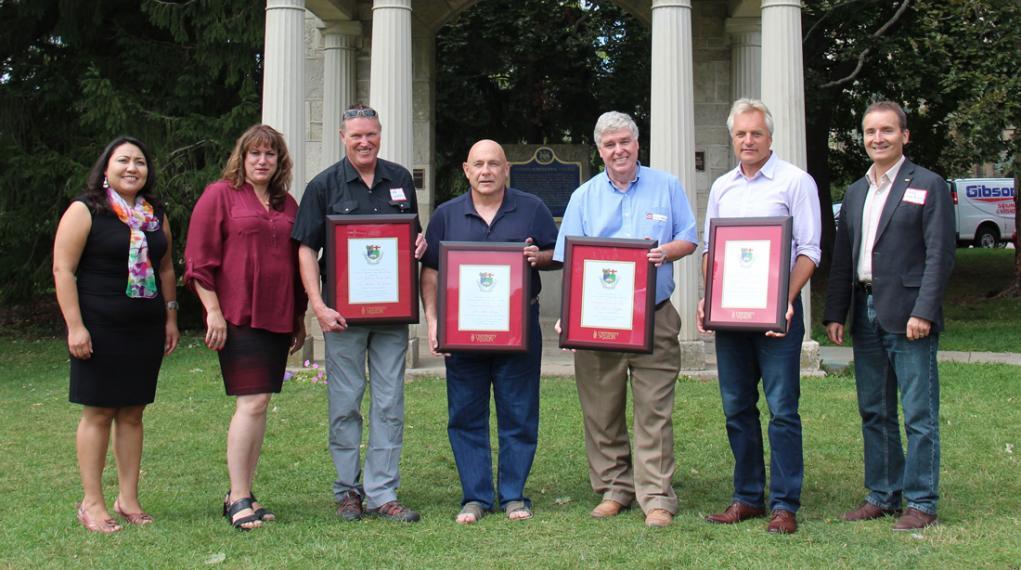 Earlier this month, four faculty members were presented with the 2016 OAC Alumni Association and OAC Alumni Foundation faculty awards.
OAC Alumni Distinguished Teaching Award
Prof. Alfons Weersink of the Department of Food, Agricultural and Resource Economics received the Distinguished Teaching Award, which recognizes the importance of effective teaching by faculty who play a significant role in the education of OAC students.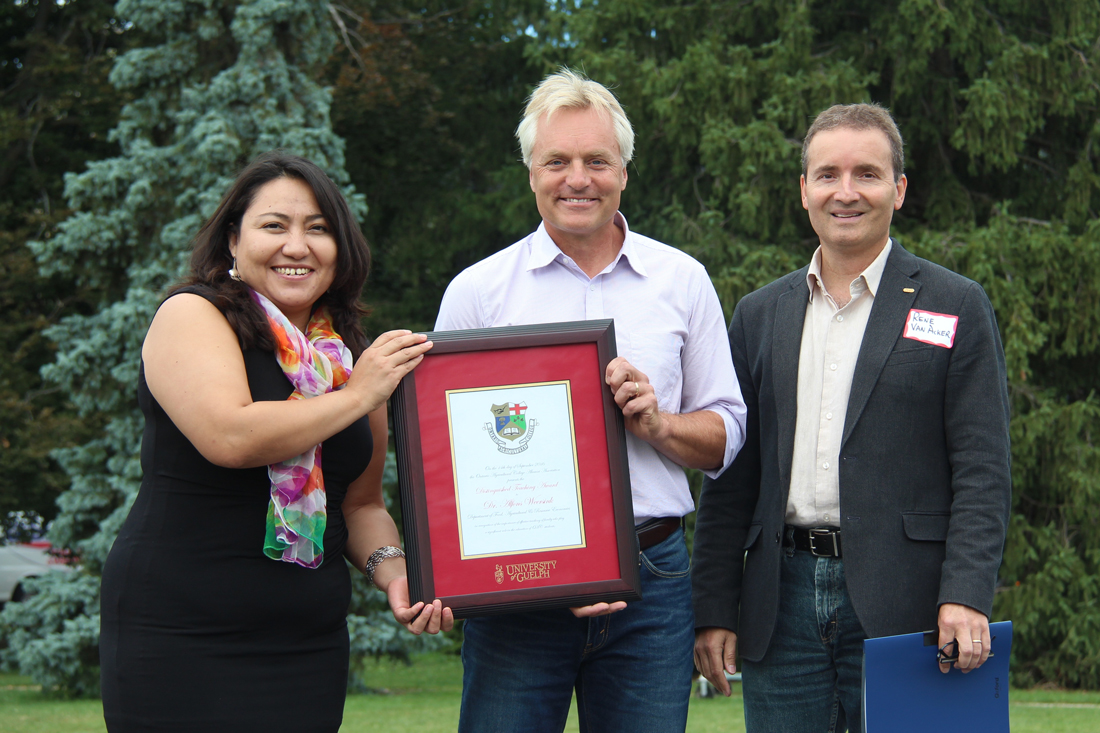 Since joining the University of Guelph in 1989, Alfons has made a deep and lasting impact on the education of many OAC and Guelph students. He has taught 20 different courses ranging from diploma to PhD level, including conventional lecture style classes as well as working with students on independent study research projects. He is an exceptional instructor and mentor with an engaging and commanding presence in the classroom. Outside of the classroom, he has played a key role in developing new curriculum to address the needs of OAC students. This includes developing and team-teaching a two-semester course in agricultural economics.
OAC Alumni Distinguished Researcher Award
Prof. Mansel Griffiths, Department of Food Science, received the Distinguished Researcher Award, which recognizes outstanding research accomplishments by an OAC faculty member.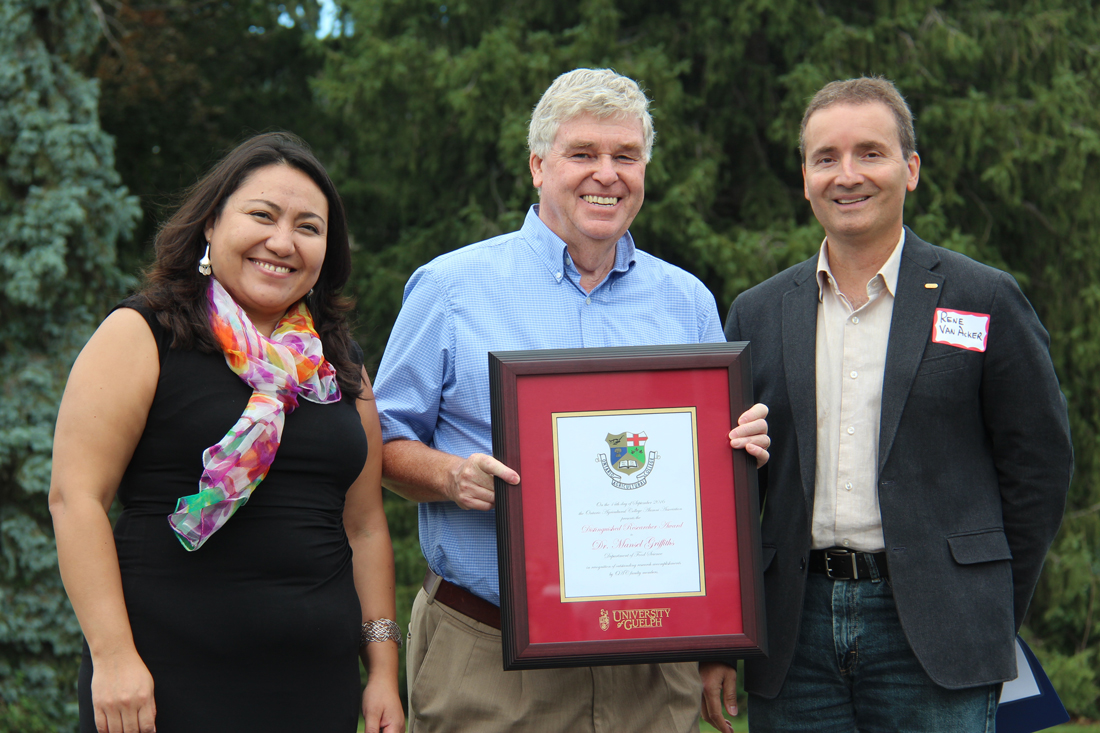 In 1990 he was appointed as the NSERC Industrial Research Chair sponsored by the Dairy Farmers of Ontario at the University of Guelph, and in 2000, he established the Canadian Research Institute for Food Safety.
He is a highly productive and impressively successful food safety researcher who has made several significant contributions to the advancing field of food microbiology. He has published over 235 peer reviewed scientific papers, almost 40 referenced reviews, four books and 30 book chapters. He has given over 180 conference presentations, holds six patents and is often invited to speak internationally. He is also a member of many prestigious committees and advisory groups from the government and private sectors.
OAC Alumni Distinguished Extension Award
Prof. Al Lauzon, School of Environmental Design and Rural Development, received the Distinguished Extension Award, which recognizes effective extension efforts used successfully in extension outside the University classroom.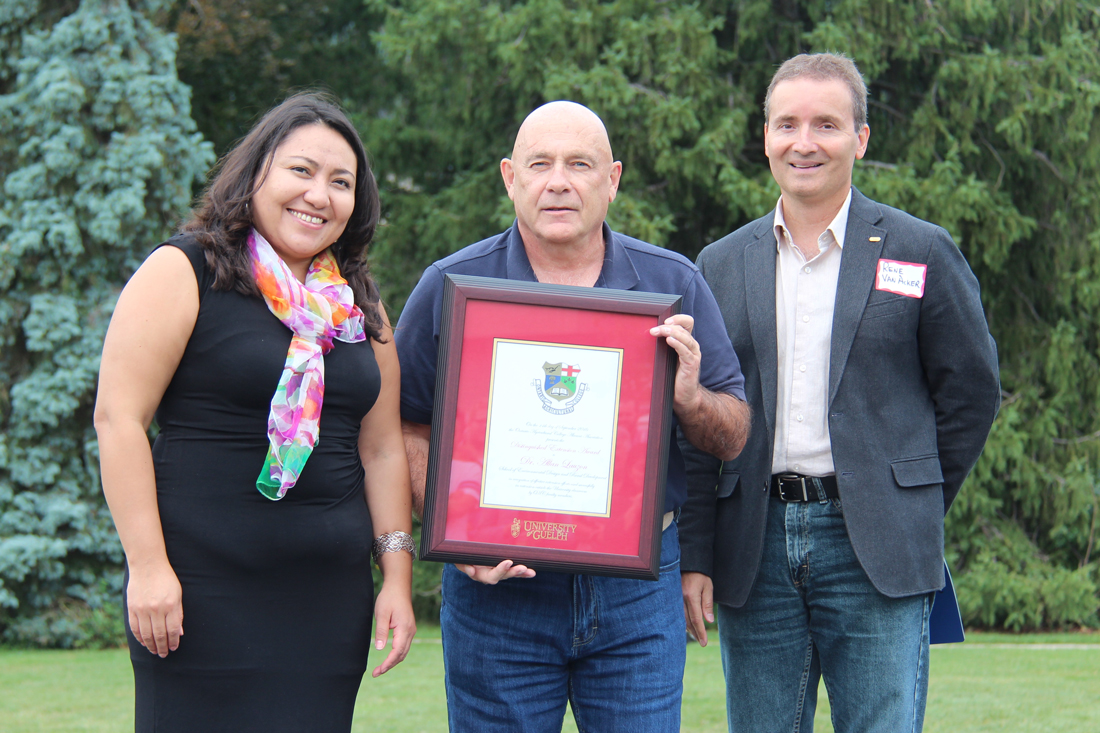 Al is currently involved in a number of research projects including the roles colleges play in supporting rural small and medium enterprise innovation, the role of afterschool programs and their impact upon rural youth and their communities, and the development of rural social enterprises. He has significant community service experience and is currently a member of the Board of Directors for the Canadian Rural Revitalization Foundation, a member of the editorial board for the Journal of Rural and Community Development, and serves as a reviewer for a number of diverse journals related to education, community development and social change.
OAC Alumni Foundation G.P. McRostie Faculty Award
Prof. Andy Gordon, School of Environmental Sciences, received the G.P. McRostie Faculty Award, which recognizes the importance of effective advising and mentoring of students by faculty.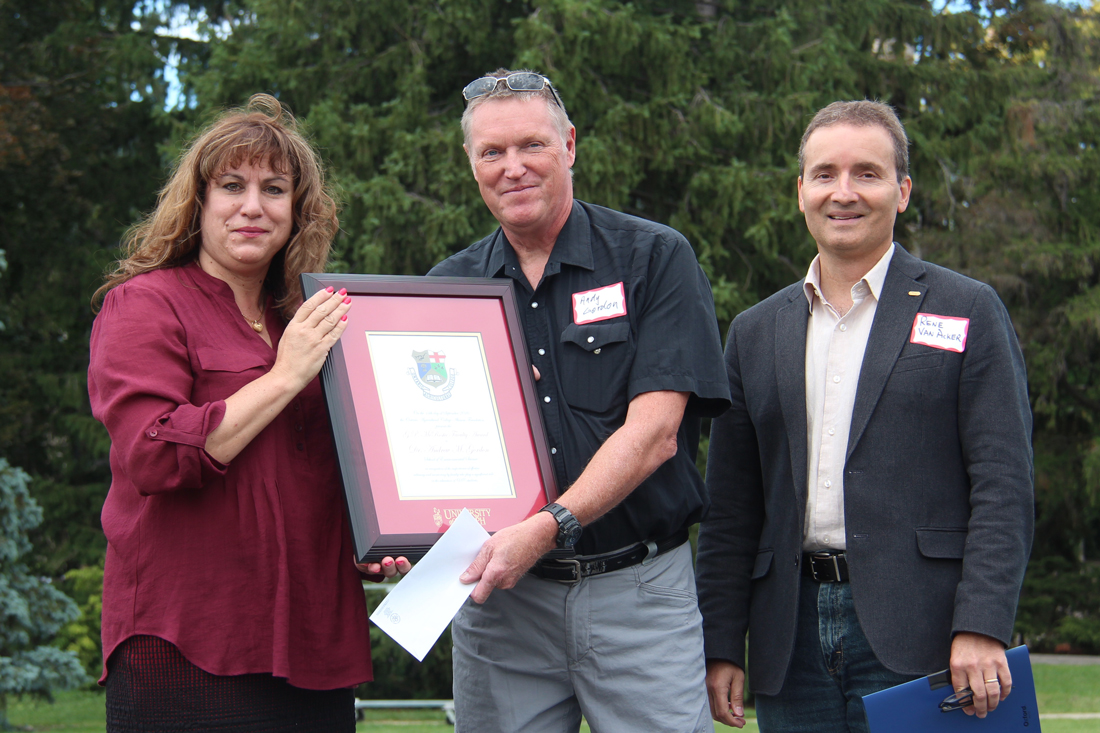 Andy Gordon has over 30 years of teaching, advising, research and mentorship at the University of Guelph. Over his career he has interacted with more than 5,000 undergraduate students and supervised over 38 MSc and 8 PhD students. About 17 of his past graduate students are currently holding teaching positions at various universities around the world. Described by colleagues as an "outstanding model for a teacher in the School of Environmental Science and particular for OAC students", he is a highly dedicated expert who knows how to motivate students to strive for excellence.
Share this page
News Topics