5 of the best University of Guelph "Aggie" experiences
Being a part of the Ontario Agricultural College (OAC) is a unique experience. From walking around campus in a pack of students wearing matching leather jackets, to participating in an annual tractor pulling competition , the student experience as an OAC "Aggie" is unlike any other. The lasting traditions of the OAC have cemented a college that is rich in community and passion.
What is an Aggie? 
By technicality, being an "Aggie" at the University of Guelph means that you are a part of the Ontario Agricultural College. In reality however, it is so much more than that. Aggies are known across campus for their unique culture and events. Most notably, Aggies are known for the weekly "Aggie Pub" on campus, which consists of line-dancing, two-stepping and all-around fun. 
To me, being an aggie is being a part of a community. The OAC welcomes students from the very beginning of their university career, and the abundance of events and traditions allow the opportunity to build a strong network with your peers. The agriculture industry is incredibly small, and you never know which Aggie peers you'll be working alongside in the future. 
If you're lucky enough to be an Aggie, be sure not to miss out on any of the events below. And if you're not sure who to talk to get more details, just ask, the Student Federation of the Ontario Agricultural College is a good place to start.
Top 5 Aggie experiences you don't want to miss
Throughout my four years as a University of Guelph Aggie, I have embraced the spirit of the OAC and participated in many ongoing traditions. I own a leather jacket, I sit on OAC student council, and I ALWAYS attend Aggie Pub on Wednesday night. There is a long list of fun and unique OAC activities that enhance student life and create lasting friendships, and I would recommend participating in as many as possible! But, if you are looking for somewhere to start, here are my recommendations.
1. OAC club opportunities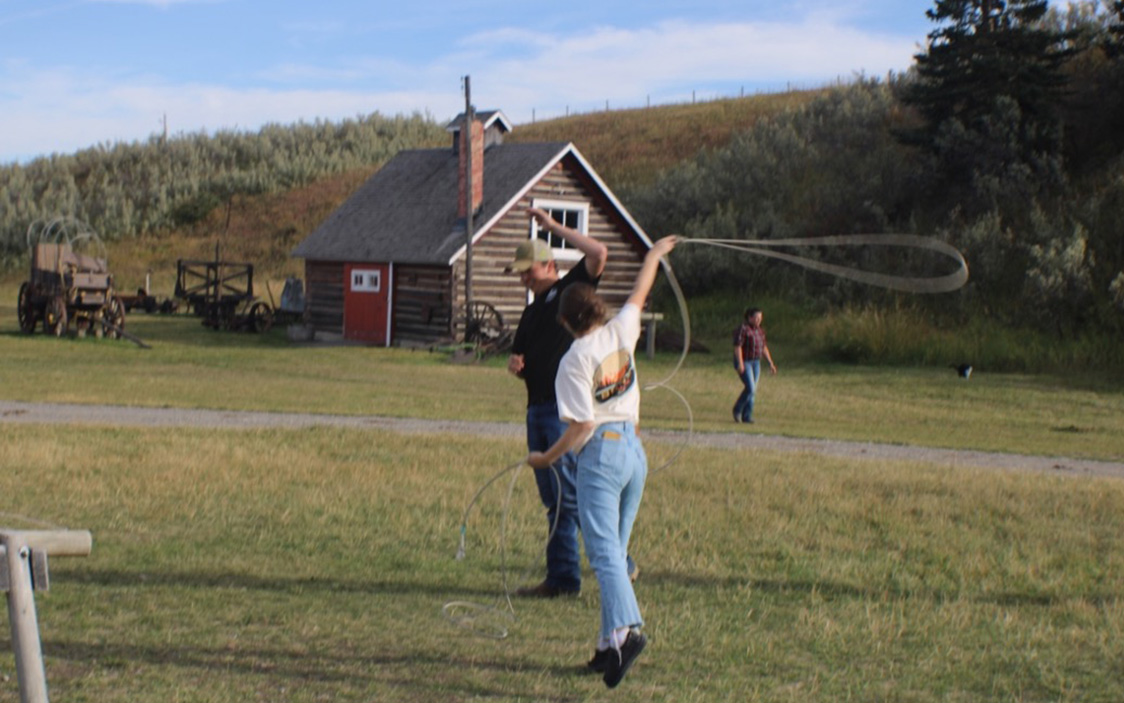 There are tons of clubs and organizations that you can join to meet similar people and learn more about your interests. For the students interested in pursuing veterinary medicine – there's the Future Vets Club. For students interested in turfgrass – there's the U of G Turf Club . For students interested in dairy production – there's the Dairy Science Club. The list goes on.
My all-time favourite OAC experience has been the "Alberta Bound" trip that I participated in as a part of the OAC Beef Club. Over the course of six days, I travelled to Alberta with 45 other students, where we toured beef operations and ranches, and even spent a day in Banff National Park. Depicted in the photo above is me (attempting) to lasso one of my current housemates on our travels.
My biggest suggestion to an incoming OAC student? Or a current student looking to get more involved? Find a club you are interested in, attend meetings, make friends, and take part in the experiential learning opportunities that present themselves! There are many clubs across OAC and the University of Guelph that offer low-cost travel and educational opportunities.
Explore other U of G's student clubs and organizations here.
2. The OAC Goodtimes Banquet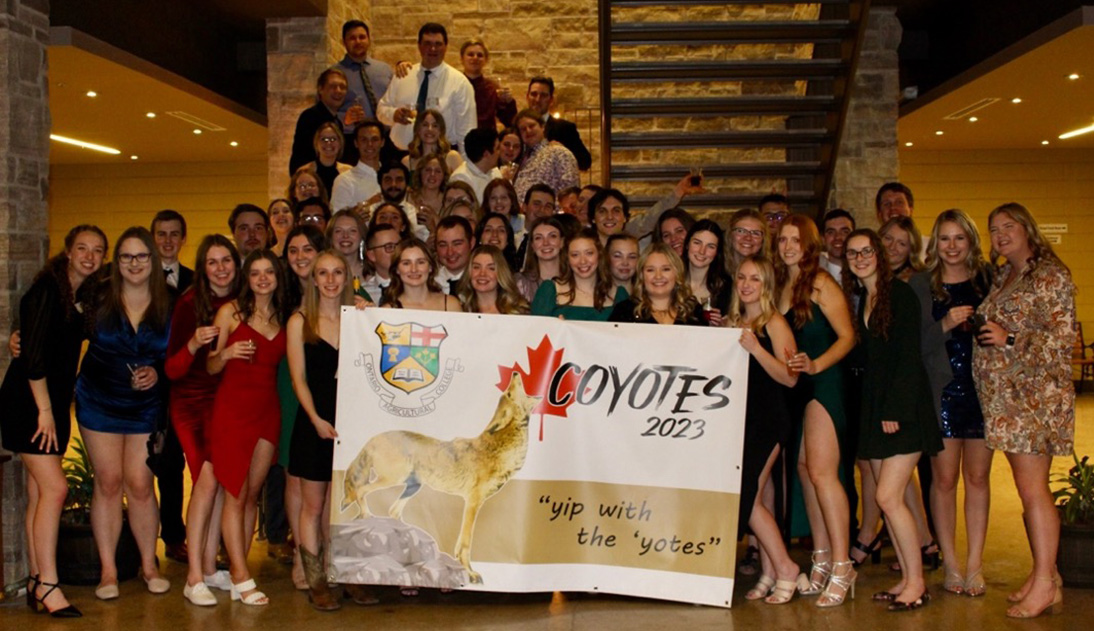 Who doesn't love an opportunity to get dressed to the nines and attend a (delicious) banquet with friends? I know I sure do. The OAC Goodtimes Banquet (or just Goodtimes for short) is an annual OAC tradition, and one that I look forwards to each January! Goodtimes includes a delicious catered meal, a keynote speaker, annual Aggie awards (including class spirit awards and sporting trophies) and is followed by a dance. 
Goodtimes is attended by both current students and alumni, making it a great event for networking and bonding over shared OAC experiences. This years OAC Goodtimes Banquet was even attended by alumni from the OAC class of 1950! Talk about dedication!
3. OAC class challenges & sports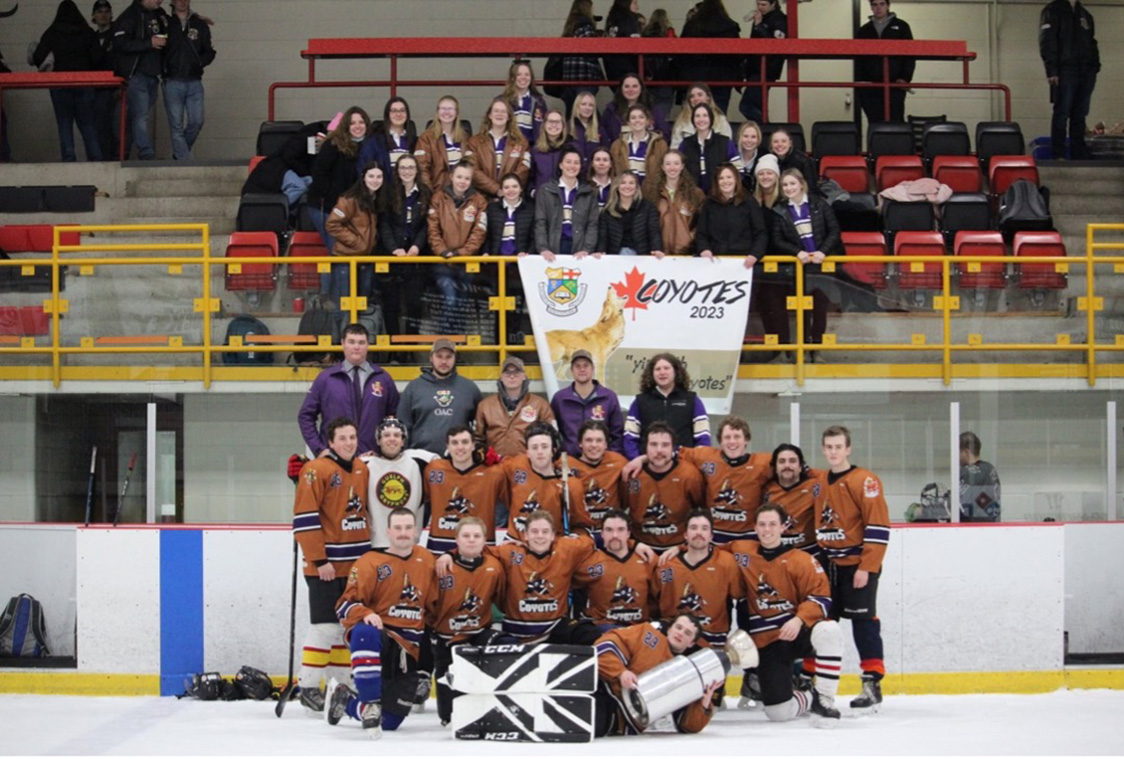 One of the most unique things about the OAC is the strong relationships between different class years. I belong to the class of 2023, and during my four years I've become great friends with students ranging from the 2020 Class all the way down to the 2026 Class. Here in OAC, when you enter your first year, all the upper year students are excited to meet you and want to help you succeed during your time as an Aggie. To get to know everyone, there are class events and class challenges in which different classes/years compete against one another. 
The very BEST class challenges (in my opinion of course), are the annual sporting tournaments. Every year, the classes challenge each other to five main tournaments: baseball, soccer, dodgeball, volleyball, and (my favourite) hockey. For each tournament, there are trophies awarded to the winning year, and classes get pretty competitive! Along with those who compete, there are always tons of spectators and a whole lot of spirit in the stands. 
Hockey is our biggest tournament, with classes ordering their own jerseys and class pride very high! Last year, my class won the tournament, which was very exciting and can be seen in the photo above. 
4. Aggie Night - Men's Varsity Hockey Game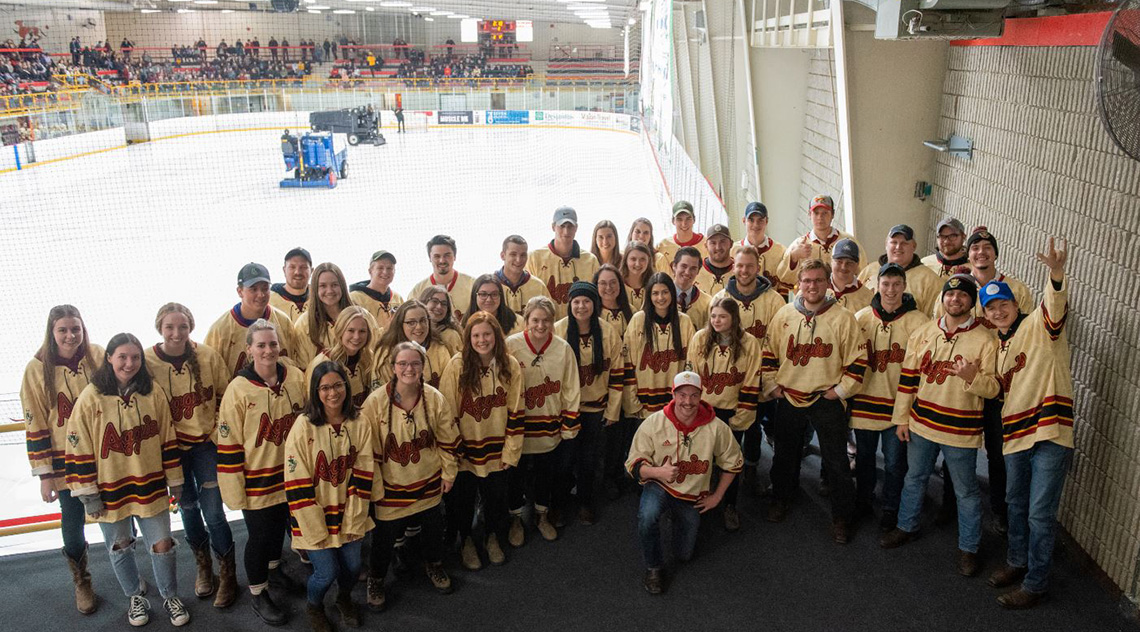 In honour of OAC being one of the founding colleges at the University of Guelph, every year the U of G men's varsity hockey team hosts an "Aggie Night". During their game, the team wears Aggie hockey jerseys and the entire night it focused on Aggie pride. This is the best varsity hockey game of the year, where several alumni and current students come out to watch and support Guelph Gryphons Hockey! It's a whole lot of fun, and you can even order a matching Aggie jersey from the Student Federation of the OAC to show your support!
5. Midwest crop tour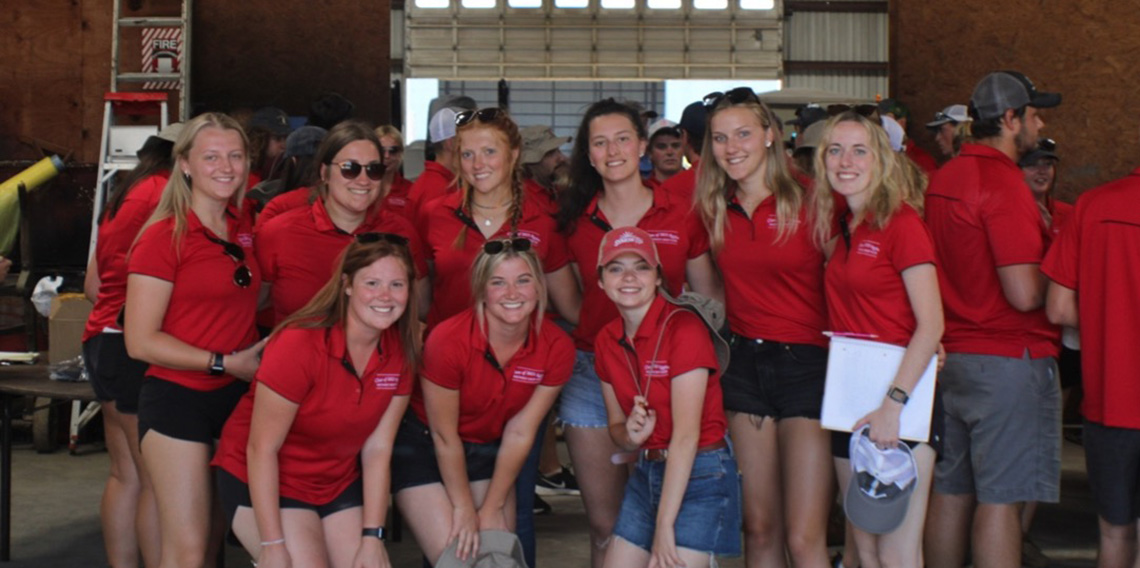 Here's another experiential learning opportunity! Crop tour is an Aggie tradition that has been ongoing for over 50 years, and a very hot topic of conversation among OAC alumni. 
The two-weeklong trip entails farm tours throughout the U.S.A, allowing students to learn more about the agriculture production of climates and crops we are less familiar with. When I participated this year, popular favourites were rice and cotton production. I was personally very interested in our stop at the Stockton Walnut Production Plant! 
Not only is this a great way to further bonds with classmates (you learn a lot about people when you spend two weeks on a bus with them), but it's also a U of G field course credit! This experience is more expensive than those listed above (bringing it in at #5 in this ranking), but it's a great way to travel and learn more about agriculture across North America! 
And hey, when else are you going to get the chance to road trip with 45 of your close peers? 
Follow OAC students to learn more!
These were just a handful of my favourite Aggie events, but there is so much more to discover. I recommend following us on the students_of_oac Instagram account or the SFOAC Instagram account to see what current students are up to.
---
About the blogger: Faith Emiry is a 4th year Food, Agriculture and Resource Economics Student at the University of Guelph. She is an active member of the OAC Class of 2023, and can be found embracing Aggie Spirit through weekly pubs, travel opportunities, and OAC traditions. 
---
In this series of blog posts, OAC students take us through some of the ups and downs of their journeys at the University of Guelph. 
Share this page
News Topics