5 Minutes with Karen Clarke-Whistler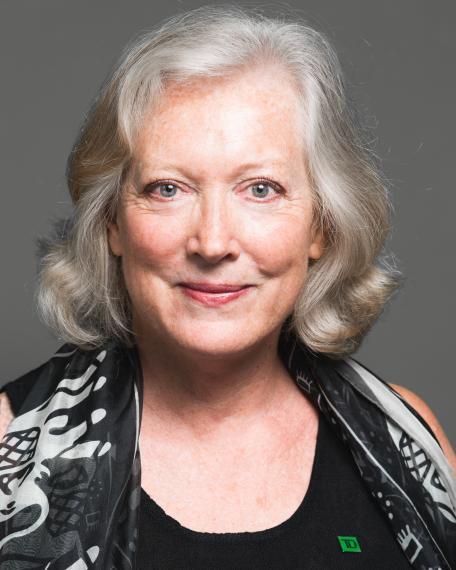 After 10 years as chief environmental officer, Karen Clarke-Whistler (M.Sc. in Land Resource Science, 1980) recently retired from TD Bank. She sat down with us to talk environmental business strategy and recap the role.
What's the role of a chief environmental officer?
The goal is to understand how the environment links into the business strategy from both a risk and, more importantly, an opportunity perspective. We wanted to look at the environmental aspects of our lending, asset management, retail products and insurance, and our buildings. It's an enterprise-wide approach. The thinking in creating the position is that a strong economy and strong environment go hand in hand. By having deep insight into the environment, you can think about the economic implications.
How is this approach different?
A lot of banks and big companies focus on the environment through philanthropic activities, but really trying to understand how the environment impacts our business and the economy is a substantial step. The impact metrics of our reports look at the reduction of greenhouse gases but also impacts to the economy and jobs. We decided to start by focusing on climate change 10 years ago because we saw it had an economic and environmental 'megatrend,' and I think that we were right in that.
What changes have occurred since you started?
In 2010, we became the first North American carbon-neutral bank. We did that to help us understand how carbon worked and used that as a guiding principle in how we looked at our facilities. It had a big learning impact on how we design, build and operate our 3,000 facilities in North America. We took the insights from that and translated it into our lending and produced a number of retail products over the years. In 2014, we took our approach into the capital markets through investing. We were the first Canadian bank to issue a green bond, which supports North American projects that contribute to the low-carbon economy. Toward the end of 2017, we made a further $100-billion commitment to the low-carbon economy through lending, finance and investment.
What's been the major benefit to TD Bank?
I think it's the building of awareness of the business case for these efforts. Building environmental considerations very broadly into our business has trans-formed the way we think. It is always a factor in decisions being made. We've also certainly made a lot of revenue off of it, and it's been a way of attracting and retaining great employees. 
How did you use your U of G education?
I absolutely leaned on my scientific training every single day. Being able to look at data, get behind the headlines and being able to do scientific analysis was my true differentiator. Looking at it from a scientific perspective gives me a unique voice. I'm not an activist. I don't have an agenda. I am trying to be factual about how our efforts link to the environment and the economy. 
What do you recommend to businesses looking to adopt environmentally focused strategies?
You need to understand the key areas where the environment impacts your business. A great first start is remembering that saving energy saves money. Everything to do with energy is going to continue to go up in price, so there's an immediate and direct impact to your bottom line by being able to save energy. We also see new markets that respond to the low-carbon economy. The Internet of Things enables taking things out of bricks and mortar, and is a real potential win for the environment. There are lots of ways environmentally focused strategies can benefit your bottom line and improve your top line, but you have to be real about where it impacts you and not be subject to fads.
This interview has been edited and condensed. 
This article was originally published in the LIBRANNI 2019 / Vol. 1
Read more:

 

Learn more about OAC research:
Share this page
News Topics