5 Minutes with Andrew Vokes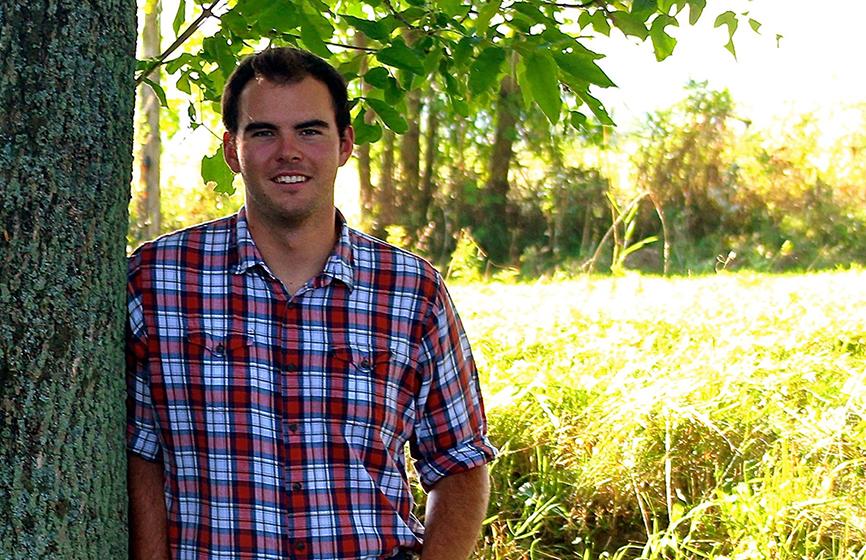 During his time at Ridgetown Campus, Andrew Vokes (Associate Diploma in Agriculture, 2018) discovered the variety of club and association opportunities available to youth interested in agriculture and farming in southwestern Ontario. After returning home to Manitoulin Island, he decided to form his own association to support people ages 16-40 who are interested in collaboratively learning about production agriculture. We recently chatted with Andrew about his new association and his hopes for the future.
What inspired you to create the Manitoulin Youth Agriculture Association (MYAA)?
I found from my personal experience that there's very little 4-H involvement on Manitoulin Island or even nearby. There's really just nothing around here for aspiring young farmers.
Tell us about the MYAA.
The main goal is to bring together young farmers and anybody interested in agriculture – somebody who maybe sees themselves working on a farm in the future, or even just owning a few chickens. I want to bring them together and show them what it's all about. It also provides the opportunity to see how other farmers are doing things and to learn from each other. 
I hope to work with or talk to people who are interested in how things work on a farm or see themselves wanting to farm in the future, but don't know where to start. For example, I have a friend who went to school for environmental studies and is interested in the environmental side of farming, so he wants to come learn from our group as well. 
What sorts of activities do you do? 
Our meetings are informal networking opportunities where we tour different agricultural operations and also have specialists, like vets and fencing experts, give informational talks. I also hope to host a fundraising dinner or dance over the winter, when it's slower on farms, to get people out in the community and to promote ourselves.
What did you find most challenging about starting a group on the island?
I would say distance and timing. If you have one person from each side of the island and want to meet in the middle, that's still an hour drive for each person. Also, the association includes people in their 20s and 30s. One thing we didn't realize was people in their 30s have young kids. Our first meeting was at 7:30p.m., and there was no one there older than 25 because they had to put their kids to bed. There's also a lack of young farmers on the island, plus just generally a very small amount of youth that stay on Manitoulin Island. To get people to want to stay here, farm here and see agriculture as a career is pretty challenging.
Why do you think it's important for young people in agriculture to get together?
For somebody who didn't grow up on a farm but wants to start out, where do they start? Maybe we can help with that. Maybe one farmer has been doing things the same way his dad and grandfather did it. But something I learned at Ridgetown Campus is that just because it's been done the same way for a hundred years doesn't mean that's the best way to do it. If we can learn from our peers and other people in the same field as us, I think that's great.   
What advice do you have for other young people looking to start a new club or association? 
I would say to just get out there and try. Talk to your friends, talk to other people in your target group whose interests are the same as yours and just do it. If it doesn't work out, nobody can get angry at you for trying. Hopefully it does work out, but if things don't go your way, at least you tried.
This interview has been edited and condensed. 
This article was originally published in the LIBRANNI 2019 / Vol. 1
Read more:

 

Read more:
Share this page
News Topics