Apples: a beloved Canadian ingredient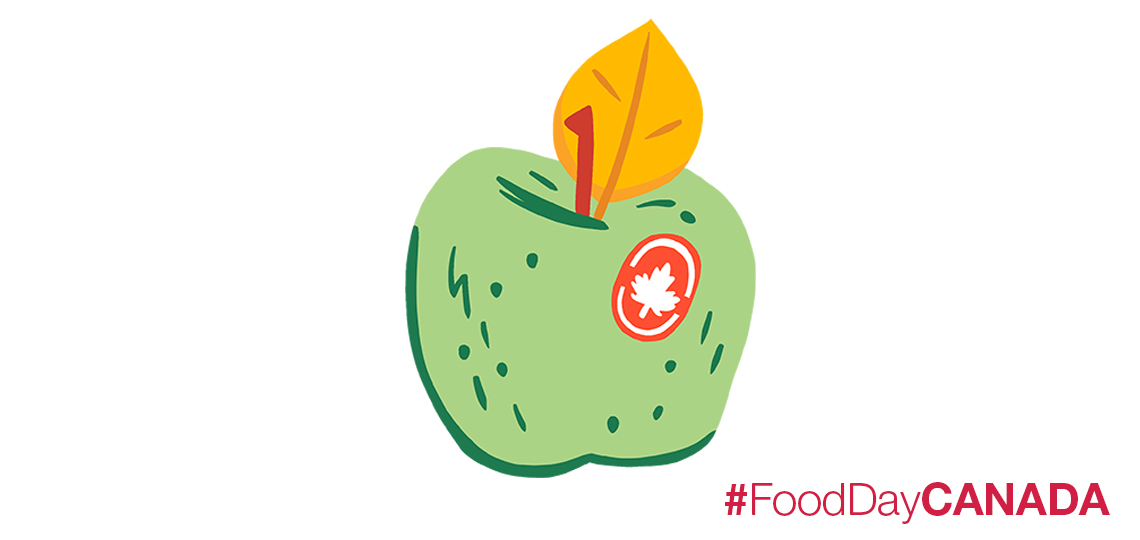 We're celebrating Food Day Canada this year by sharing information, recipes and fun facts for the whole family. Many of our alumni and community are balancing working from home and childcare, so we thought we'd share some fun activities to entertain everyone.
Food Day Canada is a great opportunity to enjoy food, make food and learn about food.
---
Nutritional Highlights of Apples
Apples are made up of carbohydrates (these help give the body energy), water and sugar. They provide a good source of fibre, vitamin C and potassium, which are all important to keep your body healthy and strong.
One medium sized, raw, unpeeled apple contains:
Carbohydrates: 25.1 grams
Vitamin C: 8.4 mg
Potassium: 195 mg
Sugar: 18.9 grams
Fiber: 4.4 grams
Fun fact: Apple trees take four to five years to produce their first fruit.
Reflection activity: Eat an apple. Describe how the apple tastes. Is it sweet or sour? Was it soft or crunchy to chew? Do you prefer to bite into an apple or to slice it before eating? Why?
---
An Apple Recipe to Try!
Banana bread is always a go-to baked good, but have you had apple bread!? Try making this apple bread recipe with your little one! It may become a new family favourite. Check out the recipe for apple bread here.
Fun fact: Apple growers can make "designer apples" that have logos imprinted on the apple! How is this done? Find out how designer apples are made here.
Reflection activity: Make the recipe. What was the best part of making the recipe? What was the most challenging? Would you change the recipe for next time?
Additonal Food Day Canada approved recipes for apples:
---
U of G Connection to Apples
The Ontario apple industry is valued at approximately $400 million and is the most common tree fruit crop grown in Ontario. So, it's an important fruit to research. The University of Guelph has over 25 acres of orchards dedicated to apple research located at the Simcoe Research Station, in Simcoe, Ontario.
There are several researchers within the Department of Plant Agriculture that research different aspects of orchards, apples, and apple products. Some of these projects include:
Developing and learning more about new apple varieties.
Developing the best apple varieties for cider making, which helps Ontario's craft cider industry make better cider.
Identifying and learning more about factors that affect apple growth and quality.
Researching apple storage methods to help decrease food waste.
---
Apple Historical Note
Apples have existed since prehistoric times. History tells us they were farmed by ancient Greeks, Romans and Egyptians. The apples we know today come from the wild apples found in Central Asia. Apples were first grown in Nova Scotia, Canada over 410 years ago. The biggest challenge with growing apples in Canada was climate, which continues to cause problems for farmers today.
Apples didn't make their way into Ontario until around the 1790's, when almost every farmer was growing apples. Apple orchards and methods of harvesting have evolved over the years. Today Ontario Apple Growers reports that they have approximately 225 members (with 10 acres of orchard or more) with 15 different varieties of apples, that are grown on nearly 15,580 acres. Ontario's main apple-producing areas are along the shores of Lake Ontario, Lake Erie, Lake Huron and Georgian Bay.
Fun fact: The crab apple is the only apple native to North America.
Reflection activity: Imagine you are an apple farmer. Draw a picture of you in your apple orchard. Make sure to include your harvesting equipment. Are you selling your apples to a grocery store or directly to customers who come to your farm?
---
Environmental Impact of Apples
In Ontario, we are lucky to have a large local supply of apples throughout the year. This is important because it helps decrease what is known as food's carbon footprint. A carbon footprint is the amount of carbon dioxide or CO2 that is released into the air from things like cars, planes or boats used to transport goods. Too much CO2 in the air is bad for the environment. If apples are grown and sold in Ontario, they don't have far to travel, so less CO2 is being put into the air. This is one of the many reasons why it is important to buy local.
Speaking of CO2… trees and other plants actually help clean our air. Trees, like the apple tree, will take CO2 out of the air, through the process of photosynthesis, to produce fresh oxygen.
Fun fact: One acre of apple orchard will extract about 15 tons (or 15,000 kilograms) of carbon dioxide from the air each year.
Reflection activity: Purchase a bag of apples. Look at the packaging to see where the apples came from. Use the internet to search that location and determine how far the farm is from your home. Did your apples come from a local farm? Do you think they came on a truck, a plane or a ship?
Share this page
News Topics