Pulses: a nutritious Canadian ingredient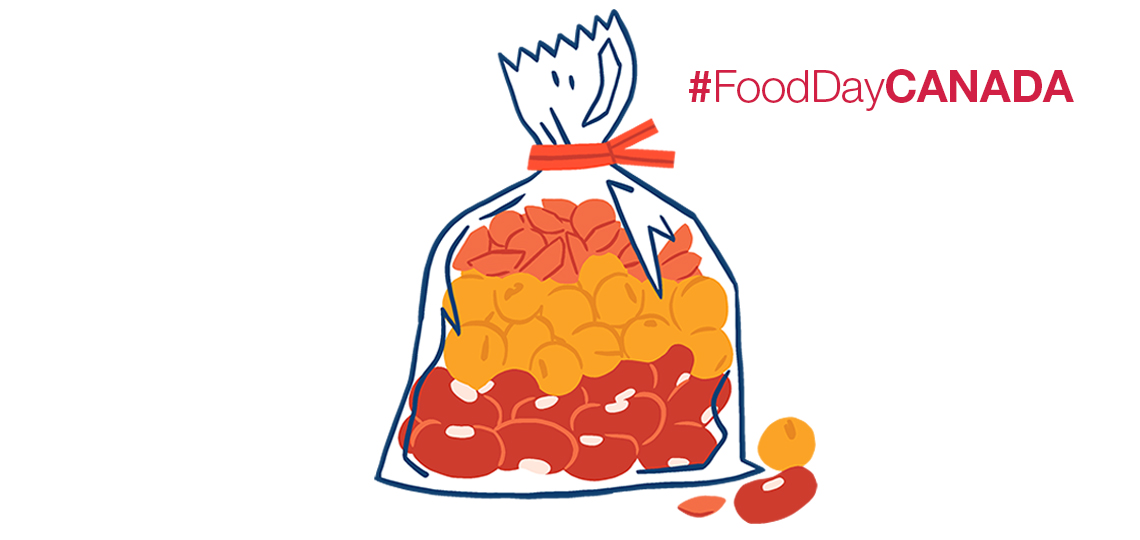 We're celebrating Food Day Canada this year by sharing information, recipes and fun facts for the whole family. Many of our alumni and community are balancing working from home and childcare, so we thought we'd share some fun activities to entertain everyone.
Food Day Canada is a great opportunity to enjoy food, make food and learn about food.
---
Nutritional Highlights of Pulses
Pulse is the name given to the wide variety of edible seeds we grow. Pulses include dry beans, dry peas, lentils and chickpeas. Pulses have twice the amount of protein found in whole grain cereals like wheat, oats, barley and rice. They are also a major source of fibre which helps to keep our bodies and digestive systems healthy. The vitamins and minerals contained in pulses also help to keep our body systems functioning well!
Here is some nutrition info for a few types of pulses:
Kidney Beans – You are probably most familiar with dark red, light red and white kidney beans! But they also come in a wide variety of colours and patterns like purple, black and spotted. 3.5 ounces or 100 grams of kidney beans contains:
Calories: 127
Water: 67%
Protein: 8.7 grams
Carbs: 22.8 grams
Sugar: 0.3 grams
Fiber: 6.4 grams
Fat: 0.5 grams
Pinto Beans – Dried pinto beans are beige with brown spots, but they turn pale brown or pink when cooked. These beans are loaded with vitamins and minerals! One cup or 171 grams of pinto beans contains:
Calories: 245
Carbs: 45 grams
Fiber: 15 grams
Protein: 15 grams
Fat: 1 gram
Sodium: 407 mg
Vitamins and Minerals: Thiamine, Iron, Magnesium, Phosphorus and Potassium
Lentils - Lentils are edible seeds belonging to the legume family. Common types of lentils are brown, green and red. They are both inexpensive and highly nutritious. One cup or 198 grams of cooked lentils contains:
Calories: 230
Carbs: 39.9 grams
Protein: 17.9 grams
Fat: 0.8 grams
Fiber: 15.6 grams
Vitamins and Minerals: Thiamine, Niacin, Vitamin B6, Folate, Iron, Magnesium, Phosphorous, and Potassium
Fun fact: Just 1/2 cup of cooked green lentils packs about 32% of your days' worth of fibre!
Reflection activity: On the internet, look up photos of kidney beans, pinto beans and lentils. Have you ever eaten these beans before? Which one do you think looks the most delicious? Why?
---
Some Pulse Recipes to Try!
Chili Mac and Cheese is a yummy comfort food perfect for adults and kids. The ingredients for this healthy mac and cheese are customizable to suit picky eaters and the finished product is flavorful and filling! Check out the recipe for Chili Mac and Cheese here.
These Mediterranean Meatballs will have you and your family asking for seconds! Switch up your spaghetti and meatballs with this tasty alternative made with split red lentils and ground turkey. Check out the recipe for Mediterranean Meatballs here.
Fun fact: Beans are very versatile food items! They can be made into burgers, cakes, drinks, pies, fudge, muffins, jewelry, furniture (bean-bag chairs), toys, and musical instruments.
Reflection activity: Make one of the above recipes. What was the best part of making the recipe? What was the most challenging? Would you change the recipe for next time?
Additonal Food Day Canada approved recipes for pulses:
---
U of G Connection to Pulses
The Field Bean Breeding Program at the University of Guelph started in 1977. In the early years, white beans were the focus. Their goal is to create new varieties of beans that are disease resistant, will grow in Ontario and are nutritious to eat. University of Guelph researchers have developed 18 white bean varieties and 22 coloured bean varieties over the years!
Today the program works to create improved varieties of navy, black, cranberry, kidney (dark red, light red and white) and pinto beans to be grown in Canada. Prof. Peter Pauls currently runs the bean breeding program, which is supported by farmers and the Ontario government.
Fun fact: Canada is the world's #1 producer of lentils!
Reflection activity: Visit the Ontario Pulse Crop Committee website here and look at the map of research test plots in Ontario. Which test plot is closest to your home? Click on the location and you can see what new pulses are being grown there!
---
Pulses Historical Note
The first evidence of pulses was dated back to 11,000 years ago in a region in the Middle East, which was home to some of the earliest human civilizations. Pulses are a relatively new crop for Canadian farmers, growing in popularity since the 1980's.
Since then Canadian farmers have been introducing pulses into their crop "rotation" to ensure their soil is healthy. Farmers use a "rotation" of different crops to ensure the plants grown in the soil, help to also replenish the soil. Pulses help in this pattern by replenishing the nitrogen (more below)!
Farmers' desire to look after their land helped bring a new local crop to consumers. In 1991 less than half of Canadian farmers used pulses in their rotation, but by 2011 nearly all were planting pulses!
---
Environmental Impact of Pulses
Nitrogen is a very important element that plants need to grow strong and healthy. Too little nitrogen could be terrible news for new plants trying to grow! Luckily, 78% of the atmosphere is nitrogen and certain plants have the ability to fix atmospheric nitrogen within the soil. Think of nitrogen "fixation" as the process of changing the nitrogen in the air to a form that is usable by plants.
Nitrogen fixing plants are called legumes. Legumes include all peas and beans. Once the legume is harvested, the roots release fixed nitrogen into the soil to be enjoyed by any crops that are planted next!
Share this page
News Topics