Creativity in every bite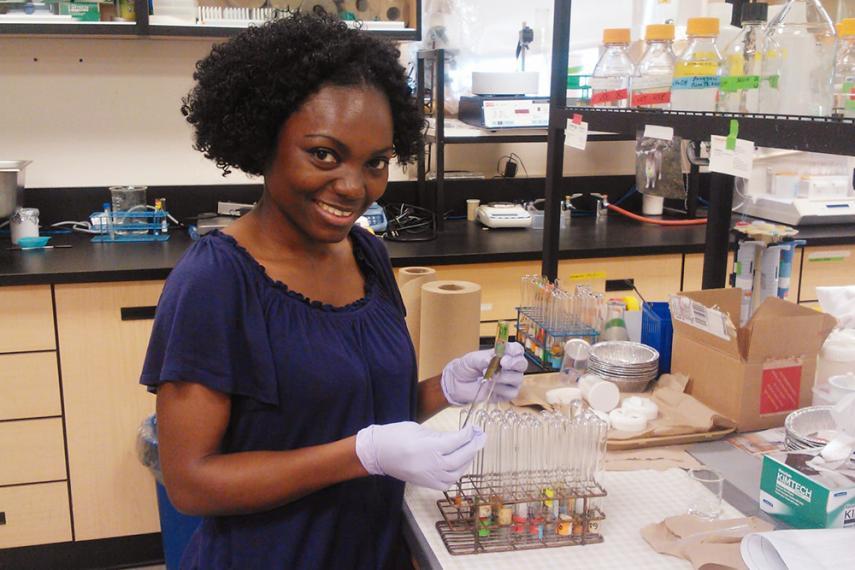 Featuring Dr. Vivian Adams, PhD in Food Science 2015
Creating the next big food product requires attention to detail, the ability to think outside the box and an inquisitive mind.
Who is going to like this product? What is involved in the process? Why does it work like that? How can it be better?
These are just a few of the questions Vivian Adams must ask herself every day in solving challenging and unique problems in the food sector. 
As a research and development scientist with PepsiCo Foods Canada, creativity and innovation are vital aspects of Vivian's role. It is her job to lead projects from ideation to launch, and she aspires to create products that are newsworthy and magical.
"I want to bring exciting new products to people — products to enjoy and love," says Vivian. "Customers will let us know when they don't like something.  So, we are always problem-solving and researching new trends."
Through extensive teamwork, Vivian is responsible for new products, including chip flavours, and discovering ways to make existing products better. Vivian and her team want to brighten people's lives through their products.
"We try every idea that comes to mind. Bringing the ideas to fruition is the hard part, but once we pass that hurdle, we can bring the product into existence. And that is exciting." 
She cultivated her creative competencies throughout her PhD. Using practical research skills, she worked on projects for companies like Kraft Foods and Campbell's to improve some of their products and processes.
"They would present us with a problem — how can we improve the hydration properties of noodles? How can we make sure our nuggets are crisp, not soggy, when they are cooked? How do we avoid burnt cookies under certain baking temperatures?"
Finding fulfillment in these experiences, Vivian knew she had chosen the right career path, but it had taken a while to get there.
The journey to her career began with her undergrad degree in chemistry from the University of Cape Coast in Ghana. A keen sense of problem-solving had led her to study science. 
"I was so curious about how things work, and that is why I channeled all my energy and schooling into science."
Vivian recalls that from an early age she was intrigued by the world. She had constantly read books and watched movies about animals, nature and science. 
After graduating she completed a national service program – similar to an internship – where she worked in food quality control. That experience sparked her interest in food science, although she wasn't ready to pursue that career yet.
"The whole thing was intriguing. I really enjoyed my experience. But I also loved chemistry and wanted to study it further."
After completing her graduate degree in chemistry at McMaster University, she pursued her doctorate in the Department of Food Science. 
That's where Vivian discovered the Highly Qualified Personnel (HQP) program sponsored by the Ontario Ministry of Agriculture, Food and Rural Affairs  – U of G partnership. The program supports the development of highly skilled graduates to meet the changing demands of the agri-food and rural sector.
"Receiving that scholarship was the best thing that happened to me at U of G. I was able to explore the things I loved, and it really made me who I am today."
Vivian says her path wasn't always easy, but she is proud of her accomplishments and loves what she is doing. 
"Food science is really intense. You are learning, conducting experiments and applying all your knowledge from school. It has so many aspects such as chemistry, nutrition, research and even agriculture."
For those contemplating a change in career or education, Vivian says, "Go after it. If you love it, you love it. If you don't love it, keep searching for your passion."
This article was originally published in the LIBRANNI 2022 / Vol. 4
---
Share this page
News Topics