Hazelnuts and Truffles a Winning Combination
When you hear the world "truffle" what comes to mind? Some might think of a chocolate treat, but for Charles Shearer, a master's student in the Department of Plant Agriculture, he thinks of a mushroom with great potential for intercropping in hazelnut orchards.
Two years ago, Charles was introduced to the Ontario hazelnut industry through an in class discussion led by Elliott Currie, an associate professor in the Department of Management. Students in the class were challenged to come up with innovative ideas for the industry from production to processing. After doing some digging, Charles discovered that truffles, a decadent type of mushroom that typically grow on the roots of oak trees, had been found on the roots of hazelnut trees as well. Since oak and hazelnut trees belong to the same family, he knew he was on to something. The best part of his discovery was that truffles are a rarity in the market and provide the potential for enormous profit. Truffles can sell for hundreds of dollars per pound.
Charles presented this information to Elliott and from there the two ran with the idea. Two years ago, he presented at the annual hazelnut symposium and since then has received positive feedback from many in the industry. Based on the feedback, he decided to book a trip to Sweden to obtain truffles to begin his research trials.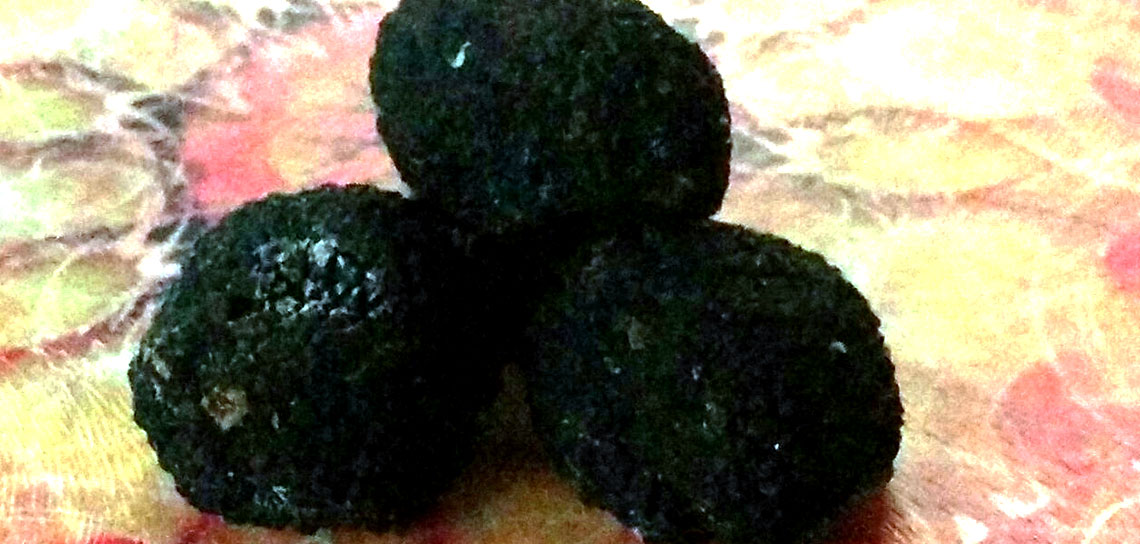 Charles is focusing his research on two aspects of truffle production. First, he is working to develop a better technique to introduce truffles into hazelnut production. The current practice is to grind a truffle, and mix it into the soil of a pot containing a young hazelnut tree. Truffles then begin to grow in the soil, gradually attaching themselves to the roots of the young hazelnut tree. However, as Charles explains, most often less desirable or "garbage" truffles are used in this technique. This decreases the quality of the harvested truffles that eventually grow from the roots of the tree.
He is also developing a root identification system that will determine the amount of truffle fungi growing on the young hazelnut roots. Charles hopes that by the end of next year he will be able to take samples of hazelnut roots and examine them to determine the amount of truffle colonization (or growth) on their roots. By doing so, before they are sold from nurseries to producers, the young hazelnut trees can be certified as "truffle inoculated" if they have a certain amount of truffle colonization on their roots. This can help to ensure that producers are in fact getting what they paid for, as truffle inoculated hazelnut trees can sell for twice the price of non-inoculated.
In his research, Charles is aiming to take the same approaches used in breeding of traditional crops. "I want to take a scientific approach," he shares. "I would like to selectively breed for desired traits, such as flavour and smell." Truffles, like hazelnuts, are self-incompatible and require two mating types to meet up and produce a fruiting body, where the truffle will grow. Charles is hoping to produce twenty different lines based on these sensory characteristics, ten per mating type, as it is important to have multiple lines in order to preserve diversity and resilience, he notes.
Similar to hazelnuts, truffles require a lengthy period of time to become established. "It can take six to ten years to produce truffles," Charles says. "They will be ready for harvest around the same time as the hazelnuts."

An imperative quality for the intercropping of these two crops is that they are ready for harvest at different times. Hazelnuts, typically harvested in September, require a flat orchard floor, so the nuts can be swept up off the ground. Truffles must be dug up from underground in October and November; dogs are often used to sniff out the scent of truffles to ease the task of harvest.
"It's a nice way to spend your fall," jokes Charles. "You can go on a walk with your dog every two days, and come back with hundreds of dollars."
Alone, hazelnuts and truffles offer impressive financial rewards for producers. Hazelnuts can earn up to $3,000 per acre on a mature orchard. Together with truffles, they provide intercropping producers with a fantastic return.
Truffles are traditionally sold into the fresh market, most often bought by restaurants as a special feature. "Chefs get really excited when the truffles are ready," explains Charles.
Selling hazelnuts direct to consumers and chefs, rather than processors, is often overlooked as an opportunity. "In addition to processing, the fresh market is a very viable option for producers," says Elliott. He recommends new hazelnut producers sell to consumers through farmers markets, on-farm retail, or through grocery chains until their trees are producing the volume required by processing companies.
For Charles, the timing could not be better for his research. Hazelnuts and truffles have historically been seen as luxury foods, and as the world works toward income equality, more and more people are demanding these high quality goods. "The potential is growing," shares Charles. "There is a larger market than we can produce for."
This article is the second in a series on Ontario hazelnuts. Funding for this article was provided by the W.S. (Stan) Young Memorial Communications Grant through the OAC Alumni Foundation.
| | |
| --- | --- |
| | Read more: |
| | Read more: |
Share this page
Find related news by keyword
News Topics