Meet Amber, M.Sc. Animal Biosciences Student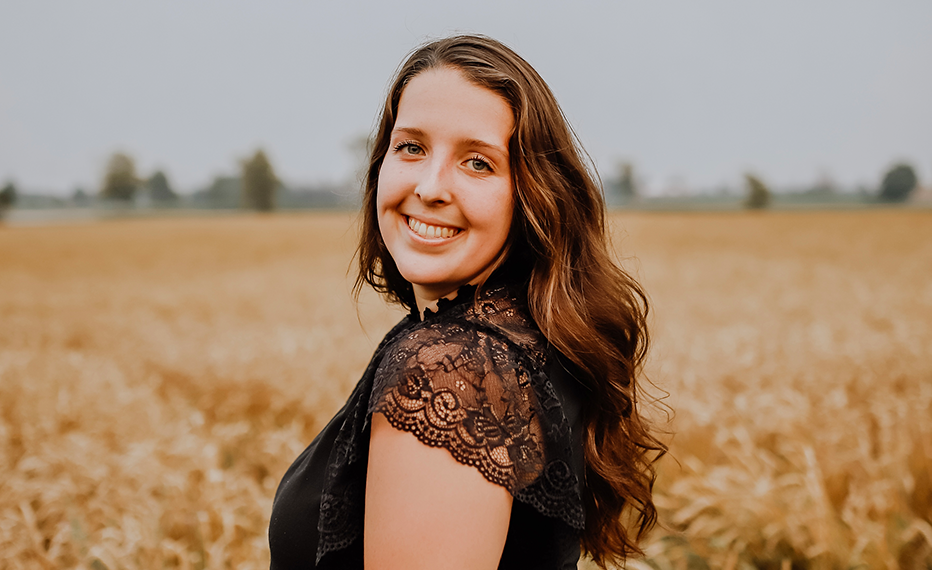 About Amber Zupan
Amber Zupan completed her undergraduate degree in animal biology at the University of Guelph. She is working toward completing a master of science in animal biosciences focusing on animal nutrition. Her current research is looking at the minimum fibre requirement for feedlot cattle and improving the prediction of ruminal pH. Amber looks forward to working full-time with Grober Nutrition after graduation.
Program: M.Sc. Animal Biosciences
Hometown: Niagara Falls, Ontario
---
What did you study for your undergraduate degree? 
B.Sc. in animal biology with a minor in molecular biology and genetics at the University of Guelph.
Why did you decide to pursue graduate studies at the University of Guelph? Did your undergrad experience shape your decision to further your studies?
In my second year of undergrad, I started to volunteer in Dr. Katie Wood's lab and was able to work on a research trial looking at the fetal programming response in beef cows on offspring performance and meat quality. After continuing to volunteer and eventually work in the lab, I was able to follow the dams and their offspring steers from birth to slaughter where I was able to conduct my fourth-year project on how maternal nutrition impacted the tenderness of offspring meat. Between volunteering on the farm, working in the lab and the abattoir, I found a huge passion for agricultural research.
What is your research focus? 
My research is looking at the minimum fibre requirement for feedlot cattle and improving the prediction of ruminal pH. More specifically, we are looking at investigating the interaction between grain fermentability and undigestible neutral detergent fiber (uNDF) on animal efficiency and performance, feed intake and feeding behavior, and rumen pH. 
I have also recently become a project lead on a trial under Dr. Mike Steele where we are looking at how energy supplementation before calving effects colostrum yield and quality in beef cows.
How have you found ways to get involved as a grad student? 
After being very involved throughout my undergrad, I knew I wanted to continue to be involved, especially since I started my masters during COVID. Throughout graduate studies, I have been involved with College Royal, which is the largest student run open house in North America. I have had the opportunity to be the livestock liaison for the past few years allowing me to organize the livestock shows and meet so many new people. In addition, I have also been a part of both the Animal Biosciences Graduate Student Council and OAC Graduate Student Council.
Outside of U of G, I am a puppy raiser for Autism Dog Services and am working on raising my third puppy. There are truly so many ways to get involved at U of G, especially at a school with such a sense of community.
How has your graduate program experience been different from your undergrad experience? 
Graduate school has been such a wonderful experience. I have so much more freedom and am able to cater my studies to learn more about the subjects that I am interested in. Classes are much more specific to your program and consist of mostly assignments, presentations and literature reviews. As someone that found large tests and exams as the trickier part of undergrad, I love that I can show my knowledge through writing and presentations. In addition, class sizes are so much smaller, so it feels like a more connected community and it is easier to ask questions in class and have discussion.
Where are your favourite spots in Guelph?
On campus, I love heading to Creelman Hall to grab an amazing meal. They never disappoint! I also love to spend time on Johnston Green in the fall and take in the view as the leaves start to change colour. Off campus, my absolute favourite spot where I spend most of my time is the Stampede Ranch. They have great live music Thursday-Saturday and I love to go line dancing.
What do you find most challenging/ most rewarding about your program/research focus?
The most challenging part about running a research trial is finding some human error within the data you are analyzing. While it was likely just a mistake, it's unfortunate when you have to take out some data due to an accident as it may result in seeing less significant results. The most rewarding part is when you finally finish your research trial and analyze your statistics. It is so exciting to see significant results after working so hard to run your trial.
What are some free-time activities that make you happy, or relieves stress?
My favourite activity to do to relieve stress is to take my chocolate lab puppies for a walk to new places, whether it be in the Arboretum, Rockwood Conservation Area or just around the neighborhood. I also have become obsessed with plants, so I really enjoy caring for them and shopping for new ones at plant stores around Guelph as stress relief.
What are your plans or goals after graduation?
After graduating, I will be working at Grober Nutrition. I currently am working part time as an intern helping with least cost formulations for milk replacers, ingredient quality testing, and running research trials. I plan to stay in my current position full time after graduation.
What advice would you give to an undergrad student considering graduate school?
My biggest piece of advice I would give is that you are smart enough and you are worthy. I know that I, and a lot of people that I know, didn't believe they could be accepted grad school. It is all about experience and how hard you are willing to work, it is not at all about grades like it was in undergrad.
What or who is your greatest inspiration? Why?
My greatest inspiration would have to be my grandfather. While he didn't finish high school, he still had an extremely successful career, works incredibly hard and is still working at the age of 79 just because he wants to. He showed me that you can be successful if you work hard and have a good attitude. He also showed me the importance of making connections and that you can achieve anything you set your mind to. I also believe that he is where my passion for agriculture comes from as he used to farm and gets so much joy from discussing agriculture related things with me.
What's one fun fact about yourself?
I like to show Jersey heifers and had the opportunity to show at the Royal Agricultural Winter Fair with my first 4H calf.
Share this page
News Topics