Meet Brad, Master of Environmental Sciences (MES) Student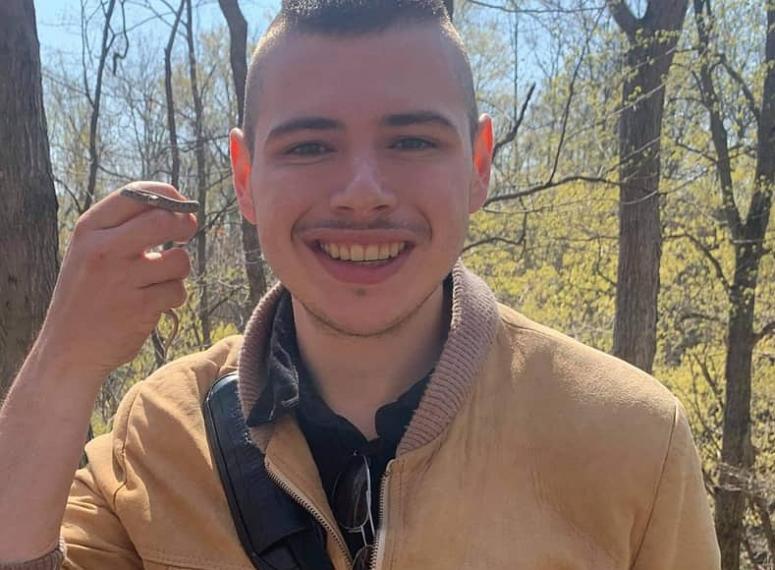 About Brad
Bradley Howie completed an undergraduate degree in biochemistry at the University of Waterloo. U of G's Master of Environmental Science (MES) course-based degree program was the perfect fit for Brad because it allows for independent research without being entirely thesis-based. Deciding to pursue environmental studies was an easy decision for Brad, who always enjoyed learning about nature in his free time. His current research revolves around exploring and incorporating Indigenous science philosophies. As a member of Nipissing First Nation, Brad's ultimate end goal is to continue working in the field of Canadian Indigenous education.
Program: Master of Environmental Science (MES) 
Hometown: Beamsville, Ontario
---
What did you study for your undergraduate degree?
In my undergraduate degree I took biochemistry at the University of Waterloo in the co-operative education stream.
Why did you decide to pursue graduate studies at the University of Guelph? Did your undergrad experience shape your decision to further your studies?
I have always had a deep connection with nature and loved learning about it in my free time. After my undergraduate degree I wanted to become involved in environmental science, but I wasn't sure about doing a thesis-based masters. Luckily, I found out about the Master of Environmental Science (MES) degree at the University of Guelph, which is a course based masters, but allows for some research if you are inclined to do so.
What is your research focus?
I decided to pursue research during my MES degree with my current research focus being on Indigenizing the University of Guelph Arboretum. This project poses to work with local Indigenous Elders and Knowledge Holders to have a community led project that seeks to weave Indigenous philosophies of the environment, teachings from plants and animals, and language into educational materials for the Arboretum.
What do you find most challenging/ most rewarding about your program/research focus?
I am ecstatic to be able to learn more about Indigenous Science and have the opportunity to help weave this knowledge into the Arboretum. This project is also close to my heart as I am a member of Nipissing First Nation. However, I have never had a connection with my culture as my mother was a victim of the sixties scoop, where she was taken away from her family and her culture. This project not only allows me to learn about Indigenous science, it also fosters reconnection with my heritage in a way I did not think was possible.
What are some free-time activities that make you happy, or relieves stress?
In my free time I enjoy cooking meals for my family. The whole process of cooking relieves stress for me, from picking fresh produce at the market, to chopping vegetables, to being creative in the dishes that I make. Plus, it is so satisfying to cook a meal and then immediately eat it. 
What are your plans or goals after graduation?
After graduation I plan to continue working in a facet of Canadian Indigenous education as education is the profession I feel most drawn toward. Through my experience learning about Indigenous science I believe that this knowledge is incredibly important for the sustainability of our planet and to reconnect Indigenous peoples with their lost heritage. I hope to be able to share this knowledge with Indigenous and non-indigenous students alike. 
What advice would you give to an undergrad student considering graduate school?
I would highly recommend that they volunteer with, get to know, and read papers of the professor that they want to work with. A huge part of graduate school is mentorship and building relationships within the lab you work, and it's important that you understand what kind of research you will be doing and who you will be working with.
What or who is your greatest inspiration? Why?
My greatest inspiration would be one of my chemistry professors at the University of Waterloo, Dr. Rick Marta. Dr. Marta inspired me because of his passion for education, his ability to engage an audience, and his understanding of the student experience. He is an educator to his core, and I look up to him as someone who I can try to be like when I become an educator. 
What's one fun fact about yourself?
I can identify nearly any insect to its genus or its family.
Share this page
News Topics