Meet Busayo, PhD Environmental Sciences Student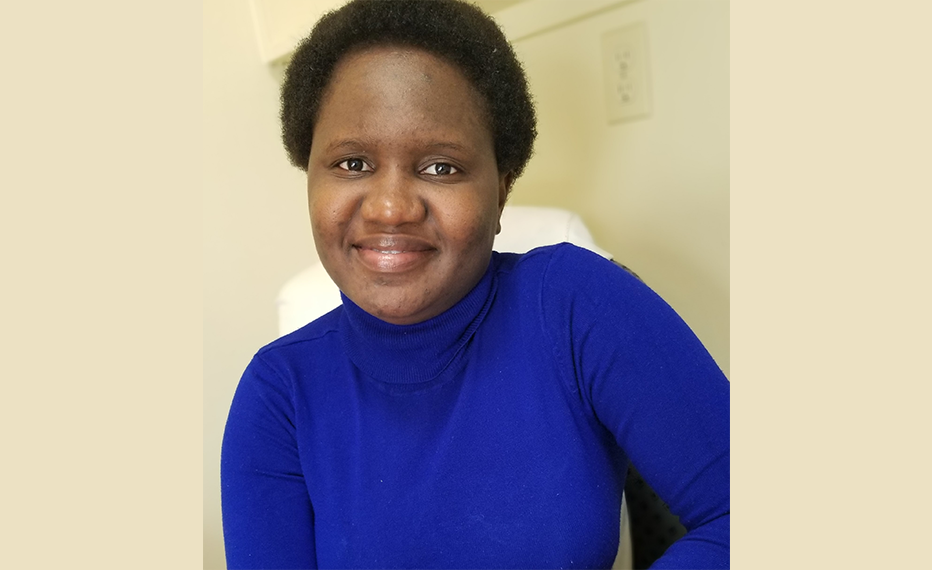 About Busayo Kodaolu
Busayo grew up in Nigeria and completed her master's degree in environmental sciences at the University of Guelph. She is following her passion for soil science research while pursuing a PhD on organic waste reactions in the soil, with a focus on phosphorus. Busayo plans to continue her work and and contribute to research on sustainable agriculture in the future.
Program: PhD Environmental Sciences
Hometown: Nigeria
---
Why did you decide to pursue graduate studies at the University of Guelph? Did your undergrad experience shape your decision to further your studies?
I initially didn't plan to study soil science but I grew to love the course. In one of our undergrad classes, we learned it takes thousands of years for a handful of soil to be formed. I think that makes soil a precious resource that needs to be carefully cared for and protected. I wanted to learn more about the processes occurring in soil and how our past or current environment and human activities might be altering these processes. Guelph ranks high as one of the best schools for agricultural research.
What is your research focus? 
Environmental soil chemistry, I am looking at how we can sustainably use waste (household, animal, and municipal) to grow plants.  
How have you found ways to get involved as a grad student? 
I have had few volunteering experiences. I was part of the committee that planned the first and second edition of OAC cross campus conference between the Ridgetown and Guelph campuses. I am currently part of the committee planning the 2021 Agricultural Science Corteva Symposium. I have also had some teaching assistant (TA) experience. All these experiences have been interesting as I get to meet new people across the OAC and University campuses as a whole. 
How has your graduate program experience been different from your undergrad experience? 
Undergraduate studies are usually well structured which makes it easier to focus on fulfilling the requirements for graduation. In graduate school, it's a more advanced stage of learning, a little less structured, and expectations are higher. Graduate school is sometimes overwhelming, with it good and bad days. My experience has been a great one so far as I have learned to be more focused, proactive, independent, think outside the box, and create a structure that works for me. One thing I have learned in this past year is baby steps is better than no movement. So, I take it one task at a time. I am still learning though.
Where are your favourite spots in Guelph?
I am relatively new in Guelph as I moved here in 2020 during the pandemic. I haven't explored Guelph, but I will say the parks and walk trails have been a great spot for my family. My son enjoys the outdoor, so visiting the park and going on walks is one of our favorite summer activities.
What do you find most challenging about your program?
Planning and starting a PhD program and experiments during the pandemic is tricky and stressful. At first, the challenge was access to resources needed to start my experiment as most places were shut down. This creates anxiety of completing the program on time. This has also been a blessing as I have learned to think outside the box and improvise in many cases. I would say most of the challenges I have faced have turned out to be learning opportunities. I am sharpening my soft skills while also building my research skills. 
What are some free-time activities that make you happy, or relieves stress?
I enjoy spending time with my husband and son after the day's job. I also like to binge watch movies. 
What are your plans or goals after graduation?
I love working on research projects and producing meaningful results. I plan to take up a research position in the university or industry. 
What advice would you give to an undergrad student considering graduate school?
Graduate school is not for the feeble-minded. Enroll in grad school for the right reasons, and have a clear career path mapped out before starting. A clear career path will keep one motivated throughout the graduate program. 
What or who is your greatest inspiration? Why?
I am where I am today because of God, my family, and all my professors who have impacted me in one way or the other. They are all my inspiration. 
What's one fun fact about yourself?
I am a bit chatty when talking about my field of study. I am not as serious as I appear to look. I love to have fun!
Share this page
News Topics