Meet Caleigh, BBRM Equine Student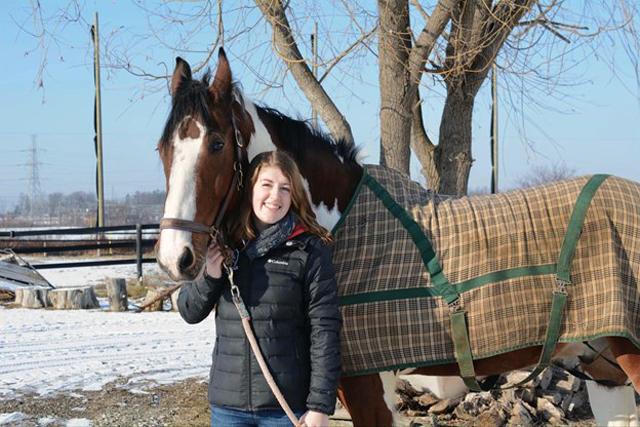 About Caleigh Copelin
Caleigh Copelin is a third year Bachelor of Bio-Resource Management (BBRM)- Equine Management student. Her interest in horses started when she was nine, but her equine knowledge has grown drastically since starting her studies. She was drawn to the program becuase its a one-of-a-kind in Canada, plus "the amazing campus and opportunities provided by the University were an added bonus".
Program: Bachelor of Bio-Resource Management (BBRM) – Equine Management
Year of Study: Third Year
---
What do you like best about your program?
I love how small and tight knit it is. Everyone in my year knows each other by name and we all get along really well, because we all have a shared passion for horses to draw us together! I have met some of my best friends in this program. Having a small program also lets you get to know your professors really well, which can help open doors for learning experiences, job opportunities, professional connections and more!
What courses are you taking right now?
Due to the COVID-19 pandemic putting all classes online this semester, I am not taking any equine classes this semester. I really love the in-person lab portion that many equine classes have and didn't want to miss out on that element.
I am taking:
PSYC*1000 (Introduction to Psychology)
PHYS*1600 (Contemporary Astronomy)
STAT*2060 (Stats for Business Decisions)
ANSC*3080 (Agricultural Animal Physiology)
I am also enrolled in AGR*3010, though I completed the course work in the summer. This special project course allowed me to work with one of my professors this summer on COVID-19 relief projects for the horse community in Canada! I made a ton of amazing professional connections and gained so much valuable experience. It was an amazing course.
What was your background in horses
I was a typical horse-crazy kid. I did pony camps from a young age and started regular riding lessons when I was 9-years-old. As I grew up, I started riding more frequently, and eventually began showing horses on a local circuit doing hunters and equitation when I was in my mid-teens. I learned about the Equine Management program at the University of Guelph when I was 14, and from that moment on, I knew it was where I wanted to go.
This program has taught me to challenge my beliefs about the horse industry in every area. I have learned that the traditionalism that the horse industry is so steeped in – though many insist that it is a positive thing – is actually something that is holding us back, as it is often used as an excuse for refusing to grow and change when new information is presented. There is a growing body of equine science out there that I have been exposed to throughout my time at U of G. This has challenged my perceptions in all areas of care, management and training. At first it was uncomfortable to learn that some of the things I was taught about horses while growing up may not necessarily be correct, but now I am glad to have had my beliefs challenged.
Is there something included in your curriculum that you, at first, did not expect, but appreciate now? 
When the NFACC Code of Practice for the Care and Handling of Equines was introduced, I had no idea what it was or why it would ever matter. At the time, it seemed like something I would learn about and then forget. Now I appreciate just how valuable that document is to protecting equine welfare and making sure we give our horses a high-quality standard of care. When I first entered the program, I thought professional standards and regulations weren't all that important in the horse industry, as there are so many people and places in the Canadian horse industry that operate without them. I realize now how important having a defined set of regulations (for care, coaching, etc.) is key to creating a cohesive, developed equine industry in Canada.
What have been your favourite classes so far?
EQN*2040 Equine Anatomy and Physiology with Prof. Wendy Pearson was such a cool course. We got to dissect an equine heart, lower leg and hoof, brain, eye, lung and digestive tract. It was such an awesome hands-on learning experience, and in first year no less! I loved learning about the physiology of horses, it made so many things that I have learned over the years click into place.
I also really enjoyed EQN*2050, Introduction to Equine Nutrition with Prof. Lee-Anne Huber. The content was super interesting, and we got a lot of opportunities to put our knowledge into practice by creating feeding plans for horses based on different parameters. It was such a unique course and gave me a better understanding of how equine diets are structures and why.
What's a new passion you've discovered through your courses?
EQN*2200, Equine Industry Trends and Issues 1 with Prof. Renee Bergeron. This is hands-down my favourite course so far. The course examines equine training and management practices from an equine behavioural science lens. It looks at what we are doing right, what we are doing wrong, and how the industry can change to better care for our horse's physical and mental wellbeing. The content was so interesting and eye-opening, and Prof. Bergeron is really passionate about the subject, which made the course very engaging.
The course also allowed us to design and run our own welfare research projects, which led me to realize how much equine welfare research interests me. The study my group designed ended up being run as an official scientific study that I have been lucky enough to be a part of as a research assistant. My interest in equine welfare research has led me to focus on other research and animal behaviour electives in my remaining semesters. I want to learn more about the research process and the existing body of knowledge we have on the subject.
What are your current plans for post-graduation? 
After graduation, I hope to apply for a master's degree in Animal Behaviour and Welfare to take the next steps towards a career in equine welfare research and improvement.
Share this page
News Topics