Meet Claire, PhD Animal Biosciences Student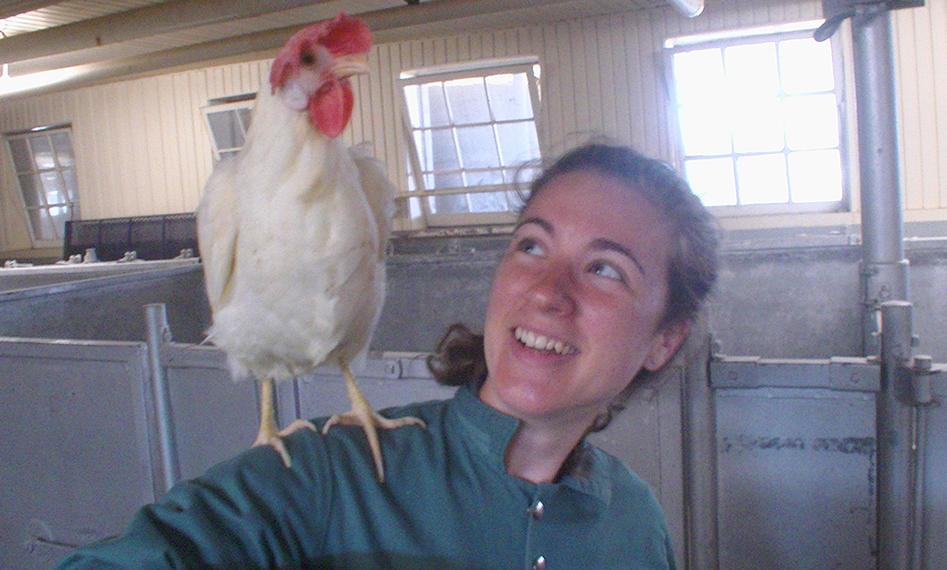 About Claire
Claire Mindus, a native of France, is passionate about animal production and animal welfare. She has developed practical and theoretical skills over the years by channeling this passion into research throughout her graduate studies. She completed a M.Sc. in agricultural sciences with a major in animal production in France, before following an intriguing PhD offer all the way in Canada at the University of Guelph. Here, she focused her research on understanding the phenomenon of severe feather pecking behaviour in laying hens. 
Program: PhD in Animal Biosciences
Hometown/Country: Paris, France
---
What did you study for your undergraduate degree?
The French undergrad system is fairly different from Canada and does not necessarily take place in a university. My undergraduate courses were in animal and plant biology, chemistry, physics, and mathematics so a bit of everything! I have done my M.Sc. in France in agricultural sciences with a major in animal production.
Why did you decide to pursue graduate studies at the University of Guelph? 
This was actually pretty random. I was looking for a work experience in North America and found an interesting PhD offer with my current advisor. I chose to come to Canada because I was interested in her research, but I had no idea about the University of Guelph. 
What is your research focus?
I am currently finishing my PhD with Dr. Alexandra Harlander and I am focusing on severe feather pecking behavior in laying hens. Severe feather pecking is an abnormal behavior where birds pull out feathers from other birds, causing health issues such as injuries and worse. I am assessing the impact of probiotic bacteria on the physiological pathways potentially underlying this behavior.
How have you found ways to get involved as a grad student?
There are lots of options to get involved. I have joined the LINK program to help initiate new international students. I have also done several teaching assistant (TA) positions within the Department of Animal Biosciences which I have learned a great deal (and obviously money-wise, it's a plus).
How has your graduate program experience been different from your undergrad experience?
I don't think this question is very relevant in my case since I have done both in different countries. However, I'd say that, as a graduate student, you are expected to be way more independent and resourceful than as an undergraduate student. To be successful, it demands a lot of time management and organizational skills.
Where are your favourite spots in Guelph?
So many! Are we talking food, drinks, outdoor…? Beside the classic Wooly Pub and Baker Street Station, I love eating at Bread Bar and La Cucina. Walking along the Speed River honestly never gets old and its environment is beautiful all year long!
What are some free-time activities that make you happy, or relieves stress?
I am a couch-potato and I watch a lot of Netflix. I haven't found a relief for stress yet.
What are your plans or goals after graduation?
I am moving back to France where I will work in animal welfare research.
What advice would you give to an undergrad student considering graduate school?
I think a master's is a great way to grow and learn so much more than what is being taught in undergrad. While you will acquire theoretical knowledge on your research topic, you will also acquire a lot of practical skills. Regarding doing a PhD, my opinion is slightly different – I think that only people that have a real interest in research should go for it. If you are not sure about it, try working in the industry or the government, maybe you'll love it! And who knows, you can always come back for a PhD later in life like I did.
---
You can learn more about Claire's research by listening to the Why & How podcast.
Share this page
News Topics