Meet Emilia Traxler, Environmental Management Student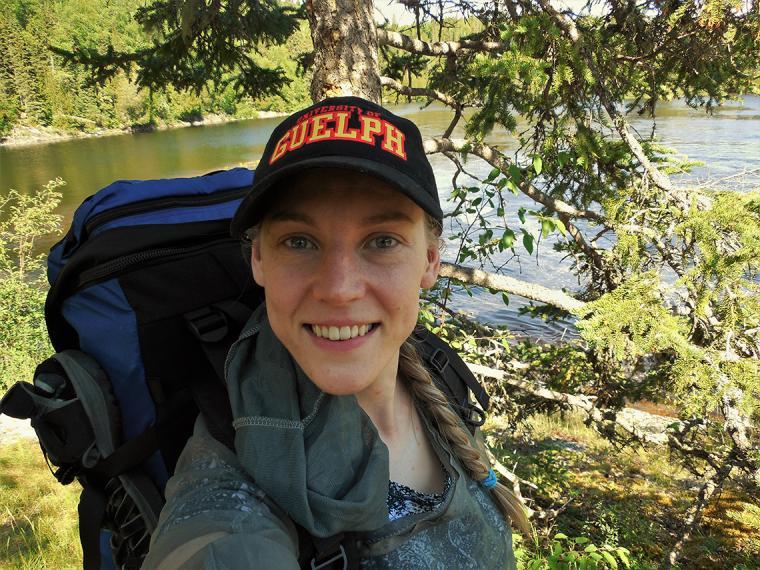 About Emilia Traxler
Program: Bachelor of Bio-Resource Management (BBRM) – Environmental Management
Year of Study: Fourth year 
Hometown: Rockwood, Ontario
Emilia Traxler is a fourth year student in the BBRM program majoring in Environmental Management. She enjoys engaging with nature and often finds herself in the outdoors doing activities like camping, kayaking, hiking and canoeing. She was drawn to the University of Guelph (U of G) by the incomparable natural beauty surrounding the campus, and by its unique environmental program which seamlessly blends aspects of science and business management.
---
Why did you decide to study at the University of Guelph?
U of G is unique for offering a BBRM program that combines disciplines of science and management. Once I discovered the BBRM program, I knew the knowledge and experience I would gain from the Environmental Management major was something I could not get from any other university. After attending a campus tour, I was amazed at the beauty of Johnston Green and the Arboretum. The beautiful campus definitely convinced me to study at the University of Guelph. Plus, I grew up in the Guelph area, and being able to stay in the community I know and love made sense.
What do you like best about your program?
I like the variety of classes offered in environmental science and business management. I can take classes such as ENVS*1030 (Intro to Environmental Sciences), BIOL*2060 (Ecology), and ENVS*3060 (Groundwater) from the science discipline. While also taking classes such as ACCT*1220 (Intro to Financial Accounting) HROB*2090 (Individuals and Groups in Organizations) and FARE*3310 (Operations Management) from the management discipline. I also like the small size of the BBRM program that has allowed me to connect with students and professors on a more personal basis.
Do you have a favourite class or professor? 
My favourite class has been ENVS*3010 (Climate Change Biology) with Dr. Simone Haerri. The course was very interesting because climate change is an emerging topic with aspects that are still unknown. I enjoyed learning about how changing climates influence biological systems. Dr. Simone Haerri is extremely knowledgeable, passionate, and always encourages her students to succeed. Having this professor teach such an interesting course helped create a great learning experience for me.
What residence did you live in during first year? 
I was an off-campus university student in my first year. I lived in my hometown of Rockwood and had a 25-minute commute to the university. Despite not living on campus in my first year, I was still able to make friends in my program and get involved on campus. 
Where is your favourite spot to hang out on campus?
I spend a lot of my time studying in the library, but when I am with my friends, my favourite spot to hang out is at the Bullring or Brass Taps. I always look forward to a night of trivia at Brass Taps with my friends to celebrate the end of exams. 
What is an unforgettable university experience you've had?
I am a proud Gryphon, so some of my favourite experiences have been attending sporting events such as Homecoming and the Frosty Mug. I might not be a huge sports fan, but I love cheering on the Gryphons and spreading school spirit. 
Do you have favourite spots in Guelph?
One of my favourite spots in Guelph is The Boathouse Tea Room. You can rent a canoe to paddle along the Speed River or experience high tea in their dining room, but what I love most is their ice cream! Another one of my favourite spots in Guelph is Play with Clay. I have spent so many hours in their studio painting pottery pieces, it is such a fun and creative activity.
What is a hobby that makes you happy, or relieves stress?
I love spending my time outside doing activities such as camping, kayaking, hiking, canoeing or simply walking my dog around the neighbourhood. Besides outdoor activities, to relieve stress I like to be creative doing hobbies such as bullet journaling and colouring.
What are your post-graduate plans or goals?
I plan to experience various aspects of the environmental field to have a better understanding of what I want to do. I have always imagined myself working for the Ministry of Natural Resources and Forestry but, I am excited about any career opportunity in the environmental field. 
Knowing what you know now, what piece of advice would you give to your high school self?
I would tell my high school self that your time in undergrad will go by faster than you can imagine, so take advantage of all the opportunities you can. Remember to live in the moment and don't get so caught up in schoolwork and grades that you forget to have the experiences that make U of G such an amazing place to go to school. 
What's one fun fact about yourself?
I have been winter camping using sleds, snowshoes, and canvas tents with wood-burning stoves. I even made my own pair of mukluk boots! It was an amazing experience during an outdoor education program in high school. 
 
Share this page
News Topics