Meet Evan, Food Science Student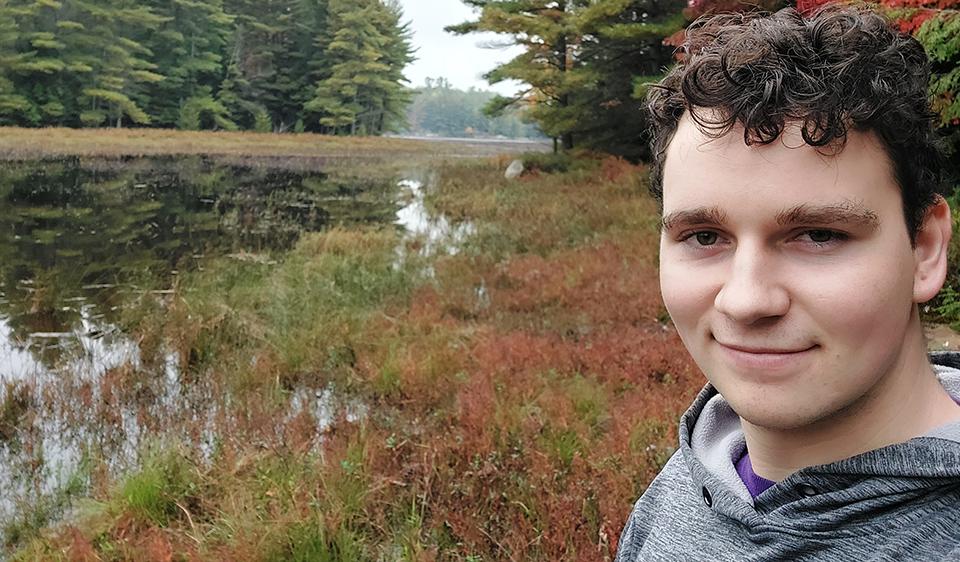 About Evan Poncelet
Evan was drawn to the University of Guelph (U of G) from the history and reputation of The Department of Food Science. When he is not camping, Evan keeps busy on campus through his involvement in the Food Science Club and Games Club. He plans to pursue a career in food product development in the future.
Program: Bachelor of Science - Food Science
Hometown/City: Aurora, Ontario
Year of Study: 4th Year
---
Why did you decide to study at the University of Guelph?
The University of Guelph's Food Science program is over 100 years old (formerly the Department of Dairy Science). It's one of the best available, so as soon as I found out what my options were, I just had to accept the offer and attend U of G. 
What do you like best about your program?
I really like how small the class size is. I have a chance to really get to know my classmates, and future co-workers on a personal level, that other majors may not be able to provide. There is a sense of family as well which is so much nicer than some programs which can have a competitive environment.
In what ways were/are you involved on campus? 
I am on the executive team for the Food Science Club and I've joined a few fun clubs around campus such as the Games Club. During first year, I was a part of the Residence Tours, showing my room to high school students visiting the University campus.
Do you have a favourite class or professor? 
Food Product Development (FOOD*4260) is by far my favourite class. It is a 4th year course which teaches the entire process of making a food product, right from concept to a finished, edible item. I love the challenge and the problem solving involved that really allows for creative freedom. The professors are very helpful with providing guidance but keep their distance enough that they are not doing everything for you. 
What residence did you live in during first year? 
I lived in South Residence, Mountain specifically. In terms of convenience there is no better spot to live while getting used to campus in first year. Everyone jokes about the residence layout, but it is a lovely spot to live. The cafeteria food is delicious, and during the colder winter months you don't have to walk outside to reach it. 
Where is your favourite spot to hang out on campus?
I really like the UC (University Centre) 2nd floor lounge. It's never hard to find somewhere to sit and always quiet, so it's a great spot to get work done or join virtual classes from. 
What is an unforgettable university experience you've had?
During first year, a student climbed in through my residence window because they locked themselves out of the building. 
Do you have favourite spots in Guelph?
Downtown Guelph is nice to visit with friends, the mall is fun to explore, but the University campus is my favourite spot to hang out.
What is a hobby that makes you happy, or relieves stress?
I love camping. It always relieves my stress and allows me to completely relax like nothing else. Completely removing all online distractions and thoughts of work really help me to reenergize.
What are your plans or goals after graduation?
As soon as I graduate, I hope to have a position in product development lined up and be ready to immediately start. I would hope to obtain this first, then once I have a stable income, place to live, and a little expendable money, I will adopt a cat. 
Knowing what you know now, what piece of advice would you give to your high school self?
Do not procrastinate! Use a calendar to track due dates. Always make notes during class and stay on top of them rather than letting it pile up. Lastly, go meet and interact with people in food science, they are all amazing. 
What methods have you found to adjust to remote learning during the period of online class delivery? 
Online learning can be a lot harder to commit to and engage with, but I find trying your best to really listen and ask questions will help. The professor understands engagement so they are inspired to do their best because someone is actively listening, and you will understand the material better without having to revisit the lecture. 
What's one fun fact about yourself?
I've had 5 wisdom teeth removed. All 4 one year, then a 5th grew back a year later. It was quite a surprise!
Share this page
News Topics